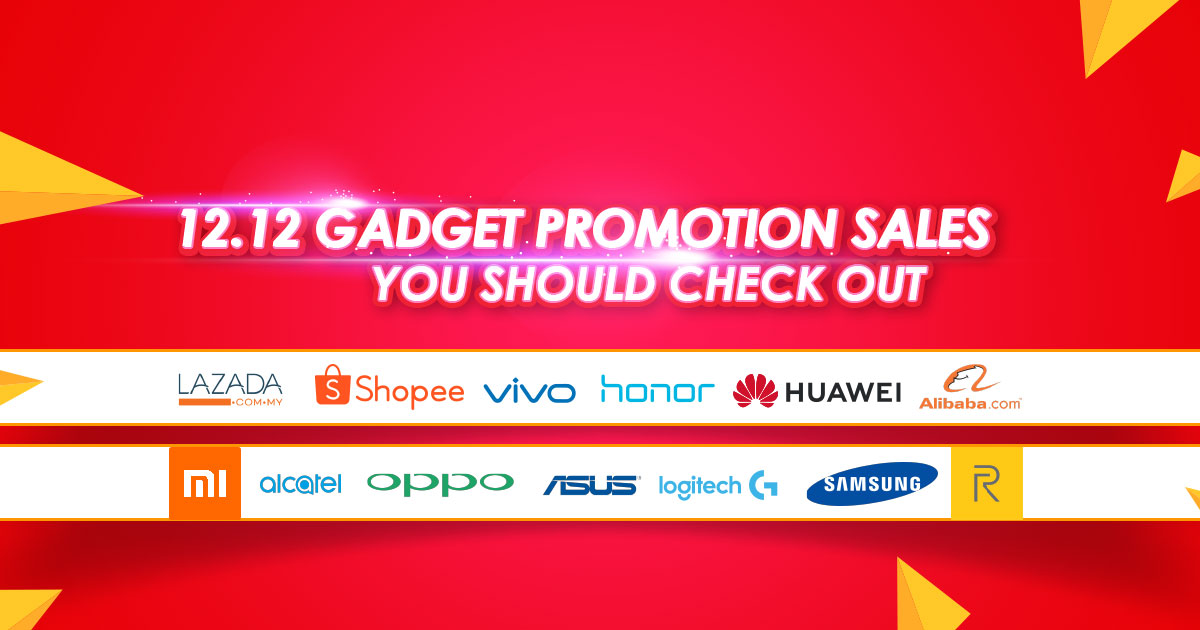 12.12 sales promotion are coming real soon and there are just too many news of upcoming deal breakers coming into our mailbox. With this, we have decided to compile all of them here so that you can have a one-stop for all your gadget hunting list this week. This list comprises well-known brands such as Huawei, HONOR, vivo, OPPO, Xiaomi, Samsung, ASUS, Realme, Logitech, Shopee, Lazada, Alibaba and Alcatel (so far). Without further ado, here are our 12.12 Gadget Promotion Sales You Should Check Out!
Huawei Y Max coming on Huawei Malaysia Snowy Christmas 12.12
First up, customers will get to enjoy some discounts again up to 40% on selected Huawei devices and free gifts worth up to RM500K. In fact, the more you spend, the higher the chance that you will get invited to an exclusive Huawei Christmas Night on 20 December 2018 at Poseidon's Reserve Caviar & Oyster Bar. On top of that, there will be a Slash Deals (at 12PM) and free delivery for all gadgets or accessories (up to 20% discount) starting from 10 until 12 December 2018 with no minimum purchase required.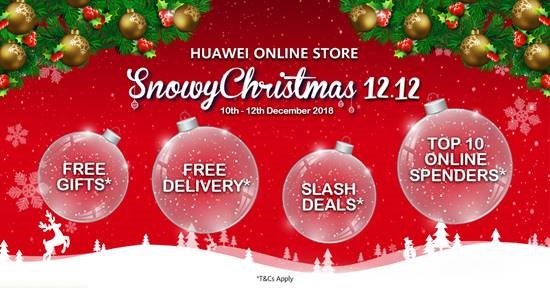 Also, happening on 10 – 20 December 2018 - Viu users can redeem a RM450 rebate voucher with the promo code right here and purchase either the Nova 3 or P20 Pro, you will receive a 6-months free Viu subscription right after purchasing either one of the devices. Also, the Y Max will be making its debut on 12.12 with pre-orders plus free gift bundles for each purchase including Huawei AM116 Earphone, Huawei A2 Band, Y Max Flip Cover and a limited edition Huawei Xmas canvas bag. There are other free gifts too such as rebate vouchers, a professional tripod stand and an M-Pen stylus, but these free gifts are reserved for the Mate 20X, MediaPad M5 Pro, MateBook X Pro and Y Max.
You can check out more details right here today to see the latest updates.
vivo X21 for RM1599 on vivo Christmas Carnival 12.12
Next, vivo Malaysia won't miss this one out as well. We have already written this news but overall, they will be giving out three different voucher codes at Shopee, with selected smartphones at a slashed price starting on 10 December (look out for the X21 at RM1599 only!) and follow their page to unlock super affordable prices on selected products!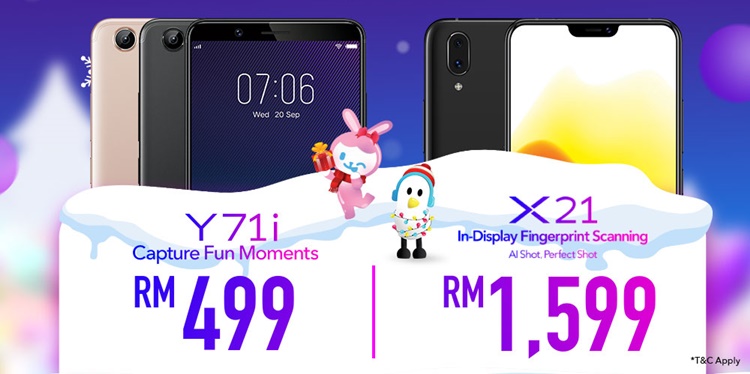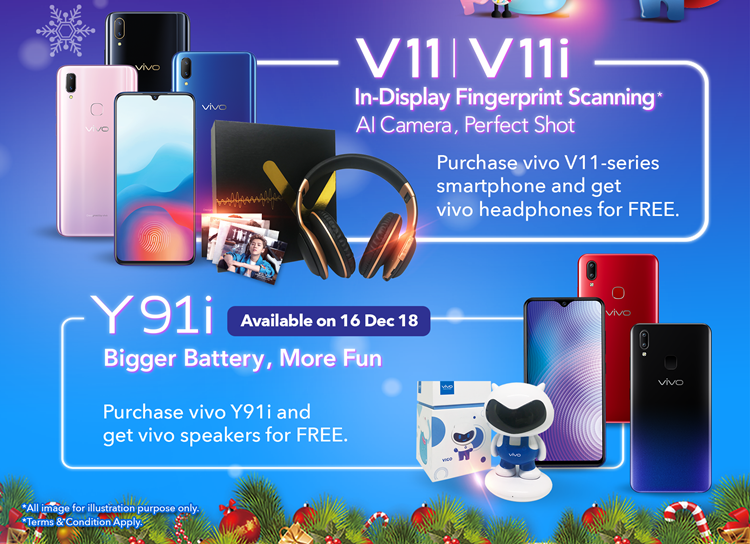 In addition to that, also starting on 13 December 2018 - you will get a complimentary vivo headphone from purchasing either the vivo V11 and V11i. Purchasing the Y91i (RM599) will also give away a free vivo speaker and both promotions are available at all vivo Concept Stores, authorised dealers and collaboration partners and online marketplace at Lazada (and LMall), Shopee, 11street and its official online Vivo Store.
Samsung Malaysia's 12.12 Special Offer
Starting from 10 December until 12 December 2018, Samsung Malaysia will have a bombard of products on sale, ranging from smartphones to home appliances. We have already talked about the Samsung Year End Treats sale last month, where you can get some freebies worth up to RM3599 from purchasing selected products.
However, it seems that for the smartphone category, you can only get a free wireless charger on the Galaxy Note 8, Galaxy S9+ and Galaxy S9. And...yeah that's pretty much it. You can check out more details over here.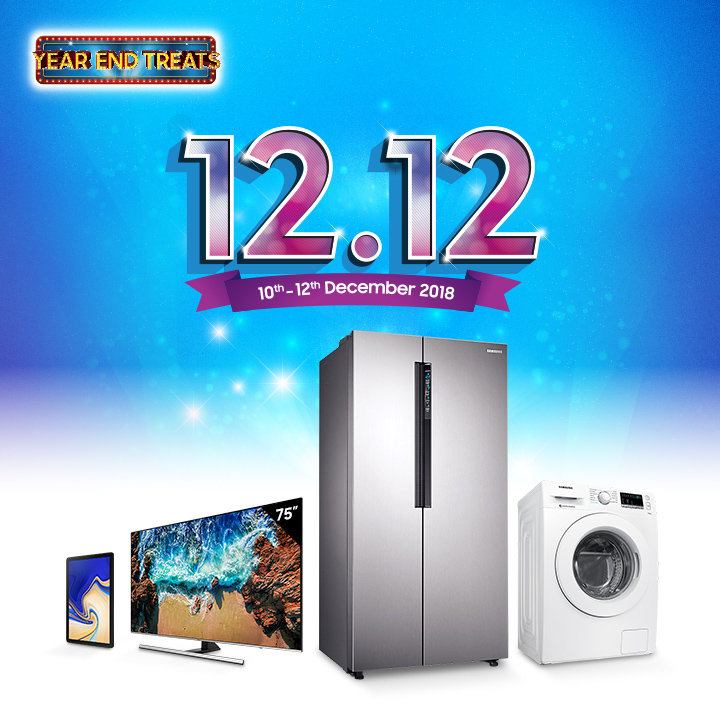 Lazada 12.12 Grand Year End Sale with Livestream
Of course, Lazada Malaysia is definitely on for this as well and for the first time ever - they will be introducing a livestream shopping feature on the Lazada app to provide shoppers, brands and sellers with a real-time interaction, discussion and product demonstration platform all at the same time. This will start on 8 December 2018, where Malaysians will be able to hang out with local celebrities, redeem exclusive vouchers, comment and send emoticons as well as share links to the livestream feed with their friends. Exclusive products and deals are only available during the livestreams and can be added to the cart during the feeds from 8 December till 12 December 2018. The items in the cart can be checked out from 10 to 12 December 2018.
Besides that, from 10 December 2018, shoppers will be able to slash 10 vouchers to redeem a Perodua Axia for free so be sure to invite your friends to Slash It as each voucher requires 250 slashes to claim. If you have achieved the 250 slashes, the voucher will automatically be saved in your Lazada Wallet. If you add the car to your cart and check out with the voucher on 12 December 2018 at 12:12PM, you will drive away with a brand-new ride (with terms and conditions applied). Let's not also forget about the house purchase on 12.12 as well, which you can read about right here.
Logitech 12.12 Grand Year End Sale with amazing discount offers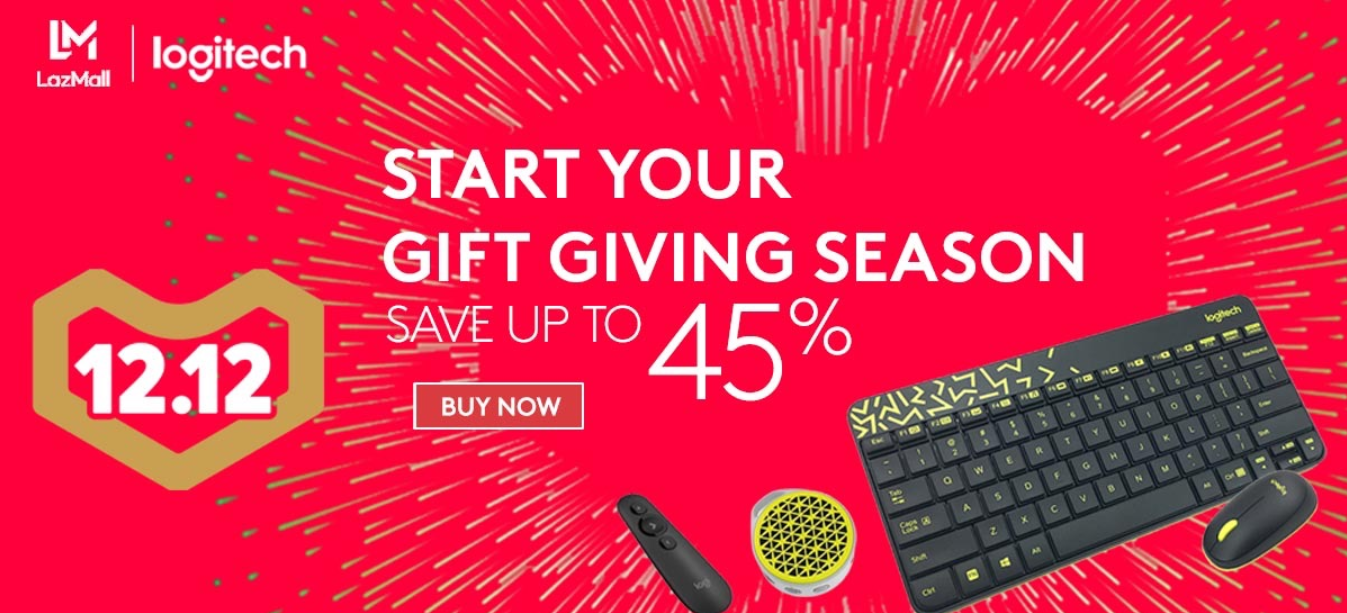 If you're looking for some great gaming gears, look no further than Logitech as several of their peripherals are going on an amazing discount. There are a few notable ones such as the Logitech G213 Prodigy RGB Gaming Keyboard that's just going for RM170.80 only and what's more, you will get a RM25 voucher for spending a minimum of RM100, meaning you will just spending RM145.80 only!
Of course, there is also the mice price promo. One of the most affordable ones is the M170 Wireless Mouse for RM28.80. There are also some gaming headsets on a good promo price so if you want to know more, go over here to check it out!
OPPO RM500 off and Realme C1 for RM399 promotion on Lazada Malaysia
On the other hand, the OPPO F7, F7 128GB and R15 Pro will have a special Flash Sale Hour and a 10% discount voucher on any models (besides the aforementioned three devices) starting from 10 December until 12 December 2018. On that note, especially on 10 December, the Flash Sale Hour will only start from 12AM until 9AM. The following prices of the devices will be RM699, RM999 and RM1599 respectively!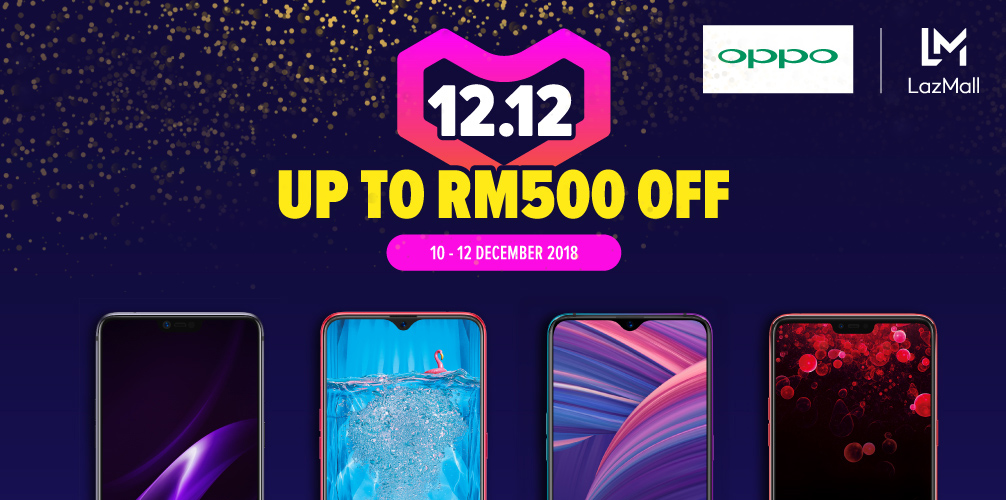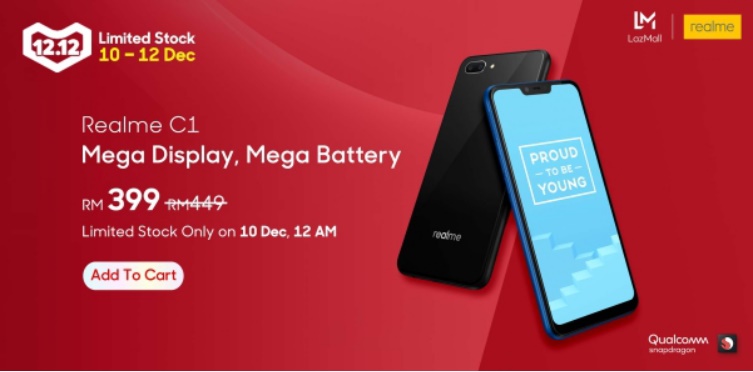 Then for Realme, starting at 12AM on 10 December 2018, customers will be able to run a "Slash It" where a 100 of them stands a chance to win five units of the Realme C1 from just RM0.99! All you have to do is tap on Slash It and Invite your friends and family through your social media. Make sure to track the status of the phone and click Get It Now when it reaches the targeted number of slashes. The special promotion sale will be RM399 and its regular retail price is RM449.
Multiple Xiaomi products on Lazada's Grand Year End Sale

Besides that, Xiaomi Malaysia has multiple products going on a discount sale at its Lazada online store. And when we say multiple, we mean A LOT. As according to its Facebook page, there are 18 products on sale starting from 10 until 12 December 2018, but only the latest Mi 8 Pro won't have the discount. And knowing Xiaomi's reputation, best to act quickly while stock lasts! Below is the list of products and its promo price:
| Products | Promo Price |
| --- | --- |
| Pocophone F1 by Xiaomi (6GB + 64GB) | RM1199 |
| Mi 8 (6GB + 64GB) | RM1549 |
| Mi Mix 2S (6GB + 64GB) | RM1599 |
| Redmi 6A (2GB + 16GB) | RM339 +Acrylic Casing, Tempered Glass Screen Protector, Mobile Ring Holder |
| Mi A2 (4GB + 64GB), (6GB + 128GB) | RM799, RM999 |
| Redmi Note 5 (3GB + 32GB) | RM569 |
| Redmi 6 (3GB + 32GB) | RM455 |
| 10,000 Mi Power Bank 2S | RM49 |
| Amazfit BIP | RM199 |
| Mi Air Purifier 2S | RM658 |
| Mi Band 2 | RM59 |
| Mi Body Composition Scale | RM99 |
| Mi City Backpack | RM99 |
| Mi Dash Cam | RM199 |
| Mi Headphones Comfort | RM199 |
| Mi Robot Vacuum | RM1199 |
| Mi Smart Scale | RM79 |
Realme 2 Pro special offer and ASUS ZenFone Max Pro M2 debut on Shopee 12.12 Birthday Sale
Another gadget to look out for is the Realme 2 Pro which will have a special offer on the said date and it will start exactly at midnight. If you purchase either one of the models on its page, you will receive 3000 Shopee Coins. Below is the list of the price tags:
4GB RAM + 64GB ROM – RM 799 (Regular retail price is RM 849)
6GB RAM + 64GB ROM – RM 899 (Regular retail price is RM 949)
8GB RAM + 128GB ROM – RM 999 (Regular retail price is RM 1099)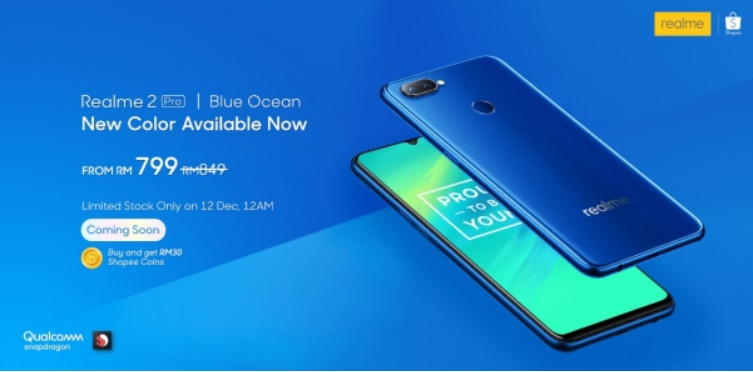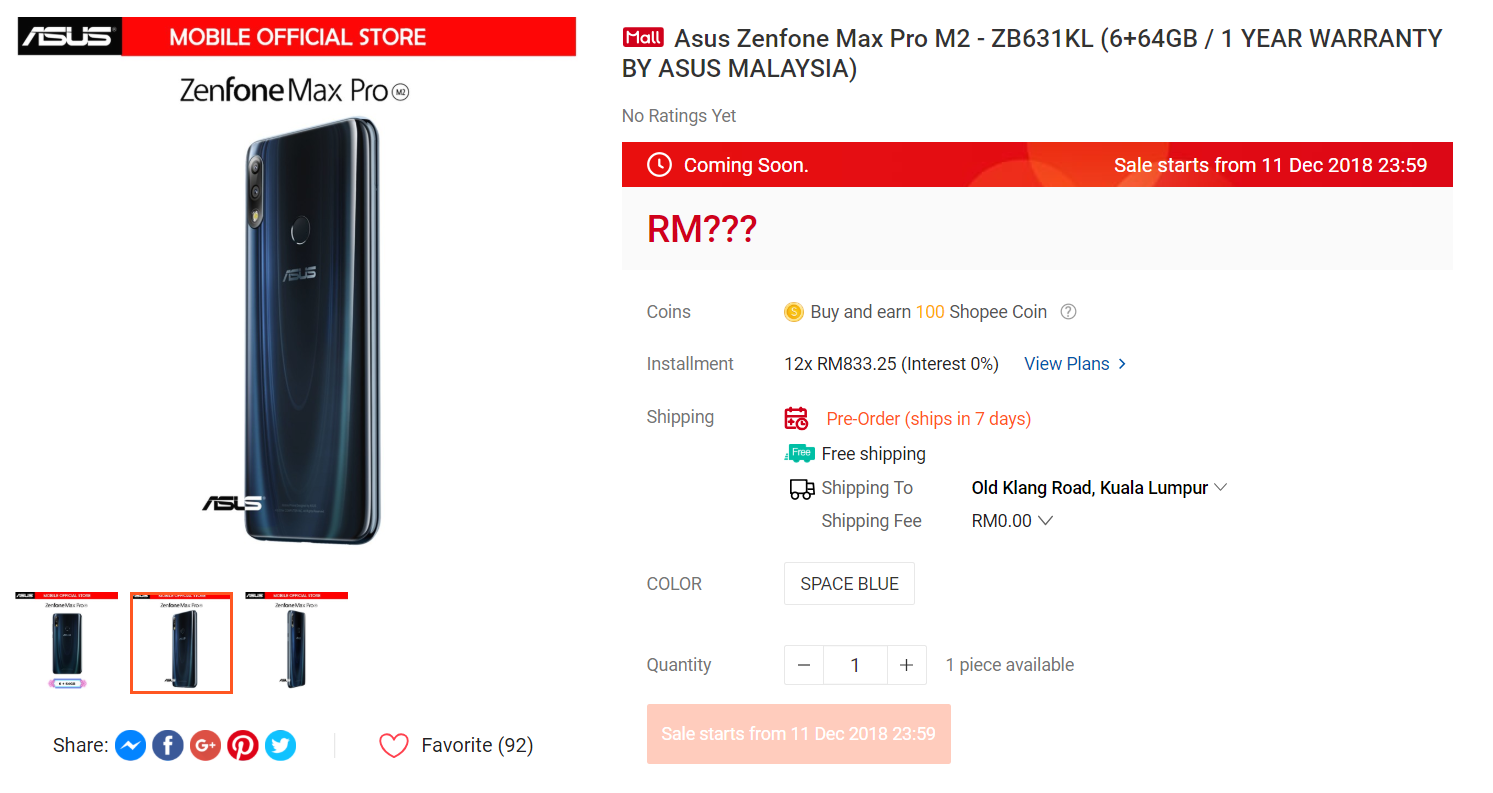 The ASUS ZenFone Max Pro M2 will also launch in Shopee Malaysia too on its page, no price is mentioned yet but you can check out what we know about the phone so far right here.
Shopee 12.12 Deals - BLACKPINK and social media contests
Speaking of Shopee, fans of BLACKPINK can purchase concert tickets of the K-pop girl group's first-ever concert on 23 February 2019 at Malawati Indoor Stadium, Shah Alam. So on 12.12 from 12 noon onwards, the Blink Zone tickets which fans can purchase will be on a 10% discount and watch BLACKPINK members up front. On top of that, Shopee is also giving fans a RM12 off voucher if they pay RM5 for it which can be used for the 10% discount. The RM12 off voucher will be available on sale from 8 December onwards until 11 December 2018, 11.59PM. Do note that this is a first come first serve basis.
That's not all, Shopee is giving away flight tickets to Korea for two people as well as exclusive signed BLACKPINK CDs through its BLACKPINK Watch, Wish and Win Contest. The mechanics of this contest is simple - All you need to do is watch the Shopee BLACKPINK TV commercial on Facebook (with the BLACKPINK Ddu-Du Ddu-Du Shopee version), share the video and tag a friend, and wish Shopee "Happy Birthday" in the most creative way. The contest will end on 10 December 2018 on 11.59PM. You can watch Facebook Live on 11 December 2018 at 11.00PM to know if you're the winner. More information can be found here.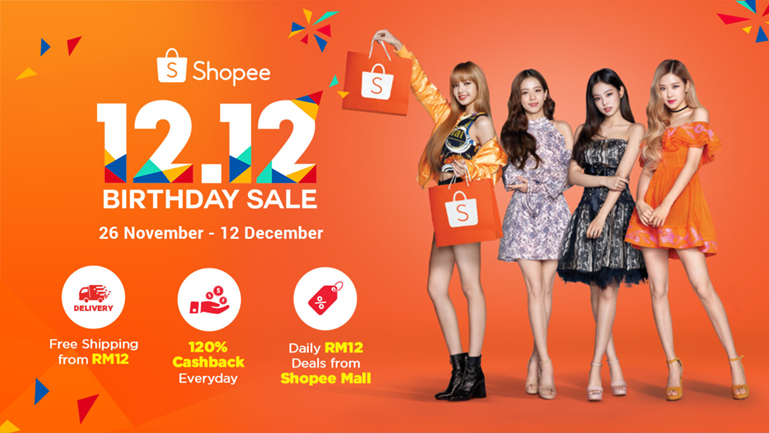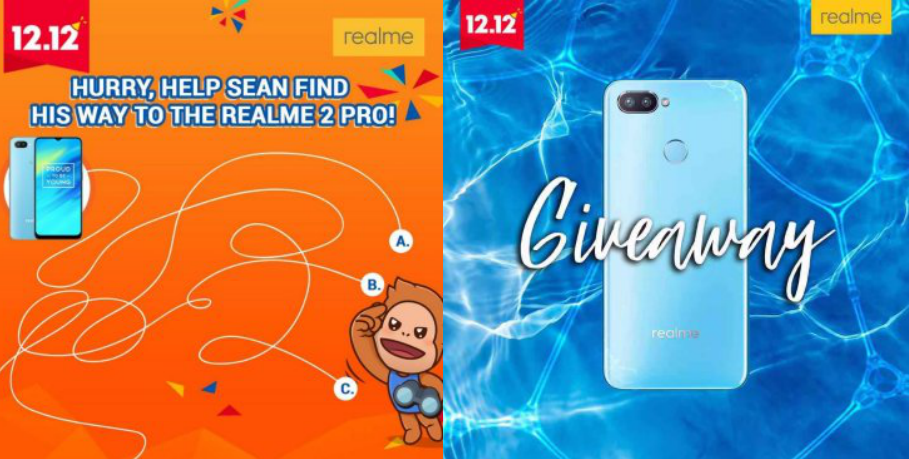 In the other corner, they are also holding two social media contests. One is from Shopee's Facebook page from 7 December - 10 December, where you can play a game to help Shopee's Mascot, Sean to find his way to get a Realme 2 Pro. Then on its Instagram account, fans stand a chance to win a Realme 2 Pro by liking the Instagram account and tagging three friends. The will run from 9 – 11 December and the announcement of result will be via Instagram Story on 14 December 2018.
honor 12.12 Super Sales with freebies giveaways
Ah yes, HONOR Malaysia will be holding another promotion sales following the success of 11.11. There are some appealing promotions, such as the Slash It Discounts where fans can experience discounts up to 15% on the HONOR 10 for RM1104 on 10 December. Then on 11 December, the HONOR 5X will drop to RM350. Fans will also get to bring home many exciting prizes and vouchers worth up to RM80 on Super Sales day, along with a Spin and Win game to win exciting prizes such as the HONOR Play (Player Edition). The promotion details can be seen in the table below:
| Smartphones | Promo Price (RM) | Free Gifts (while stocks last) |
| --- | --- | --- |
| HONOR 10 | 1299 | RM80 voucher, HONOR travel kit |
| HONOR V10 | 1399 | RM80 voucher, HONOR gift box |
| HONOR Play | 1099 | RM80 voucher, HONOR Play cover, protective film |
| HONOR Play (Player Edition) | 1099 | HONOR Play cover, protective film, PUBG T-Shirt |
| HONOR 8X | 949 | RM80 voucher, AM61 earphone |
| HONOR 9 lite | 579 | RM30 voucher |
| HONOR 7X | 679 | RM30 voucher, protective casing |
| HONOR 7A | 429 | RM30 voucher |
| HONOR 7S | 439 | RM30 voucher |
| HONOR Band 3 | 99 | n/a |
| HONOR 8X Flip Cover | 16 | n/a |
| HONOR Body Fat Scale | 99 | n/a |
| HONOR AM61 Earphones | 109 | n/a |
| HONOR Play Protective Film | 29 | n/a |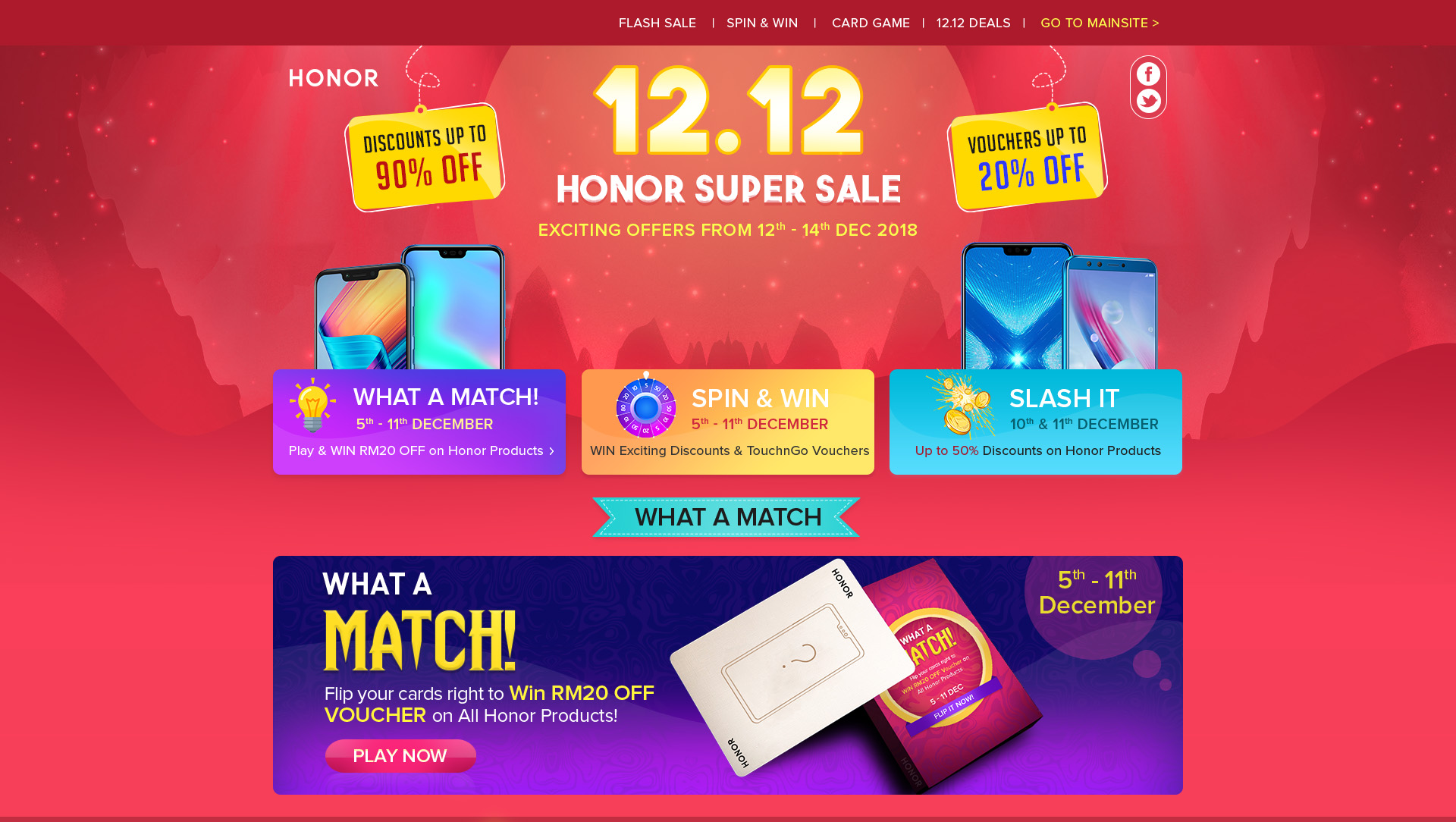 There is also a Social Media Contest happening on 12.12, where customers can share and like a post to reduce the price of the HONOR Play Player Edition (black). Each share and like is worth RM0.30 and RM0.10 respectively and only one lucky winner will stand a chance to purchase the Honor Play Player Edition at the reduced price.
On top of that, the company is even allowing you to write a product review and stand a chance to win a RM10 voucher for Touch n' Go, but only for 100 lucky customers.
You can head over here for more details.
Alibaba 12.12 Year-End Sale 2018

Alibaba Group will be kicking off a five-day 12.12 Year-End Sale starting on 8 December 2018 onwards with various cash vouchers, promo codes and discounts. There's a treasure hunt interactive game in Taobao platform where shoppers can unlock promo code and its Facebook page. Moreover, they can also get more deals on Tmall and Taobao websites, as well as Taobao and Taobao Lite apps. Below is a list of what you can take advantage of:
Promotions on Tmall Signature Store:
Exclusive 12.12 Offer: During the first hour of 12 December 2018, selected items will be offered at up to 50% OFF
Free Shipping Deals: Shoppers in Malaysia will be able to enjoy Free Shipping of more than 4000 items when they make their purchases on 12 December 2018
RMB100 OFF Promo Code: Shoppers in Malaysia will receive RMB100 OFF (min. spending RMB500) for their purchase during checkout by keying in this promo code: TS100 on 12 December 2018
Daily Deals: From 8 December (12AM, 10AM) – 12 December 2018 (12AM, 10AM, 8PM), shoppers in Malaysia can redeem up to 50% OFF discount vouchers to be used during checkout on 12th December 2018. These discount vouchers are worth RMB150 (min. spending of RMB799), RMB100 (min. spending of RMB199) and RMB80 (min. spending of RMB499) respectively
Taobao and Tmall websites, Mobile Taobao and Taobao Lite apps:
Special Offer for New Users: New users on Alibaba's flagship marketplaces will receive RMB20 voucher and 0% transaction fees on their first purchase! On top of that, new members will also be able to get their hands on exclusive RMB2.99 free shipping products for their first purchase
0% Transaction Fee: Members of Mobile Taobao and Taobao Lite apps will receive 0% transaction fee for checkout(s) made on 12 December 2018 (first come first serve basis) via online banking, credit card and debit card
Shop Coupons on Taobao: Shoppers who made purchases from Taobao Stores can immediately enjoy RMB20 OFF for every purchase of RMB200 on 12 December 2018
Shop Coupons on Tmall: From 8 – 12 December 2018, shoppers in Malaysia can start redeeming shop coupons of RMB30 OFF (applicable for every purchase of RMB300) to be used during checkout on 12 December 2018 on Tmall Stores.
Alcatel 12.12 Sales starting from RM99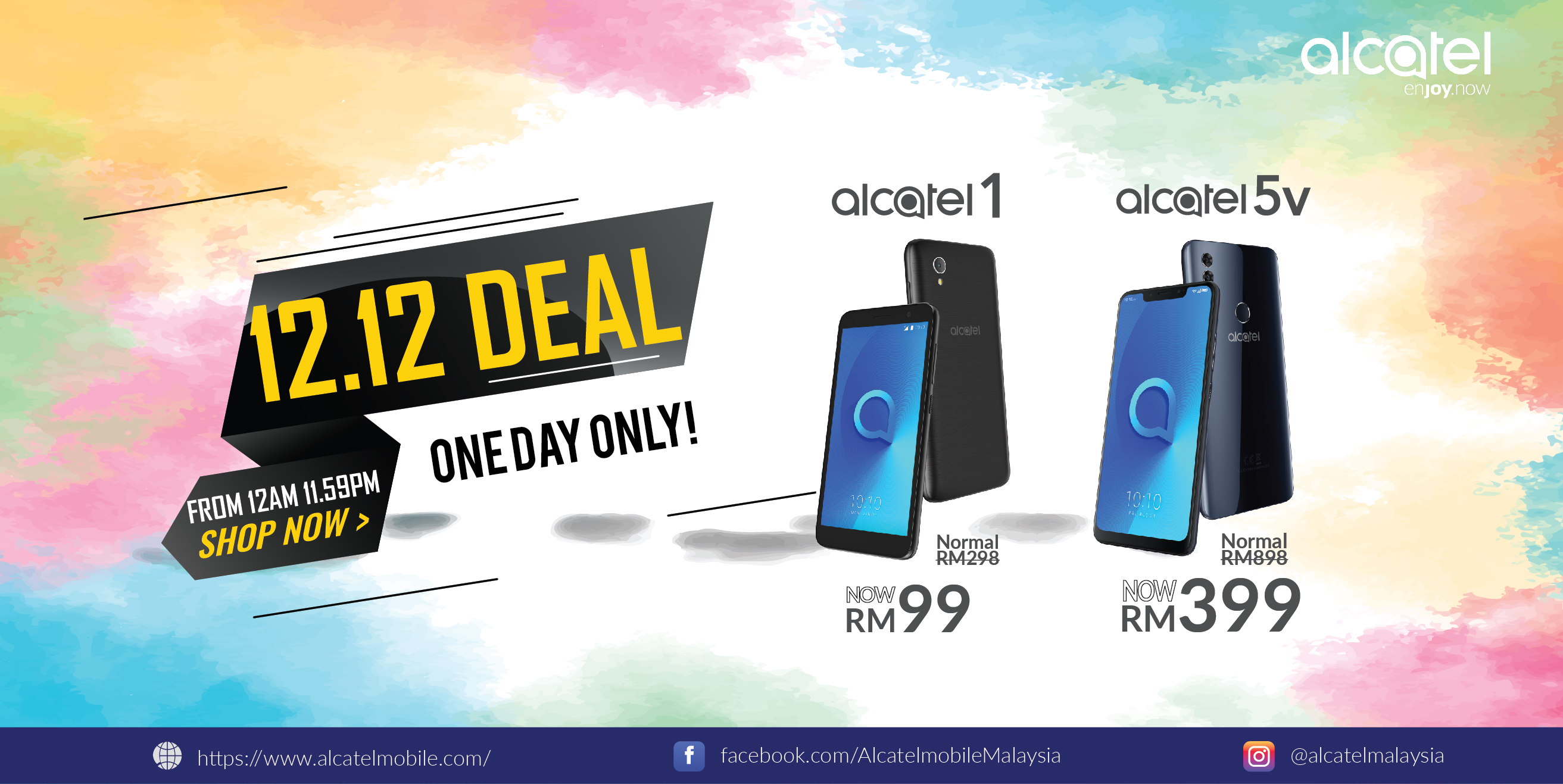 Alcatel are also holding 12.12 Sales and two smartphones will have a slashed price. The Alcatel 1 and Alcatel 5V will be on sale for an amazing RM99 and RM399 respectively. These two devices will be on sale on 11street for a limited time at 12AM, so if you get the Alcatel 1, you will get a free screen protector and a casing, whereas if you get the latter, you will also get the same freebies but with an added mystery gift box.
To find out more or for those who wish to save the date can check out its online store on 11street here.
We'll be updating 12.12 promotions all the way up until the big day, so keep watch on this space and stay tuned to TechNave.com.