Using Huawei Share with a Matebook D and Mate 20 X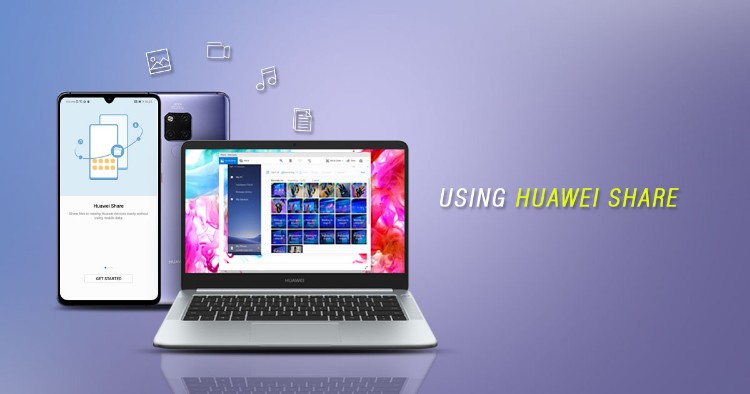 If you have a tech-savvy friend who uses Apple, you would notice that it has a feature called Airdrop which works wonders between Apple products, transferring files seamlessly and wirelessly. You might have also thought to yourself "Is there a way to transfer files instantaneously without downloading a third party app between your laptop and mobile?" Well, you're not the only one and thankfully, Huawei has come up with its own wireless transfer feature called Huawei Share and here's why you can consider using it!
How does it work?
Before we get started, it's important to note that you can't just use any laptop to sync with your Huawei smartphone. Just like the iOS ecosystem, Huawei is also making its own ecosystem so this means that the only compatible laptops are Huawei Matebooks like the Huawei Matebook X Pro and Matebook D, which already comes with a PC Manager that features Huawei Share.
You can find the PC Manager from the desktop after you boot up either one of the Matebooks. The icon is the one with the blue M and when you click on it, you will see My PC, Hardware Check, Manage Drivers, My Services and My Phone. Just go to My Phone so you can pair up your Huawei smartphone with it. In my case, I'm using the Mate 20 X phablet.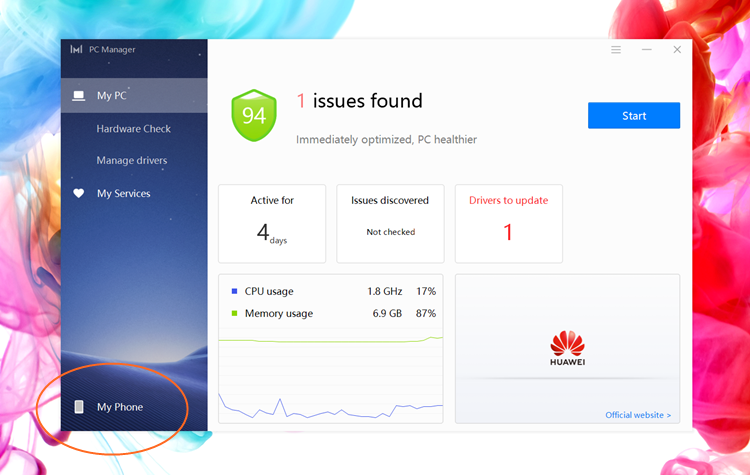 The PC Manager on the Matebook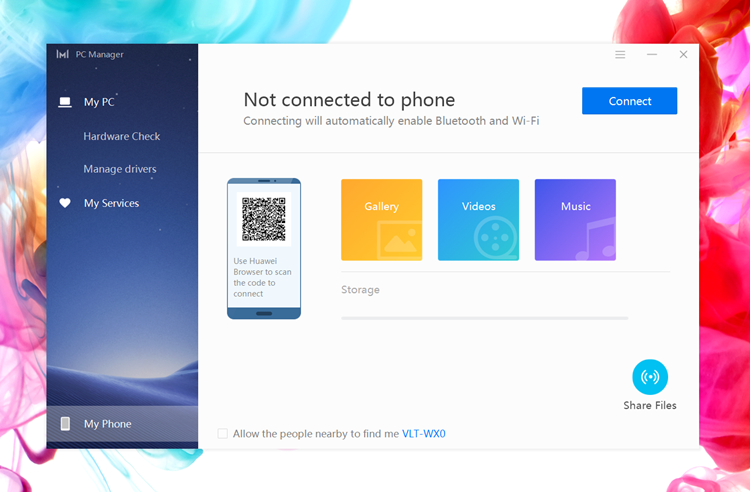 Just click "Connect" on the top right there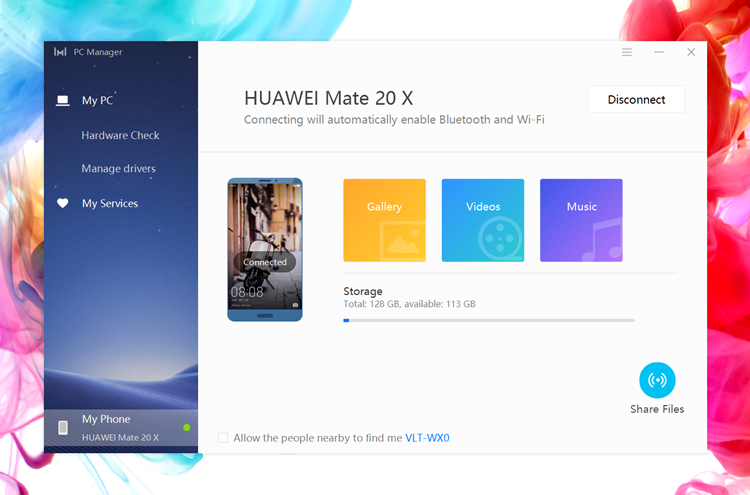 Follow the instructions on your mobile and you'll be set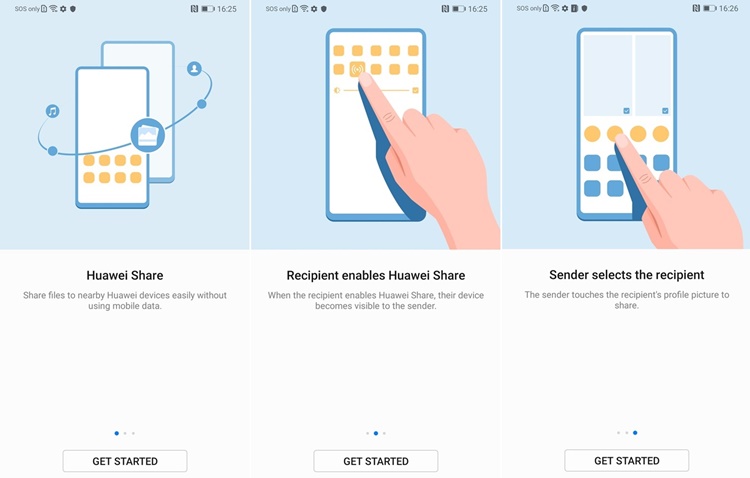 Huawei Share works between Huawei mobiles and it's easier
Connecting your Matebook and Huawei smartphone is fairly easy, you just have to follow the instructions with WiFi and Bluetooth enabled, then scan the QR code to get it done. Once you've done setting up both devices, you will have quick access to the mobile's gallery, videos and music without having to use the traditional cable-way anymore!
Alright cool! But is it fast?
With the setup configuration out of the way, there is still one more question - Is Huawei Share fast? As I mentioned before, you can use Huawei Share to transfer videos, photos and music files, but let's start with the most common things to transfer for most users - photos. Using Huawei Share, a 19 photos equalling about 54.8MB took about 9.18 seconds compared to Bluetooth, which took a few minutes (really, see the comparison below).
Between Huawei Share and using a cable, the transferring speed is actually quite equal with an almost instantaneous result. But since Huawei Share is wireless, transferring photos is a lot more convenient (especially if you've forgotten to bring along the cable).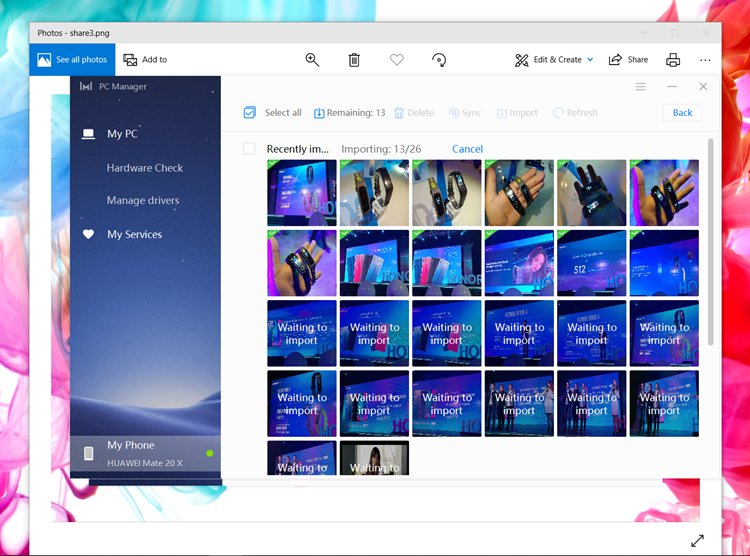 Transferring photos is great with PC Manager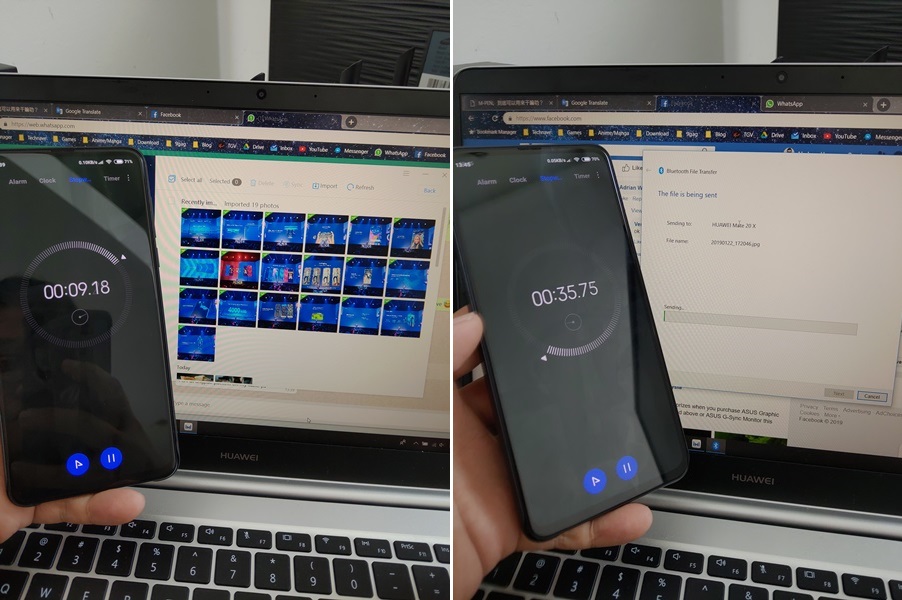 On the left, it took 9.18 seconds to transfer all 19 photos with Huawei Share
while on the right, it took 35.75 seconds to transfer just 1 photo with Bluetooth (so it would average about 11 minutes or so for 19 photos)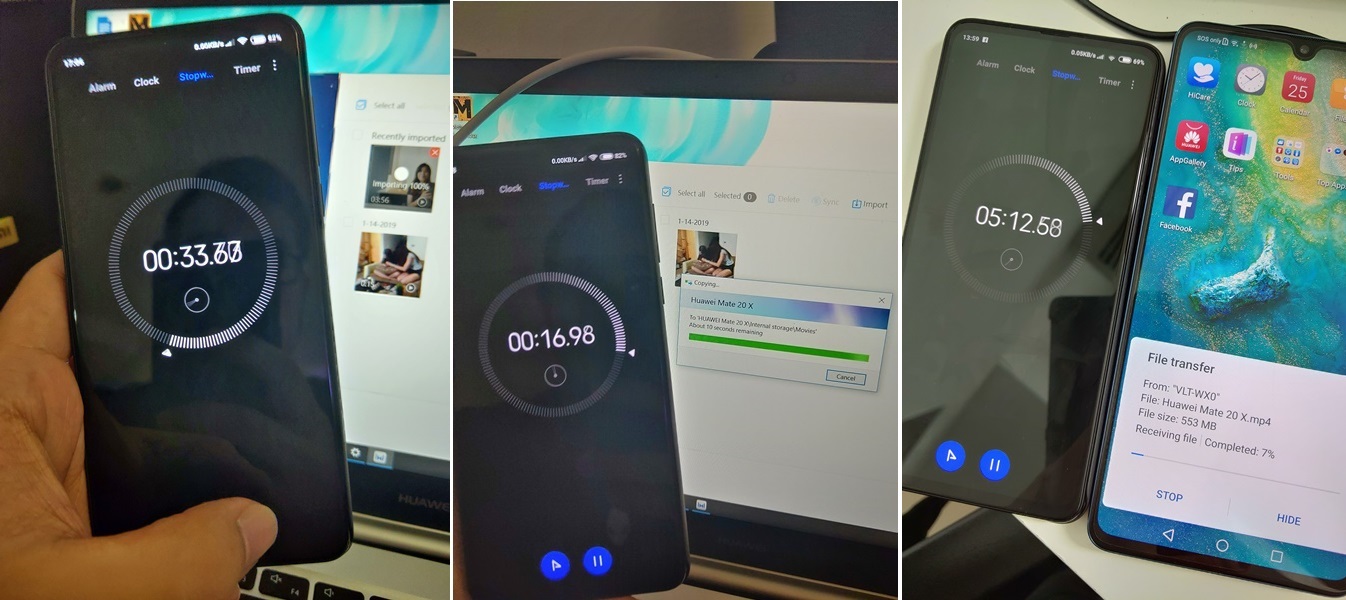 Transferring a 553MB video with Huawei Share (left), using a cable (centre) and Bluetooth (right), reaching 7% only at 5 minutes and counting
Then onto videos. From my experiment, it took Huawei Share about 30 to 45 seconds to transfer a 553MB video wirelessly (I did it three times), whereas with Bluetooth it took a lenghtly load of time (check the comparison above). Oh, fun fact about Huawei Share - one thing I noticed is that if you cancel it mid-way and re-upload the same file, the transfer will go back to where it stopped. Now that's convenient, especially since you have to restart from the beginning if you cancel or there's a problem transferring for Bluetooth.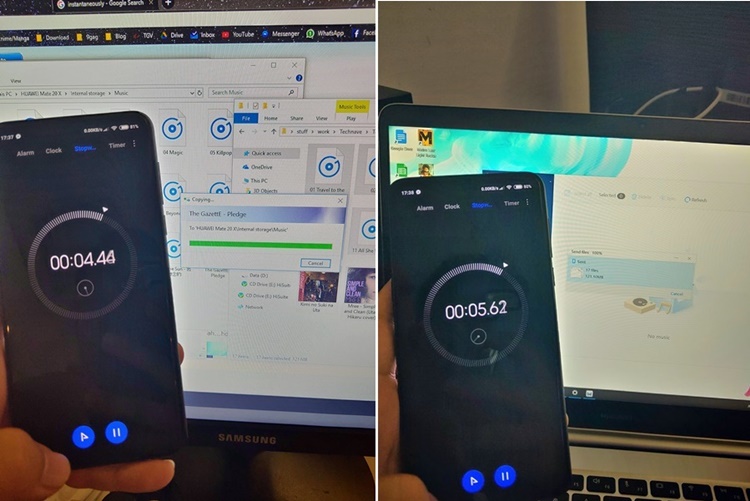 Transferring speed between Huawei Share (right) and cable (left) is roughly the same
Conclusion - Good feature, but a bit confusing
Huawei Share is not perfect by any means, but it's still a good start for the company to come up with an effortless wireless transferring experience. But anyway, Huawei Share's transferring speed easily delivers compared to traditional wireless transferring methods like Bluetooth and that's the important thing.
Are you a Huawei user and have you been using Huawei Share? Let us know in the comments below and you can also check out the latest Mate 20, Mate 20 Pro, Mate 20 X, Matebook X Pro and Matebook D at your nearest Huawei Experience stores or the online store right here. Stay tuned for more tech articles at TechNave.com.
Huawei Mate 20 X Specs & Price >