What is the best 13-inch laptop to get for around RM5K in Malaysia?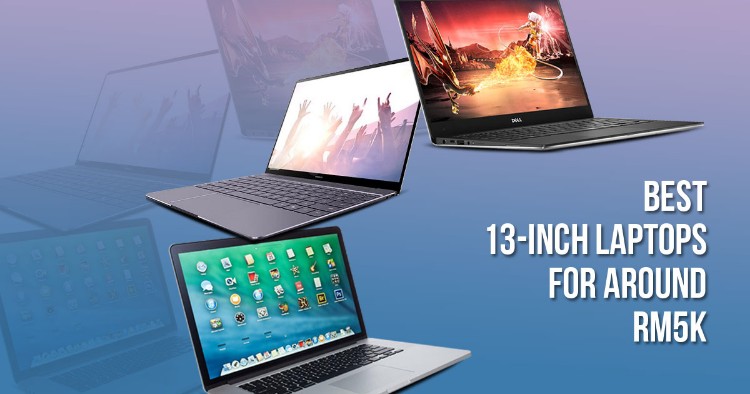 As more and more premium laptops flood the Malaysian market, it gets increasingly more difficult to find the best premium laptop for your needs even when your price range is around RM5000 or RM5K. While 15-inch display laptops offer a bit more in terms of display real estate, the 13-inch display premium laptops are the more serious workhorse devices you'd probably need to work and play on the go.
For that purpose we've put together a list of some of the best 13-inch display laptops for around RM5K that you can get or will soon be available in Malaysia. There's a whole bunch to choose from, so let's get to it!
Huawei MateBook X Pro - The next Value Ultra Ultraportable
Starting off with Huawei's latest notebook is the MateBook X Pro, it has a quite the firepower in the memory capacity with 16GB of RAM and a huge 512GB SSD. The processor goes up to the latest 8th Generation Intel Core i7-8550U, the battery life can stand up to at least 12 hours and it has a nice yet unique 3K FullView 13.9-inch touchscreen display. You can opt for an NVIDIA GeForce MX 150 2GB GDDR5 graphics card or the onboard Intel UHD 620 and there are 4 Dolby Atmos speakers along with 4 microphones. There's also plenty of USB ports (1x USB-C, 1x USB-C + Thunderbolt 3, 1x USB-A) are around but unfortunately, there's no SD card slot.
The MateBook X Pro looks like a premium all-rounder for the masses, especially since initial price estimates actually put it below RM5K (before tax of course). It has enough horsepower for both work and entertainment (movie marathon, anyone?). While it isn't a dedicated gaming laptop, its portability and ultra features give it plenty of value. It's worth noting that the security it has on it is a nice touch, such as the fingerprint sensor on the power button and the Recessed Camera that we talked about (the world's first, check it out here). It should be coming to Malaysia soon.
Apple MacBook Pro - The Usual Premium Pro device
We have mentioned about the Apple MacBook Pro before, as it has a strong fanbase in the ultraportable category. To refresh your memory, the Apple laptop features up to an Intel Core i9 chipset (six-core), 8GB of RAM, 256GB storage, a FHD 13-inch display (2880 x 1800 resolution), Radeon Pro 560X GPU graphics, four USB-C ports and a Turbo Boost that can push its default 2.9GHz to 4.8GHz. The battery life is 10 hours.
Every video editor knows that Apple MacBooks (or iMacs in general) are "the tool" for editing photos and videos, the laptop imports and exports videos really fast (including 4K ones), it syncs with your iPhone automatically, there are Siri and TouchID, it handles heavy programs like Adobe and Final Cut Pro easily, and has Turbo Boost when needed. Furthermore, MacBooks are known to last super long too and keep getting updated with macOS every year via OTA.
While there are no touchscreen capabilities, there is the OLED touch bar above the keyboard which allows you to control certain features like brightness, sound and others. Not everything is perfect on the MacBook Pro, though, as it doesn't have a 3.5mm headphone jack for some reason and the only ports it has are four USB-C ports, forcing you to get an adapter(s). Also, the MacBook Pro is expensive as heck as even the lowest-end version goes for well above RM5K and it's not for everyone (don't even think about getting it for gaming).
Dell XPS 13 - The Pricier Premium Alternative
Finally, we have come to the Dell XPS 13 which is quite expensive too starting from RM6.3K according to Dell Malaysia's website. For what it's worth and depending on which model you're getting, this machine carries powerful specifications with 8th Gen Intel Core i7-7700HQ CPUs with 2.2-GHz, up to a total of 16GB of RAM and 512GB SSD, a battery life of 19 hours (when using Word, lol), a 13-inch display (starts from 1920 x 1080 resolution), a USB-C with Thunderbolt 3, a SD card reader and... it has a 3.5mm headphone jack (yes, we know the Matebook X Pro has it too)!
This is one beastly machine, though. Its InfinityEdge technology allows it to jump to 4K (depending on model) but the website didn't specifically mention its graphics card, so we will have to assume that it's not really meant for gaming. However, Dell Cinema allows the user to adjust the best colour, sound and streaming too so that's nice. There's even a thermal cooler installed inside to keep the laptop from overheating.
That said, the website claims the battery life can stay as long as 19 hours on Word but we think constant 4K video playback will definitely drain it. Like the MateBook X Pro, its webcam is also located on the keyboard surface but is not hidden or recessed.
Here's our Top 3
So those are our top 3 picks of the best 13-inch premium laptops to get or look forward to in Malaysia. While not all of them are currently available for purchase yet, when the Huawei MateBook X Pro lands on our shores, it could well disrupt the 13-inch premium laptop market even further due to its value price tag. Until then, stay tuned for more tech comparisons at TechNave.com.