Which are the top Smartphone brands in Malaysia in 2016? IDC: Samsung still on top, OPPO in second spot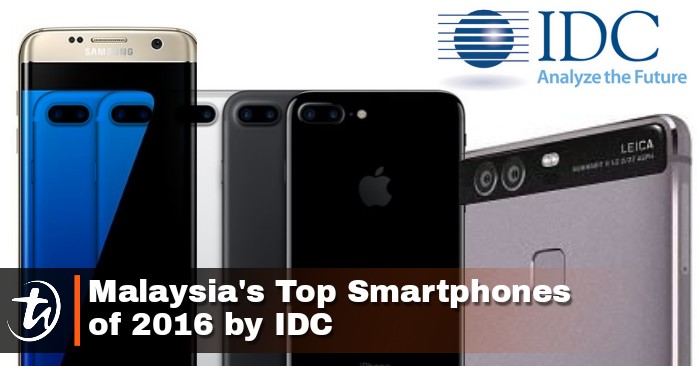 According to International Data Corporation (IDC)'s latest report, despite the whole Galaxy Note 7 fiasco last year, Samsung remains as the top smartphone brand in Malaysia. OPPO and Huawei takes second and third spot respectively, to make up the top 3 brands that took up more than 50% of the Malaysian market share in 2016. Compared to 2015, smartphone shipments in Malaysia had dropped by 5.9%. This could be due to various negative economic factors, which included the weakening of Malaysian Ringgit against the US Dollar, as well as the rising costs of living in Malaysia.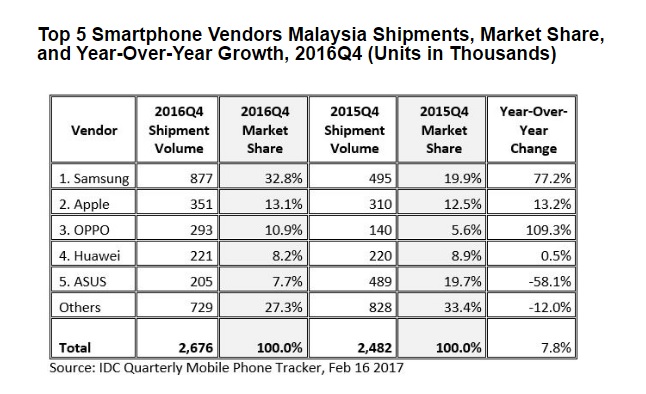 While smartphone shipments were generally on a decline on a yearly basis, in the last 3 months of 2016, smartphone shipments picked up. Samsung took first spot, taking up 32.8% of the market share, followed by Apple (13.1%) and OPPO (10.9%). Huawei and Asus filled up the fourth and fifth spot with 8.2% and 7.7% market shares respectively.
Samsung maintained its lead while selling 77.2% more phones than the same period in 2015. IDC attributed Samsung's success to the popularity of its Galaxy J series which jives well with the budget conscious crowd. Apple's launch of the iPhone 7 and 7 Plus in mid-October caused a spike in their market share in the last quarter. Rounding up the Top 3, OPPO made the largest growth in the fourth quarter, by having a 109.3% increase of market share over the same period in 2015, which IDC attributed to its marketing initiatives, focusing on few key products like the F1 series, which gained a large following among the selfie generation. Huawei remained solidly on 4th place in 2016Q4, with its Huawei P9 series remaining popular despite being almost a year into its release, while ASUS dropped to 5th place for the same period of time.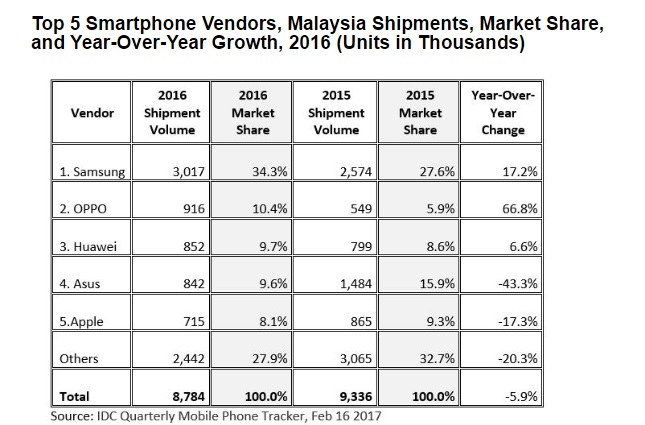 Looking at 2016 as an overall, Samsung remained the best selling smartphone brand, with 34.3% market share, selling a total of over 3 million smartphones with a steady 17.2% growth. OPPO, the surprise entrant securing second place, took up 10.2% market share, selling 916,000 smartphones in 2016, with the highest growth of 66.8%! Huawei sold 852,000 smartphones in 2016, taking third place with 9.7% market share. ASUS, which shipped considerably less smartphones compared to the previous year, is placed fourth with 9.6% market share, a drop of 43.3% compared to 2015. This is partly due to its latest range of ZenFone 3 having higher price tags, which, whilst making a marked improvement over its predecessor, is probably priced a little higher compared to the more budget friendly ZenFone 2 which was released in 2015. Making up the Top 5 brands would be Apple at fifth spot with 8.1% of total market share.
[Source]