Xiaomi Mi 5 to feature Snapdragon 820 and ready in February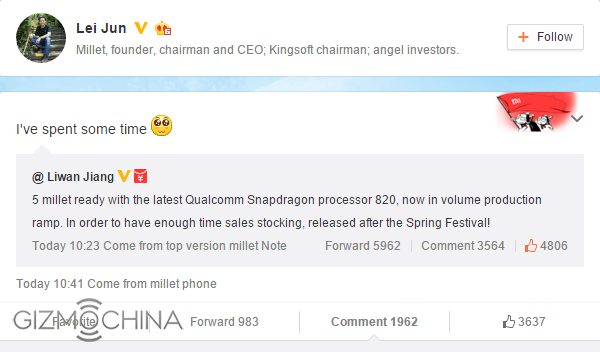 As you may know already, Xiaomi CEO and tech analyst Pan Jiutang have commented that the Xiaomi Mi 5 won't be arriving so soon due to the stock of the new Qualcomm chip, the Snapdragon 820. And as the saying goes "third time's a charm", Liwan Jiang, co-founder and Senior VP of Xiaomi have announced that the Mi 5 will indeed be equipped with the latest Qualcomm chip and will be in stock after the Chinese Spring Festival in February.
Furthermore, he also stated that Xiaomi CEO Lei Jun has been testing out the Mi 5 for some time and he thinks fans will be pleased with it. In the specs corner, it's reported that the Mi 5 will come in 5.2-inch display, 4GB RAM, 16MP rear camera + 8MP front camera, and a 3000 mAh battery.
Now that the Snapdragon 820 is good to go, we can expect the Mi 5 to go mass production soon and more news to come. Stay tuned!
[Source]
Xiaomi Mi 5 Specs & Price >