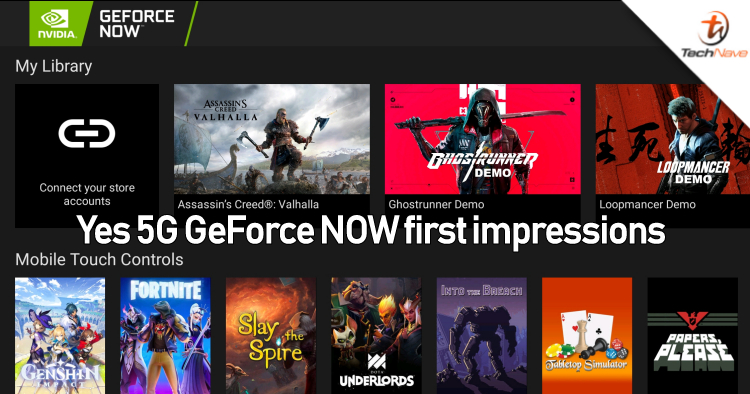 As per the recent announcement, Yes 5G is offering cloud gaming via NVIDIA's GeForce NOW platform. Available exclusively to Yes 5G customers on Beta, we managed to try it out and while it certainly sounds promising, considering the state of our 5G networks we have to admit that we were somewhat hesitant. Read on to find out our first impressions of the NVIDIA GeForce NOW cloud gaming platform powered by Yes 5G and see if it's the cloud gaming streaming platform for you.
Things you need to know
If you don't know what cloud gaming is, it basically allows you to choose from available games on NVIDIA's GeForce NOW servers. These servers equipped with NVIDIA's GeForce RTX graphic cards will run your game on maximum settings and then stream it to your device. In this way, you do not need to have a gaming device that is ultra powerful and you don't need to install the game on your device either. However, if your device only has a 720p HD screen then don't expect it to output 1080p FHD.
Yes, NVIDIA's GeForce NOW was introduced 2 years ago
Trying it out on a Samsung Galaxy S23 Ultra with the Yes 5G Prepaid FT5G Unlimited we tried it on both the phone itself as well as with Samsung Dex. Both worked but because most of the games on the platform are originally PC games, many of them needed a keyboard and mouse to play. We used a bluetooth mouse and keyboard for testing but more on that in a bit.
Most of the games listed will also need either an EA account or a Steam account, so if you haven't purchased a game like Cyberpunk 2077 on Steam you won't be able to play it for free on the GeForce NOW platform. However, the main benefits about cloud gaming like this are that you won't have to install it on your device, you don't need to dial down the settings to suit your device and your device does not get excessively hot when playing the game.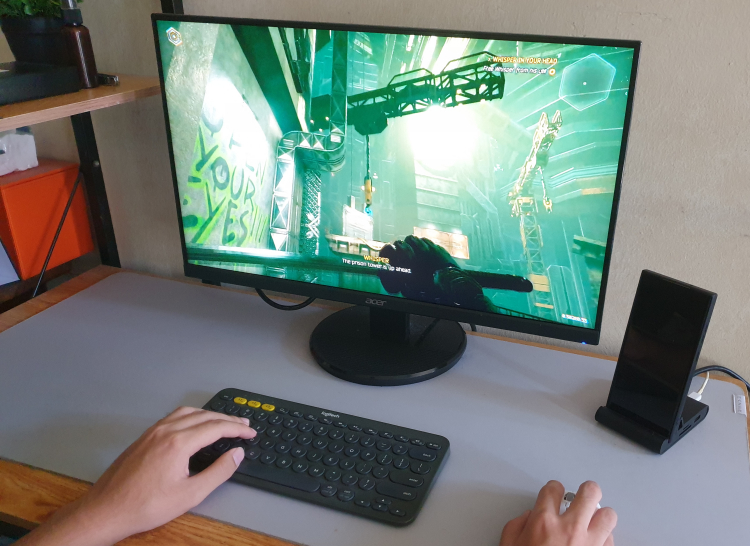 Yes, it works on Samsung Dex
To sign up for the beta, you will need a working credit or debit card with at least RM1 available. While the beta is free for Yes customers or RM0 for a month or so (or at least until 10/04/2023), it will test your card by deducting RM1 from it.
Don't worry, they will then return it to your account. There are a few other conditions as well like a 6 hour non-stop gaming per session limitation but we think 6 hours of non-stop gaming should be more than enough to satisfy most people.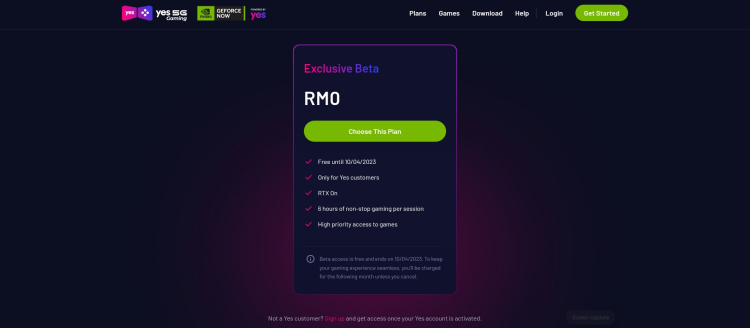 Yes, it's RM0 for now but it is still on Beta
Actual performance - As fast as your 5G connection
Trying out one of the Instant-free play demo games, we chose GhostRunner, which is a first-person action-platform game where you wall-run and take out surprisingly accurate gunmen with a sword. While you don't have to use your 5G to play, since our 5G connection was going at 500Mbps and our Home Wifi was going at less than 100Mbps we used the Yes 5G and turned off the WiFi.
At the time of testing, the Yes 5G connection for this game session was about 500Mbps
Gameplay was very smooth and loading took almost no time at all. We did find that it took a while for the bluetooth keyboard to register initially, but after a bit of waiting it worked with almost no lag between the keypress and the actual action. As advertised, the phone did not get as hot as it would normally get if we were to run a game like Genshin Impact on maximum settings directly from the phone.
Nearly nothing except for the GeForce NOW app (which needs about 160MB of storage) was downloaded to the phone and everything ran perfectly fine. However, our 5G did cut out once and when that happened, the game completely stopped or froze. We had to force quit the app and get a connection again to make it run once more.
You will need the EA app or Steam or Ubisoft Connect to play certain games, and you will have to buy certain games from those platforms too
Due to this instability, once in a while speeds dropped down to 30 to 50 Mbps and the game became very laggy. You could still play it, but it wasn't as enjoyable. Because of this, if your 5G connection is unstable, you might want to pass on this cloud gaming platform.
According to the site, you can play the GeForce NOW app on a laptop, desktop, smartphone, tablet and smart TV, but they have to meet certain requirements (like 2021 / 2022 Samsung TVs only). You can also play using the gamepad on some games with support for Xbox Wireless controllers, Sony PS5 Dual Sense and DualShock4 controllers and more but we didn't have any on hand to test.
Yes, you can play on your Smart TV, but only those that support it
Conclusion - Surprisingly polished cloud gaming in Malaysia?!
Overall, the NVIDIA GeForce NOW cloud gaming platform powered by Yes 5G is surprisingly polished and playable. There's a very good selection of some of the latest games including Cyberpunk 2077, Assassin's Creed Valhalla, Genshin Impact and more. Depending on the price and how fast your Yes 5G connection is, our first impressions of this cloud gaming platform powered by Yes 5G are very good.
Considering that the Xbox PC Game pass in Malaysia is currently being offered for RM15, we'd like to see this sort of pricing for the NVIDIA GeForce NOW cloud gaming platform powered by Yes 5G too (or maybe even lower? lol). However, this cloud gaming platform definitely has more benefits in that you don't need a powerful system to run AAA games that will stream on maximum settings.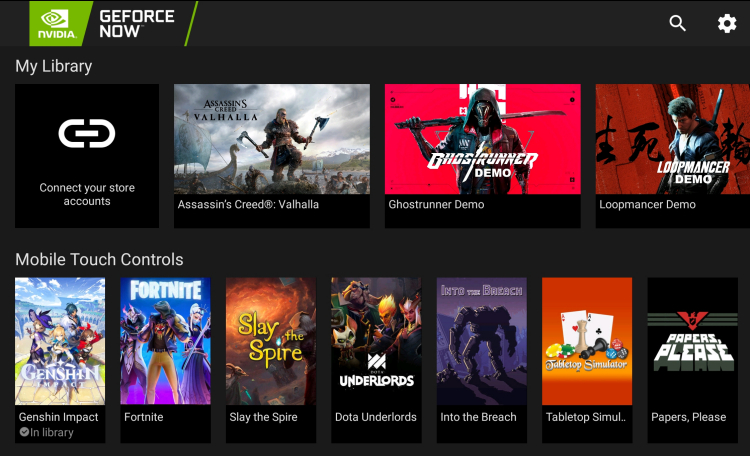 However, this does mean that you'll only be able to enjoy playing if you're in KL, Putrajaya and locations where the Yes 5G connection is strong and stable. If you're in a location with poor Yes 5G connectivity then we'd recommend you wait a while, at least for the coverage in your area to improve. It is also still in Beta, so you should expect it to have some bugs as well.
If you're still using 4G then this also means that there's one more reason for you to finally make that upgrade to 5G as well. While Yes 5G may be the first to do cloud gaming in Malaysia, we expect the other telcos to also likely launch their cloud gaming platforms soon too.
So, would you wait or get a Yes 5G SIM just to try out the NVIDIA GeForce NOW platform? Share your thoughts and cloud gaming experience in the comments below or on our Facebook page. As always, stay tuned to TechNave.com for more news on tech.