Comparison: Jaringan Prihatin by YES 4G, Yoodo, Digi, Celcom, Maxis and U Mobile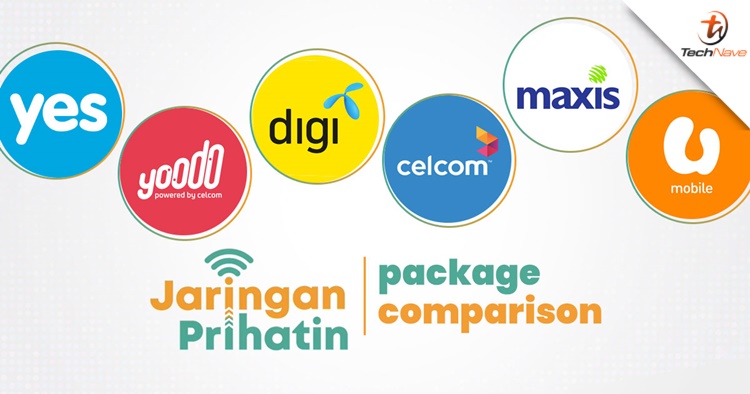 As some of you already know, the Jaringan Prihatin Programme has already begun on 5 May and all the telco brands have already started to launch their own plans for the Rakyat. We have posted some news from YES 4G not too long ago but more telco brands are releasing theirs. With this, we figured that we will just make a compilation of all the Prihatin packages.
In this compilation, we have YES 4G, Yoodo, Digi, Celcom, Maxis and U Mobile. Without further ado, check out the Jaringan Prihatin Package comparison below!
YES 4G - Free phone, free mobile data and more for B40
In an effort to help the B40 citizens, YES 4G will offer free phones and mobile data for an entire year. Called the YES Prihatin Learn-From-Home Families and Learn-From-Home Individuals, both are free of charge.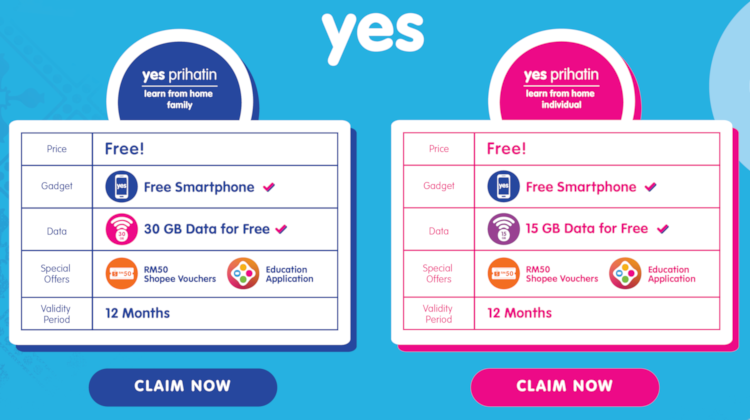 Both plans are more or less the same which includes the aforementioned free phone, FrogAsia Mobile app access and an RM50 Shopee voucher. The only difference is the mobile data which are 30GB and 15GB mobile data per month respectively for a year. For more information, you can check out their official Prihatin page here.
Yoodo -
80GB data for RM20/month for one year
In Yoodo's case, the company's Jaringan Prihatin package offers 80GB of mobile data for RM20/month and the registration for it has already begun from 5 May until 31 July. Users will have access to this offer for 12 straight months until 31 July 2022, which is also the final redemption date for the subsidised offer.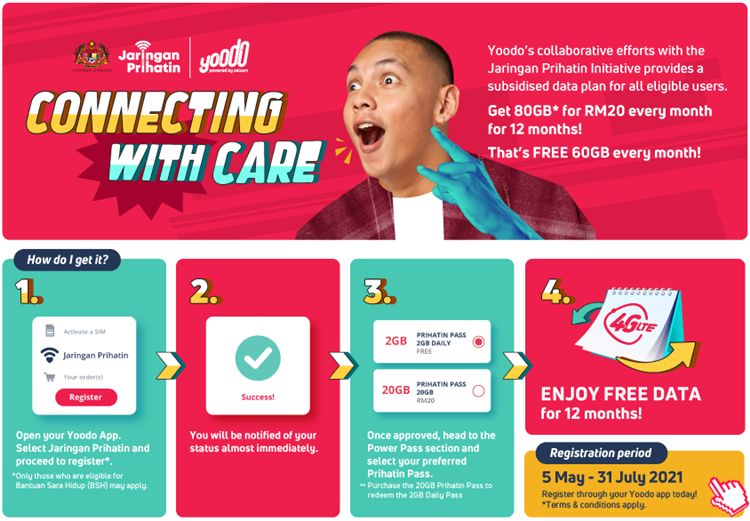 By the way, Yoodo users can check their eligibility to register for the service via the Yoodo app. The name is called Prihatin Pass 20GB which would enable users to claim an additional 2GB daily for free that can be used in an hour. For more details on Yoodo's Jaringan Prihatin offering, you can visit www.yoodo.com.my/jaringanprihatin.
Digi - RM300 subsidy for phones and tablets
In the yellow telco corner, they are offering two package plans - an RM180 rebate for a prepaid and postpaid plan, as well as an RM300 device subsidy. The registration has already begun on 5 May and it will end on 31 July 2021 for current and new Digi users.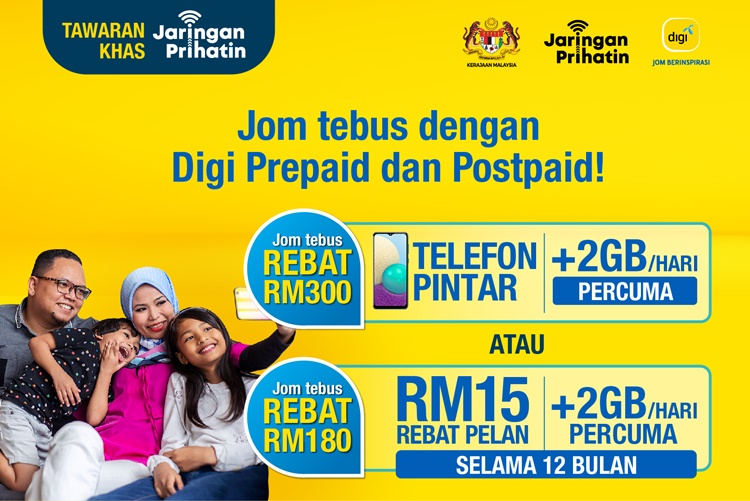 For the 180 rebate plan for both prepaid and postpaid, qualified users can receive a monthly rebate of RM15 and an extra 2GB of mobile data daily, for up to one year. If you're looking at the latter plan, only Malaysian families are eligible for this and can receive an RM300 subsidy with a 4G phone or tablet. You can view the official gadget list here, whereas you can visit the official webpage over here.
Celcom - Enjoy a free phone and save up to RM360
Like Digi, Celcom is also offering both prepaid and postpaid rebate packages. The prepaid rebate is quite straightforward, where Celcom prepaid users can have an RM15 rebate for a year. There's also a Celcom Just4Me which is a personalized special offer with free 2GB of mobile data daily for a year.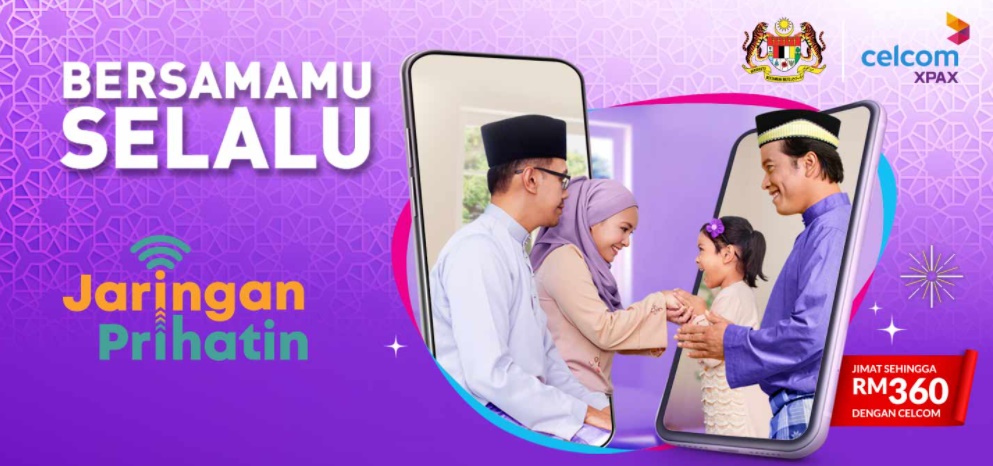 Then for the Celcom postpaid users, they can browse Facebook, Instagram, YouTube, WhatsApp and WeChat with unlimited data. Moreover, they can get a free phone (prepaid too!) with an XP Lite plan for as low as RM38/month and also enjoy 60GB of mobile data for free which is the most affordable postpaid plan now. If you already have a family, there's an RM300 rebate on phone purchases. In addition to the government subsidy of RM300, Celcom is adding extra rebates of RM60 making it the highest offer in the market.
The XP Lite is paired up with Pass L (family or individual) and Pass M with a few selected smartphones. So for more information, you can visit the blue telco's Prihatin page right over here.
Maxis - Get a Samsung Tab A 8.0 for RM1 or an iPhone XR (128GB) for RM1399
Yup, you read that right. Maxis Hotlink users can enjoy a subsidy of RM300 on any eligible Hotlink devices under the Hotlink Postpaid 60 plan. However, do keep note that this is only for households with children. For individuals, you can also enjoy a subsidy of RM180 on a wide variety of phones as low as RM1.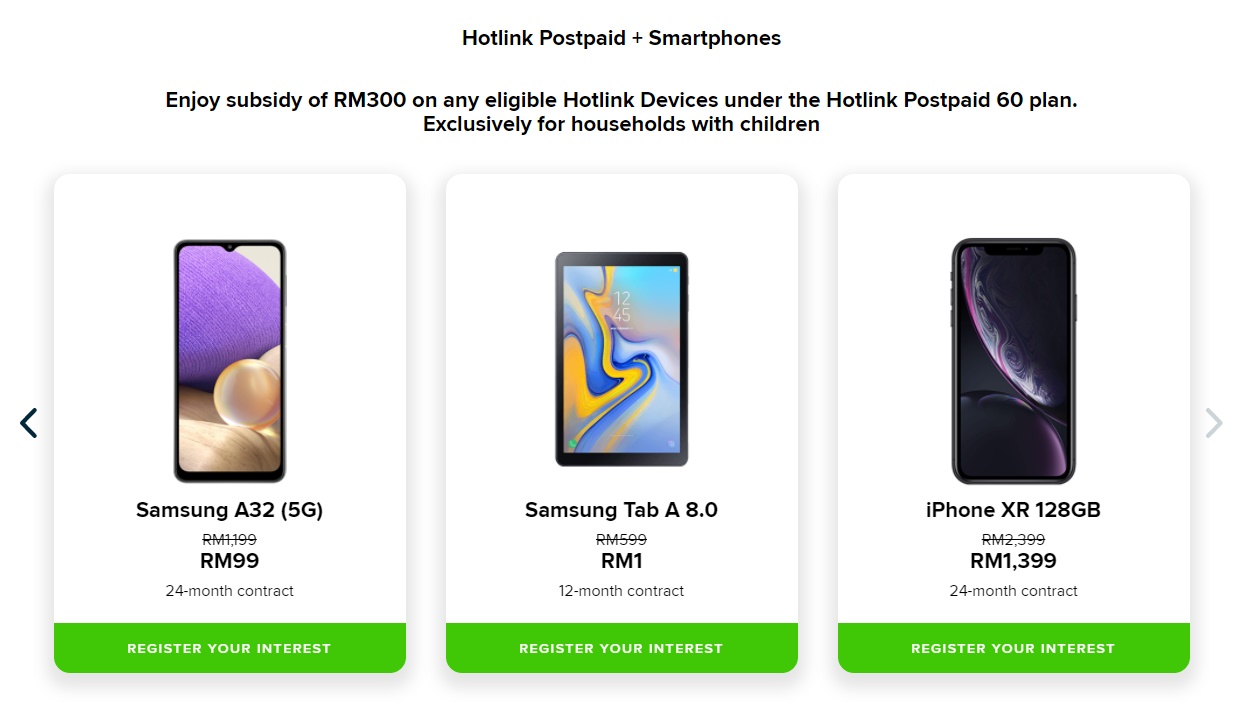 Besides that, Hotlink prepaid, Hotlink postpaid, Maxis postpaid and Maxis Home 4G WiFi users get to claim free credit worth RM180 (RM15 x RM12 months). On top of that, the free 2GB daily is included as well which can be redeemed on the Hotlink or Maxis app. More information about Maxis' Prihatin can be found here.
U Mobile - Free selected device bundles and data plans as low as RM15
Last but not least, eligible U Mobile users can opt for free gadgets with a bundle or subsidized data plans. For the gadget bundles, they can claim a Samsung A02, Samsung A02s, realme C11 and OPPO A54 being bundled as part of the plans for free. Plus, they can even choose a Lenovo Tab M10 HD (Gen 2) tablet for as low as RM249. You can check out the graph below for your reference.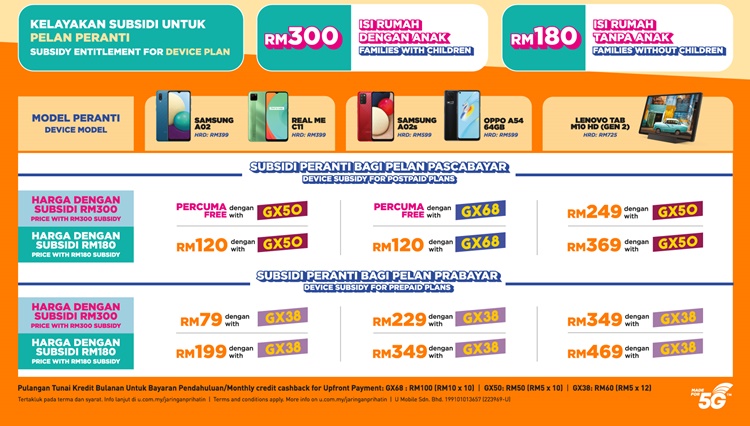 For the subsidized mobile data plans (refer to the graph above), U Mobile users may look forward to paying as low as RM15/month for a year for the Giler Unlimited GX30 prepaid plan. For the postpaid plans, only the GX68 and GX50 are part of the Prihatin plans going as low as RM25/month. You can visit the official webpage to learn more or go to u.com.my/prihatin to check eligibility and register for it starting today onwards (7 May) until 31 July 2021. An additional 2GB of mobile data for 1 hour every day will be given to all customers who have successfully signed up.
Phew, that's a lot of information but that's all the Malaysian telco Jaringan Prihatin Programme plans. What do you think? Let us know in the comments below and do sign up for it as soon as possible before the due date on 31 July 2021. Stay tuned for more local trending tech news at TechNave.com.