Here are some new hidden features that your Samsung Galaxy Note20 Ultra can do
We sure have written a lot of stuff about the Samsung Galaxy Note20 Ultra, the behind-the-scenes of its Mystic Bronze theme colour, our viewing experience, the Pro Video Mode, Link to Windows, and other productive features. It may seem like there's nothing else to talk about but aha! - we actually found three new hidden features that you can do with your Galaxy Note20 Ultra.
Samsung has already told you about the S Pen, Microsoft services, and the other features that we just aforementioned, but what they didn't tell you, though, are these three hidden features that we found - WiFi Sharing and Connection Quality Check, as well as the Music Share with your friends. By the way, you can get these features from the latest One UI 3.0 software update on selected Galaxy phones. Read on below on how to use them!
Sharing the WiFi password with your friends without telling them
"What's the WiFi password ah?" This phrase is probably one of the first questions you would hear from your friend who is visiting you or even your family member. Depending on how complicated your password is, it's a hassle to tell them all the big or small letters, numbers, or perhaps an embarrassing password that you don't want them to know. Thankfully, Samsung has integrated a Share WiFi.
To use Share WiFi, it must be noted that only a Galaxy phone can do this. First, your friend and family member can just simply login to the WiFi setting and choose the WiFi that you're using. Tap on that and you should see a "Request Password". Then from your own Galaxy phone, you can choose whether to accept or decline the request. Easy peasy.
Find the best WiFi connection quality near you
Okay, so say that you're out in the public and could use some WiFi connectivity. The chances are that there are several WiFi connections all around and you're not sure of which one has the strongest signal. With the new software update, you can read the description below the WiFi name on which one is the best or any login requirements. Sap sap water yo!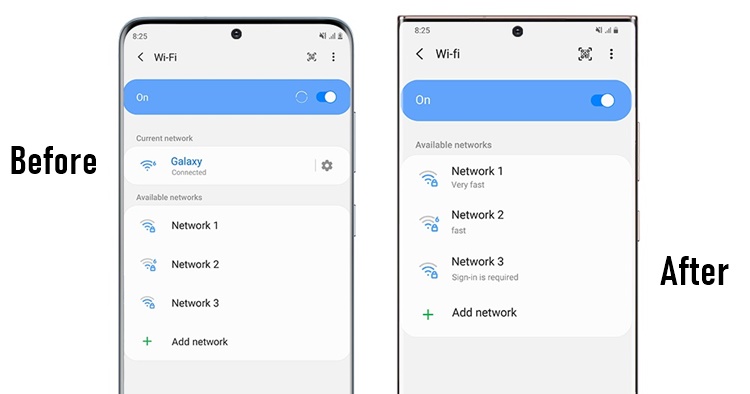 Share your songs to your friend (without taking off your earbuds)
Yup, it's now possible to share your songs with the new Music Share feature. To do this, both of you and your friend can pull down your notification bar and search for Music Share. Tap inside and you should be able to see a Bluetooth audio device displayed on Music Share and Paired devices.
Either you and your friend can request to connect to each other's Bluetooth audio device. After allowing, both Bluetooth audio devices will play the same song. This also works on playing YouTube Music, Spotify and other music streaming services.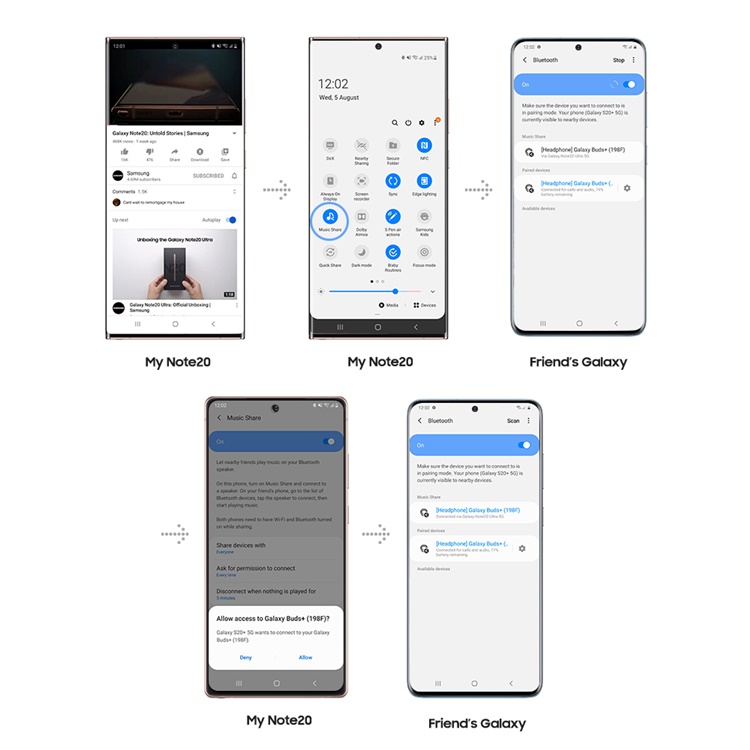 Before we end this article, Samsung Malaysia is still continuing the Galaxy Note20 series sale. Interested customers who purchased either one of the Galaxy Note20 series will receive a Galaxy Buds+ (worth RM599) from now until 30 November, on a first-come-first-serve basis, while stocks last.
That's all folks, what do you think of the new WiFi and Music Share update? You're very much welcome and For more information, you may refer to this website. Stay tuned for more tech article tips like this at TechNave.com.
Samsung Galaxy Note 20 Ultra Specs & Price >