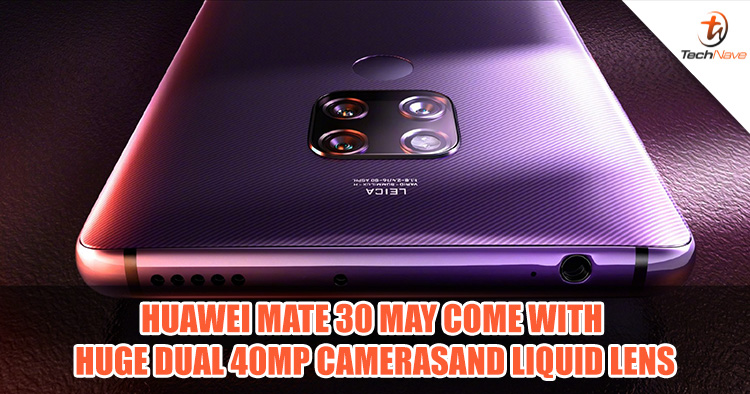 We've heard some pretty wild things about the much anticipated Huawei Mate 30 - especially when it comes to the camera. We've heard that the device may feature dual 40MP sensors which is pretty crazy. They have also recently trademarked the 'Cine Lens' and 'Matrix Camera' which means this phone will have a huge leg up in terms of camera compared to its brother, the Huawei P30 Pro.
The 40MP main sensor may come with a quad RYYB filter, similar to the Huawei P30 Pro but with a much larger 1/1.55" sensor. The second 40MP sensor is apparently is the ultrawide angle lens with a 1/1.7" aperture. In addition, the telephoto camera may still remain at 8MP like the Huawei P30 Pro. You can see for yourself the comparisons of sensors that might come with the Huawei Mate 30 against other flagships:
How does Huawei's camera surpass Samsung? This picture tells you the answer. pic.twitter.com/NOKf3EEhDh

— Ice universe (@UniverseIce) August 4, 2019
Besides that, Huawei had also just patented "Liquid Lens" which is said to also be apart of the Huawei Mate 30 Pro camera setup. The technology isn't exactly new - created more than two decades ago by French physicist Bruno Berge. It focuses the camera with a liquid lens by changing the liquid in the lens. The liquid can be a combination of oil and water which changes in shape when charged.
Most likely the reason why Huawei adopted this technology is due to the advantages it has over a digital camera or a motorized lens. Among them is the ability of the liquid lens to change focus quickly and accurately while remaining sharp. Next, it eliminates the need for moving parts and costs less to make. It also only occupies a small area, eliminating the need for a camera bump and lastly, it can achieve a pretty huge zoom range (which makes sense because this is definitely Huawei's thing).
Huawei Liquid Lens Patent, One of the rumors says that this would be part of the Mate 30 pro camera system. #Huawei pic.twitter.com/vQ7KfzNdp0

— Teme (特米) (@RODENT950) August 5, 2019
Right now, the liquid lens technology is mostly used in industrial cameras but it is rather interesting how Huawei has managed to adopt this concept into smartphones. This makes me very excited to see what the Huawei Mate 30 series has to offer this year. What about you? Keep up with the latest Huawei news on TechNave.com!