Latest rumour about the Sony PlayStation 5 suggests it has 13.3 TFLOPS in GPU performance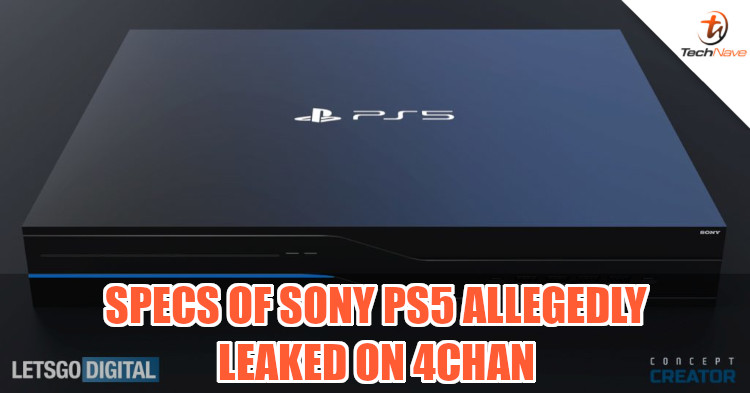 Render of Sony PS5 by LetsGoDigital
The folks at Sony Entertainment have been very tight-lipped when it comes to details of its next-gen console. While some features have been teased, we've never gotten any concrete numbers on the machine's specs. Obviously, that gives people room to imagine and speculate on just what the Sony PlayStation 5 full tech specs are.
Speculation has been rife lately and the latest rumour comes from 4chan thread. According to the anonymous user, the Sony PS5 will have up to 13.3 TFLOPS (60 compute units) in graphical processing power, an AMD Zen 2 CPU running at 3.4GHz, 16GB of GDDR6 VRAM, 4GB of DDR4 RAM, and a 1TB SSD with transfer speeds of up to 5.5GB/s. If these specs are true, the PS5's GPU will be on par with the Nvidia GeForce RTX 2080 Ti, which has 11GB of GDDR6 VRAM and 13.45 TFLOPS of graphical processing power.

Additionally, it's supposed to be backwards compatible with games from all previous PlayStation generations. Another big change will be a new Dual Shock controller with a built-in microphone that has been rumoured to have support for voice commands. All of the above and more will allegedly be available for USD 499 (~RM2112).
To be fair, this is the same pricing that many have speculated in the past few months. But if you consider the hardware that it's supposed to have, it's hard to imagine that Sony will settle for it, as it would mean a significant loss for every unit sold. Of course, this rumour isn't very credible, so it's best to take it with a healthy dose of salt.
With Sony cancelling its appearance in several games events this year like PAX East and E3 2020, we won't know any in-depth details of the PS5 till much later this year. With that said, how well do you think the PS5 will actually perform and will you buy it as soon as it's available in Malaysia? Let us now on Facebook and follow us on TechNave.com for future updates on this next-gen console.