POCO X3 NFC Review - Say hello to your new mid-range phone killer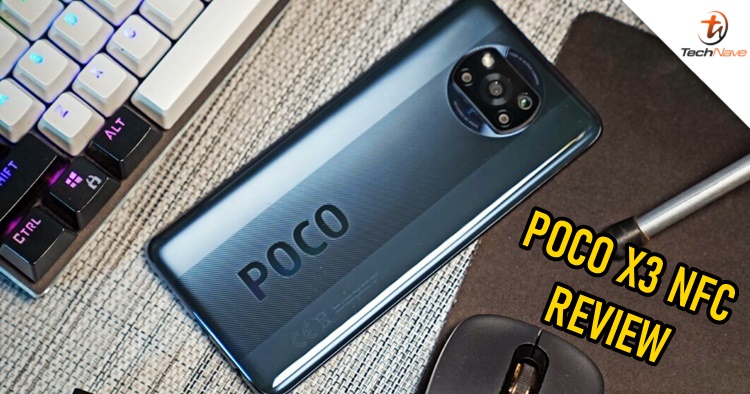 Not too long ago, the POCO X3 NFC was released in early September and it killed the smartphone industry (again). Not because of its mid-range tech specs but rather its affordable price that offers great value for money. I still fondly remember when waiting for the price announcement during the live stream, and when it was official, my media friends and I lost our minds. The price is really good, but is it worth using it? Without beating around the bush too much, here is our review of the POCO X3 NFC.
Design - Standing out
When I first got my hands on it, my first impression was "this is a heavy phone!" If you lie down on your couch or bed watching videos and accidentally let it slip, prepare for a world of pain to your face (one of our writers experienced this lol). Although the overall weight of the phone is heavy and thick, it still has a good arc edge design so the overall grip is good. Granted, the back cover is made of polycarbonate plastic but believe me, it doesn't feel like an inferior product.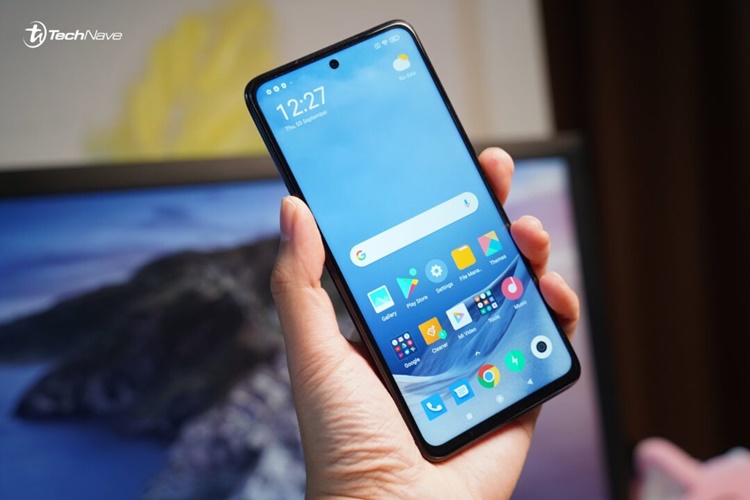 Typical look with a cutout for the front camera at the top
But the back, oh that's hot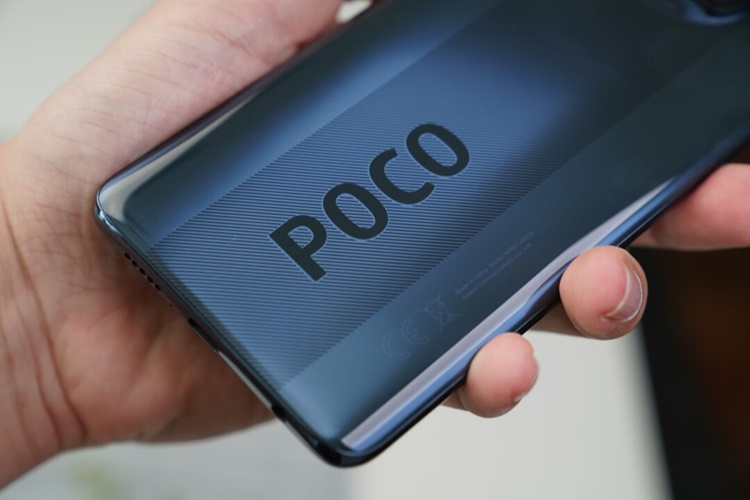 The POCO trademark making sure you can see it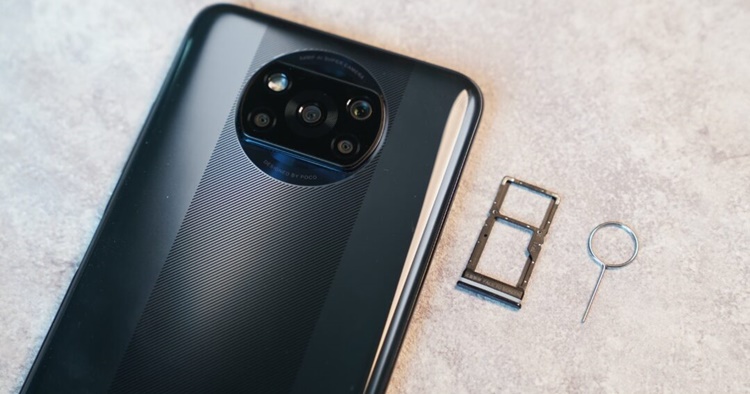 A hybrid dual SIM card tray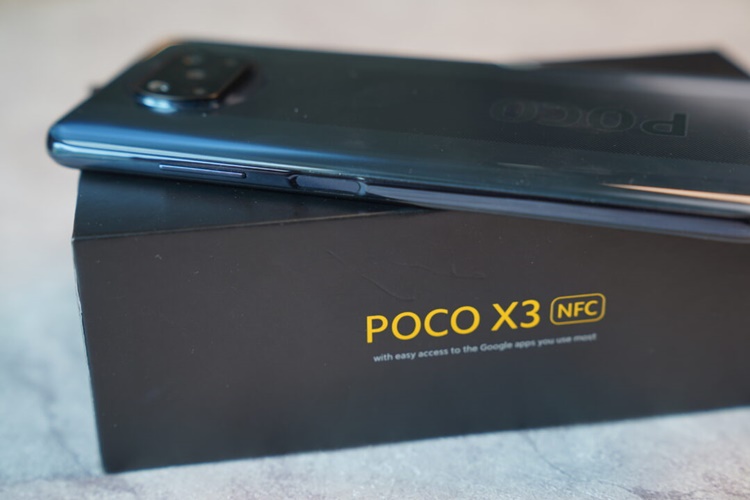 A side-mounted fingerprint scanner!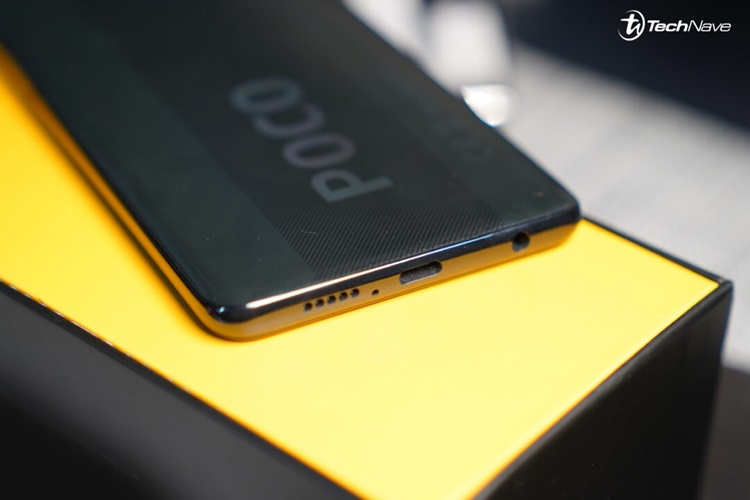 The 3.5mm audio jack is back too!
If you shine some light on the back of the phone, you can see that there are dual colour tones on the X3 with a striped textured design. This is quite a cool design, where if you shine the light from different angles, you can see some rainbow colour effect glowing from it. However, we also have to point out that the back is quite prone to fingerprint smudges, so get ready to wipe often if you're not using a protective casing.
Besides fingerprint smudges, we also have to comment on the rather unique and odd quad rear camera design. This is truly one of a kind but the camera bump is quite prominent, so yes, please do use a protective casing at all times. Furthermore, the X3 comes in two different colour schemes - black and blue. If you prefer something a bit more low-key, the black does the job whereas blue is the way to go if you want to call for attention.
Tech specs and features - More than just the 120Hz refresh rate
Here are the official POCO X3 NFC tech specs: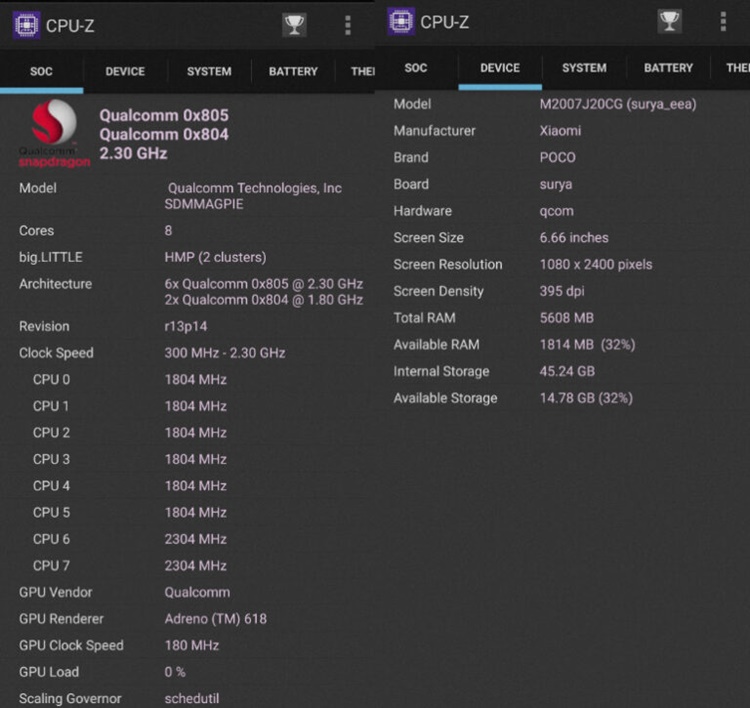 Qualcomm Snapdragon 732G chipset

6GB of RAM

64GB and 128GB UFS 2.1 storage (expandable up to 256GB)

6.67-inch FHD+ DotDisplay (Corning Gorilla Glass 5)

Measures 165.3 x 76.8 x 9.4mm, weighs 215g

Quad rear camera - 64MP (main) + 13MP (ultrawide) + 2MP (macro) + 2MP (depth)

Front camera - 20MP

Features 120Hz refresh rate, 240Hz touch sampling rate, 33W fast charging technology, side-mounted fingerprint scanner, dual stereo speakers, IP53 splash-proof

Supports 4G LTE, Dual VoLTE, WiFi 2x2 MIMO, Bluetooth 5.1, MFC (Google Play)

5160mAh battery

MIUI 12 based on Android 10
When it comes to the configuration, the X3 is a mid-range device packing some extra sweet features. The most notable ones are the expandable memory of up to 256GB, 120Hz refresh rate, 240Hz touch sampling rate, dual stereo speakers, and even a 3.5mm audio jack. Also, you will find that there is a Reading Mode, which is quite common these days, but we find that switching between Classic and Paper didn't really make any difference. Dark Mode is another feature that Xiaomi didn't highlight, but it turns your Facebook, YouTube, and even Google dark if you enable it.
Perhaps the best features (or rather our favourite) are the dual stereo speakers and the return of the 3.5mm audio jack. I cannot emphasise enough how important audio is, especially for playing mobile games. However, maxing out the volume might not be a good idea as it vibrates the back quite evidently. Depending on how good your hearing is, you might be able to hear the distortion at max volume, though it might not be that obvious.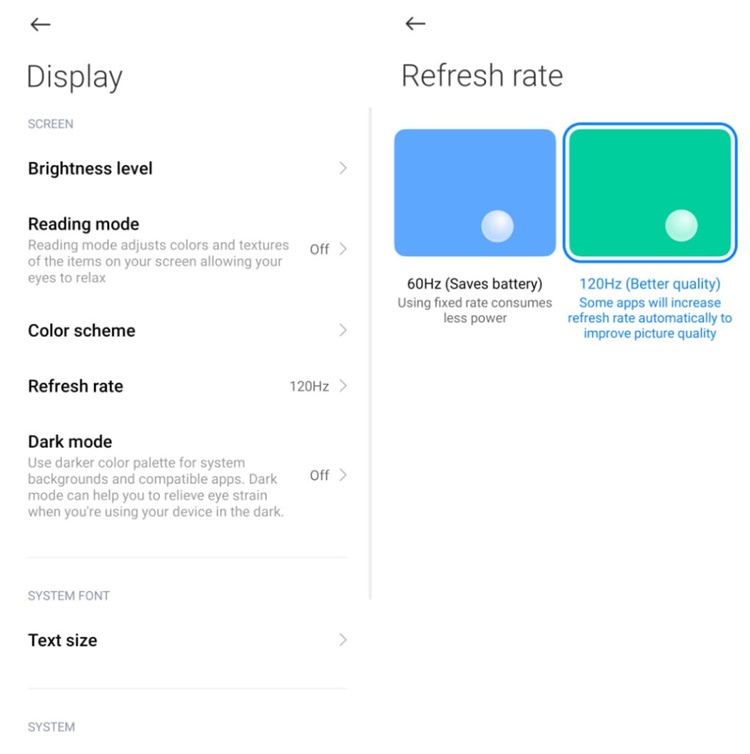 Naturally, turning on the 120Hz refresh rate would drain the battery faster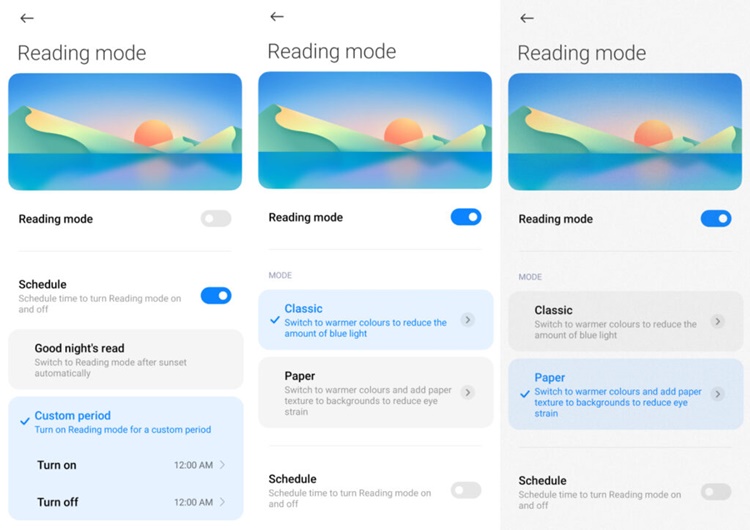 I must be blind because I can't tell the difference between Classic and Paper in Reading Mode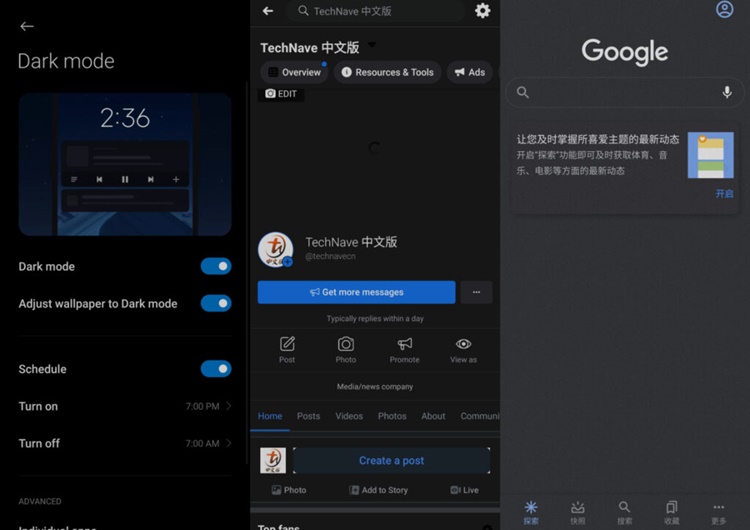 Dark Mode is love
The camera UI hasn't changed that much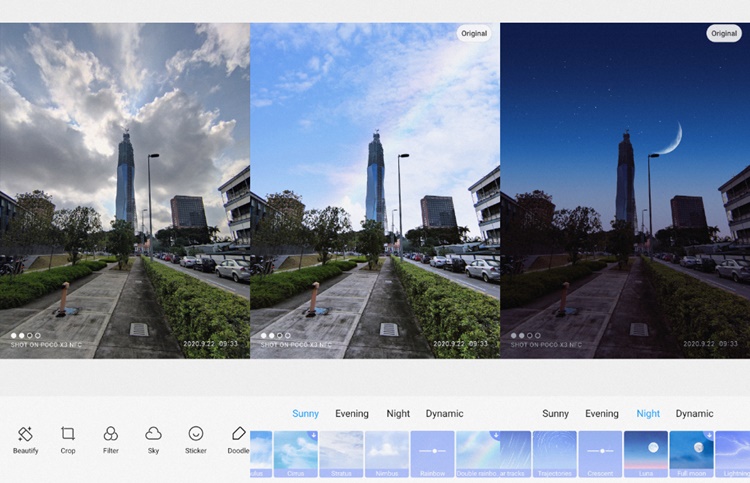 This is a fun filter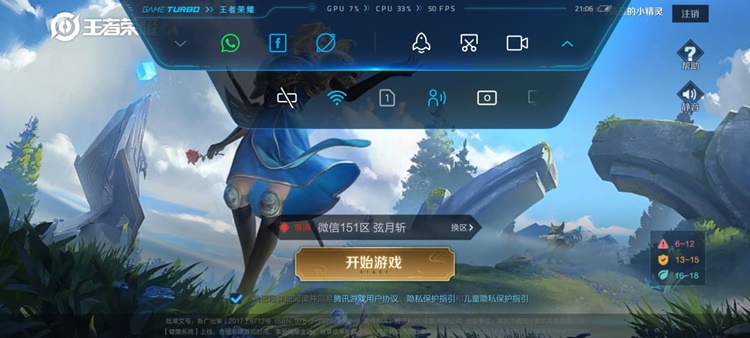 Game Turbo assistant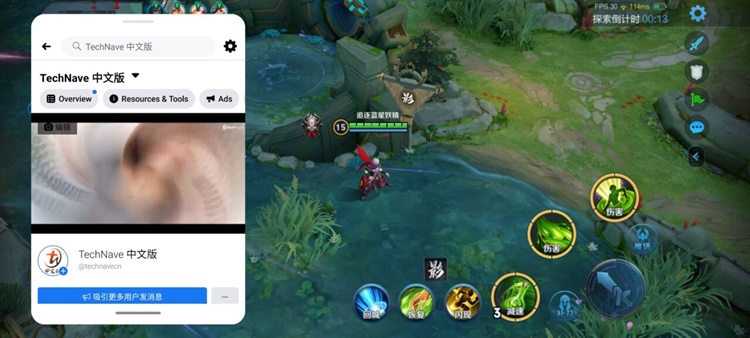 The Game Turbo also allows you to have a Picture-in-Picture mode on other apps such as Facebook during a game (editor's note - but...it's very distracting lol)
Performance - That battery pack though
With the latest Snapdragon 732G chipset in its hand, the X3 scores 272695 points on AnTuTu, as well as 2691 and 2503 points on 3DMark. For a smartphone that's around a thousand Ringgit, this is certainly a steal but those are just scores. We are also happy to report that the phone can cope with a few mobile games quite well, and with the high refresh and touch sampling rate, there aren't any delay problems.
Aside from being able to handle mobile games well, its battery performance is even more impressive thanks to the 5160mAh battery capacity. It took us quite a long time to drain the phone (two days) and it can handle heating quite well from playing three online matches on max settings in a row. If it's low on battery, just plug in the 30W fast charger and it can be fully charged within 1 hour and 15 minutes. Well played.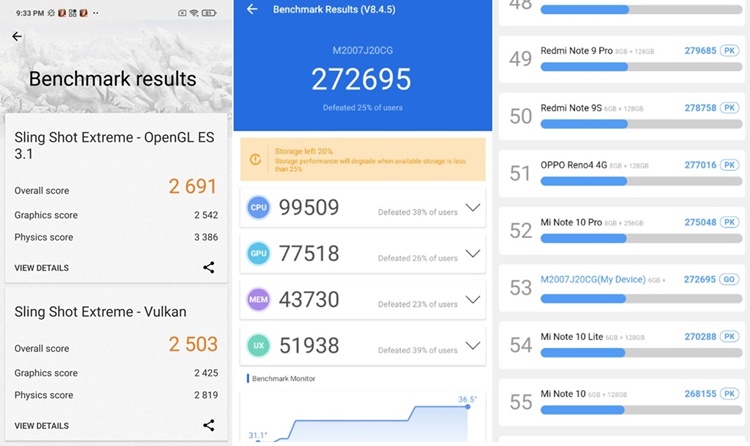 Here are the scores from 3DMark and AnTuTu, not so bad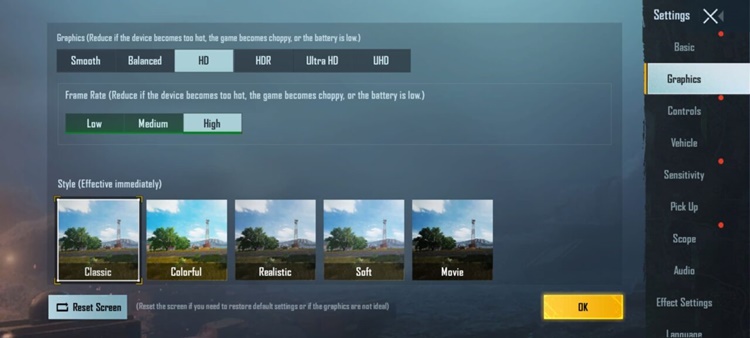 While it's possible to set high frame rates, the graphics are just HD at best in PUBG Mobile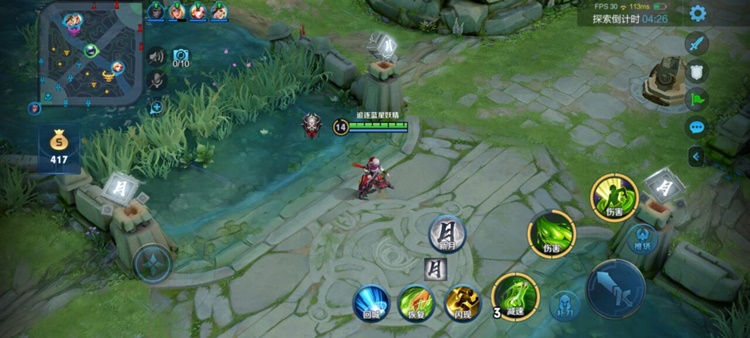 MOBA mobile games are also great on the phone thanks to the 240Hz touch sampling rate
For mobile MOBA games like Arena of Valor (or rather 王者 in this case), the X3 has more than enough power to run the game nicely. We didn't experience any issues or delays after adjusting the settings on max, but it's too bad that PUBG Mobile can only be set to HD graphics. Granted, both of these games aren't able to hit the 60fps mark, but the 240Hz touch sampling rate is useful.
Finally, we come to the camera performance section. Overall, the phone did well in terms of colour contrast. However, the same cannot be said about night mode, as it tends to have some bright "lens flare" effect. Fortunately, you can always adjust the light sensitivity, so it's not that bad per se. You can check out the photos below and judge them by yourself.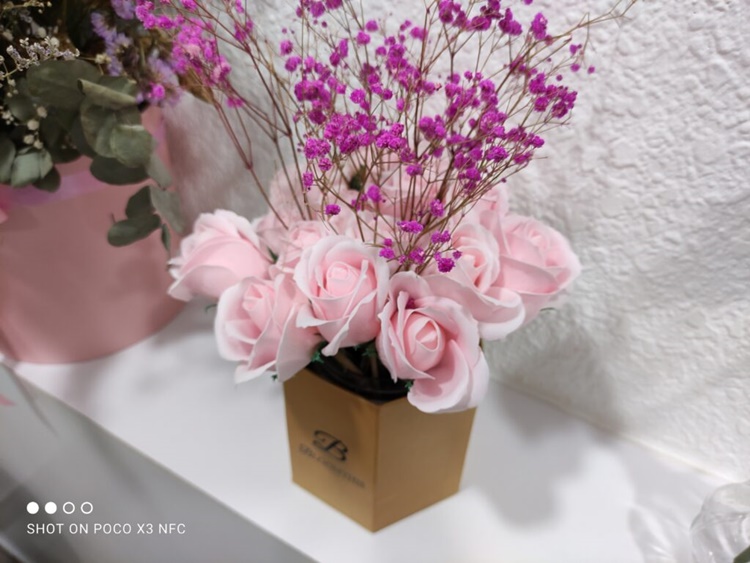 Right off the bat, the camera already shows promising photo quality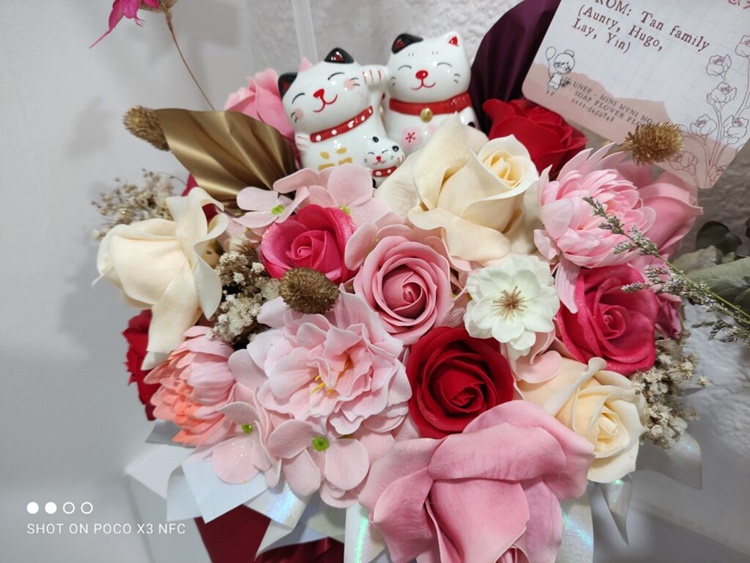 You can see the colour contrast don't look too digitalise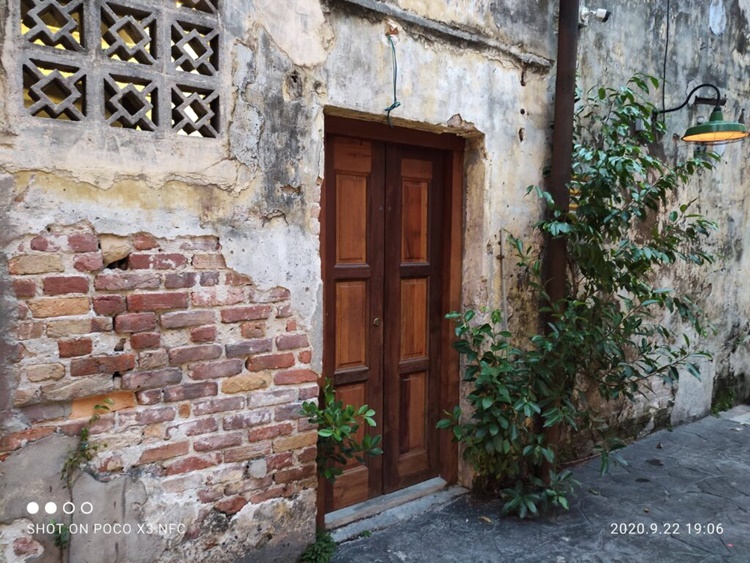 Outdoor shooting is just as nice, you can see the details on the walls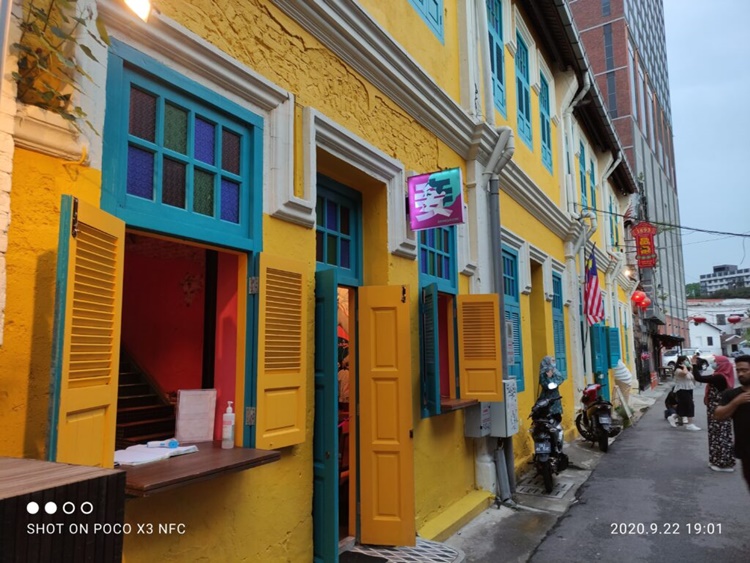 Colour presentation is good on the X3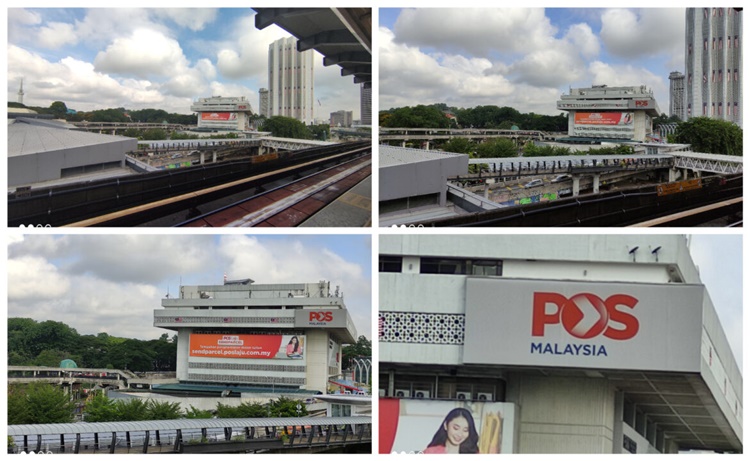 Ultrawide and normal shot on the top, 2x optical zoom and 10x digital zoom at the bottom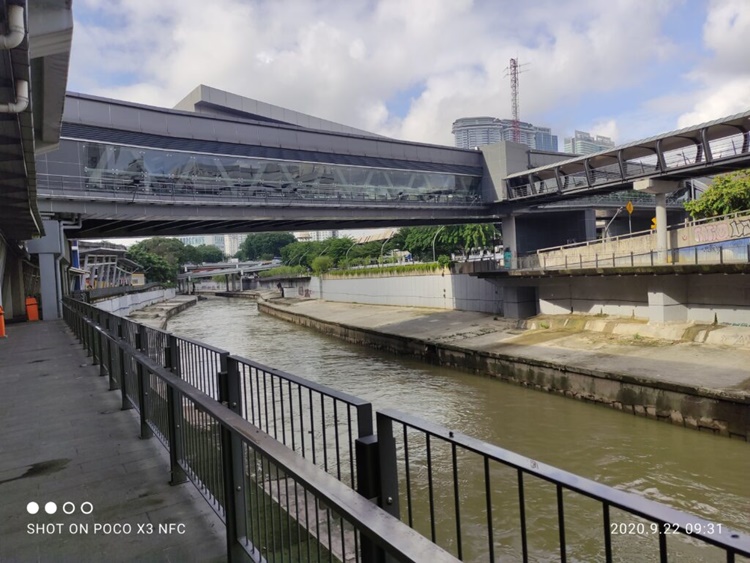 Here's another shot before using the ultra-wide mode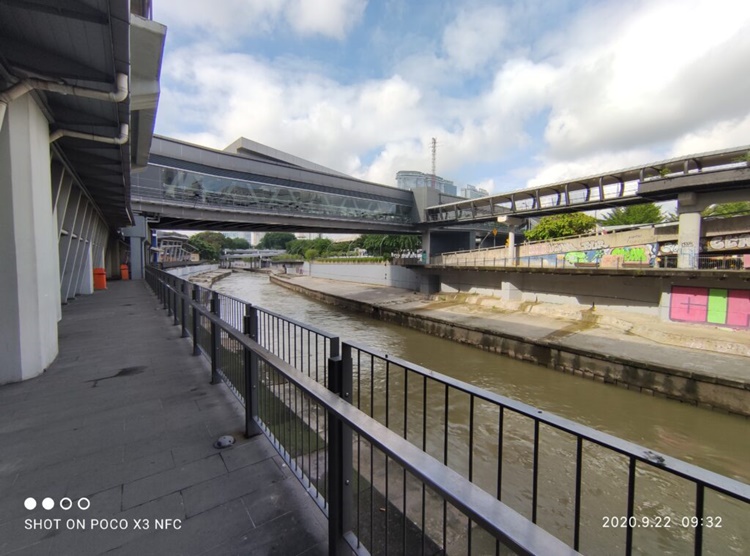 Ultra-wide mode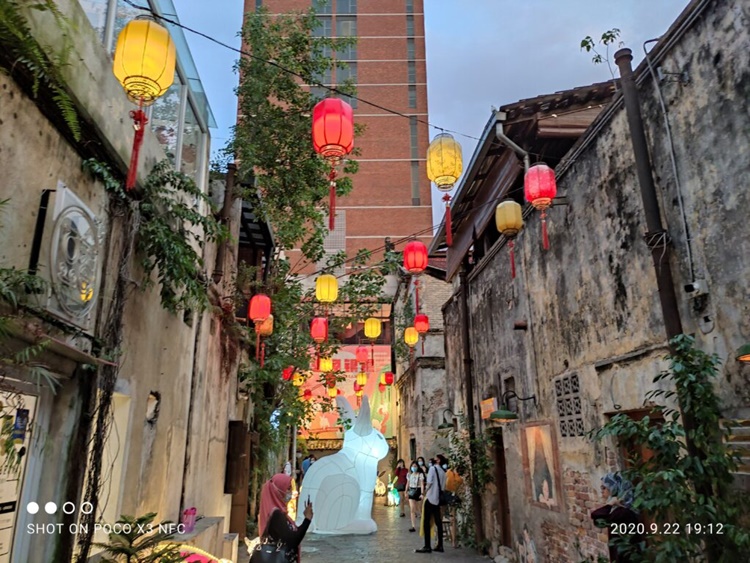 Have I mentioned that I like the colour presentation?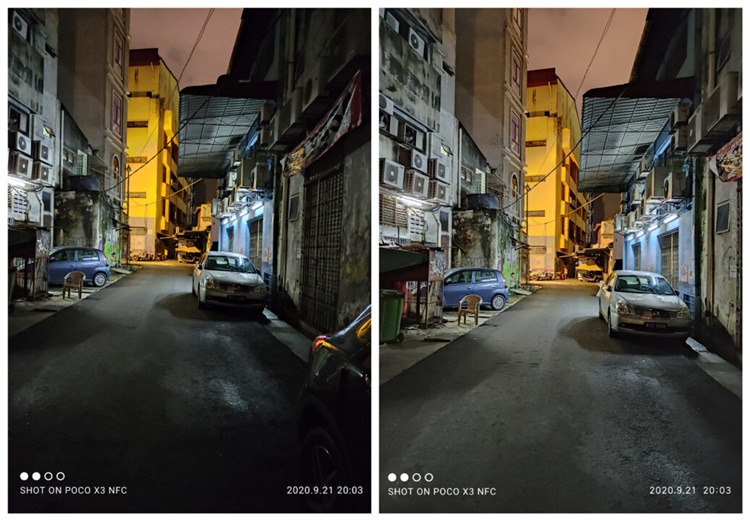 The difference between normal (left) and night mode (right)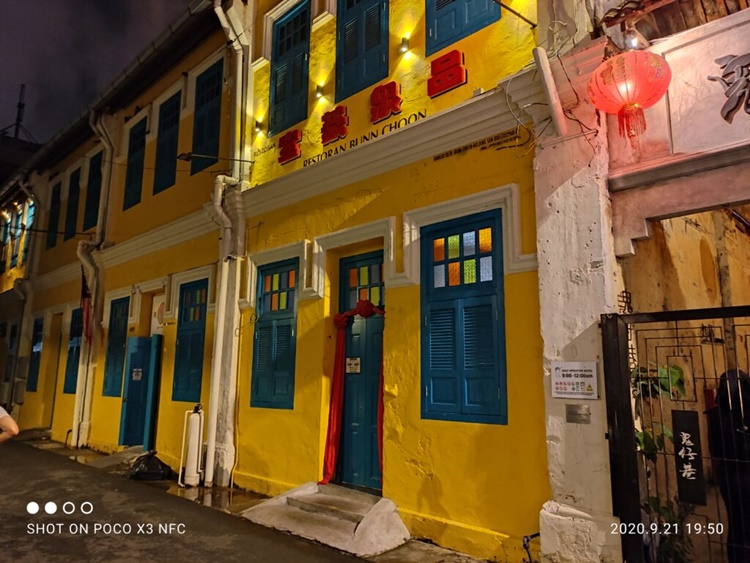 Night shot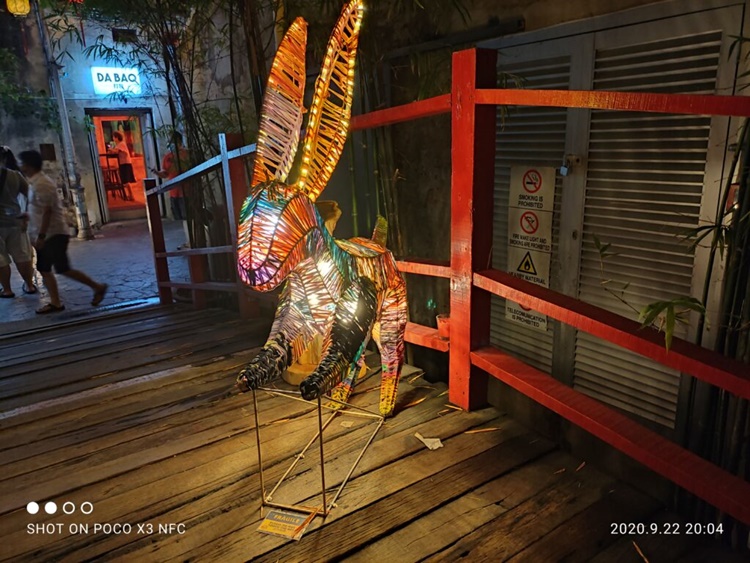 Night shot 2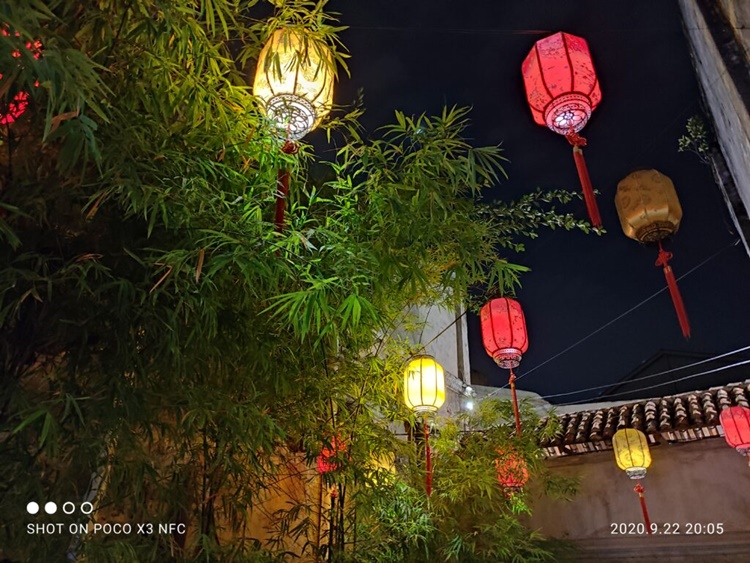 Night shot 3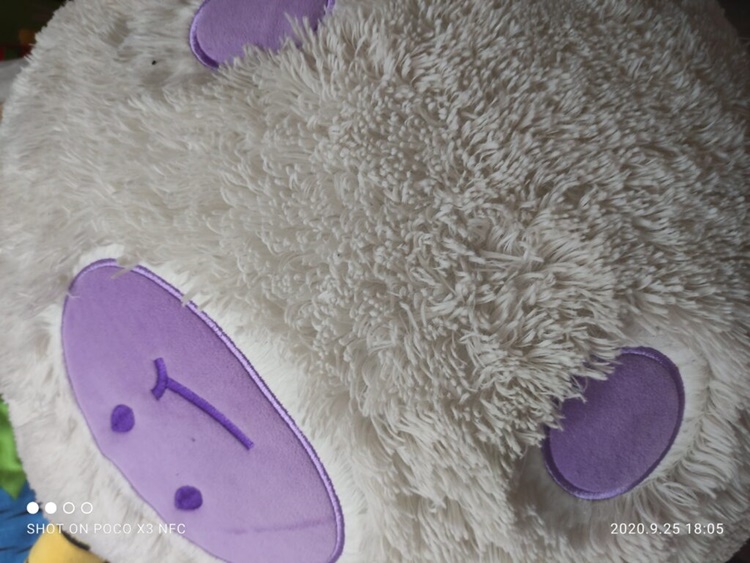 Using 64MP mode on this one. Honestly, there's not much difference with normal mode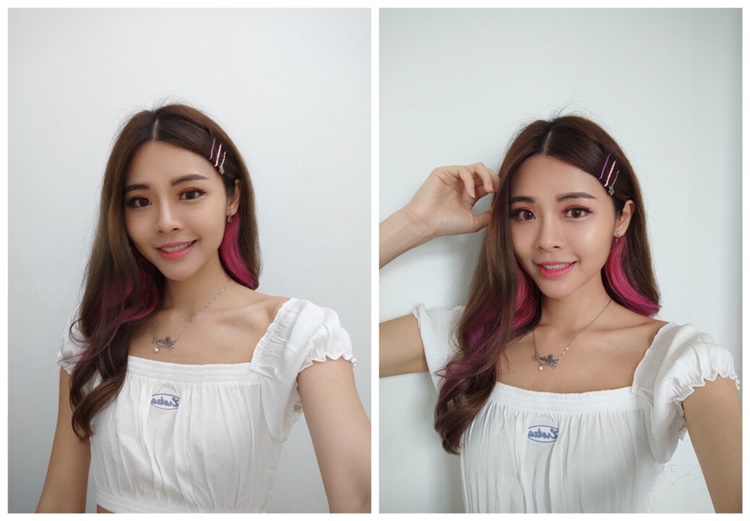 Selfie 1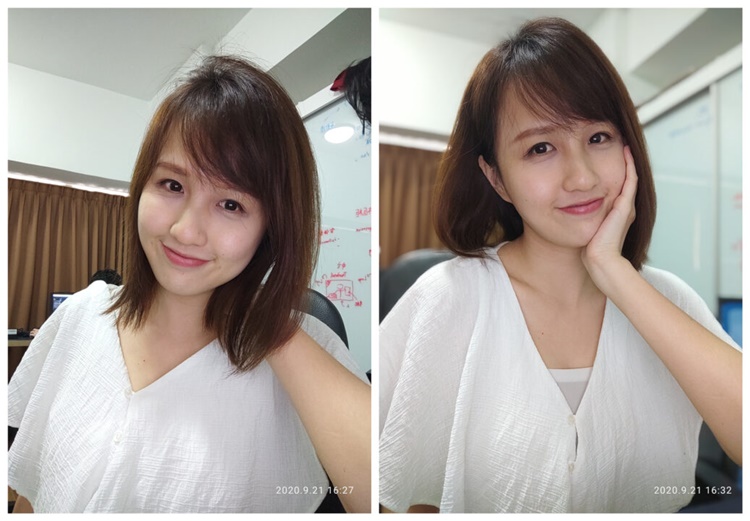 Selfie 2 with portrait mode on the right side
Conclusion - Your new mid-range killer
POCO's first phone, the POCOPhone F1, was once crowned as the new flagship killer. The POCO F2 Pro continued the title run, and now with the POCO X3 NFC, we have the latest mid-range killer in the smartphone market. Going for as low as RM899 with those kinds of tech specs and features? It's an instant kill for other similar devices.
Some may argue that the realme 7 and vivo V20 SE might have a fighting chance when it comes to the price point. The top variant for the X3 costs RM1099, so it's not that big of a jump to RM1299 and RM1199 for the realme 7 and vivo V20 SE respectively. But let's be honest, both the realme 7 and V20 SE have nothing much to offer compared with the X3, which has a monstrous battery life, a respectable camera, and the latest SD732G chipset. For the price it's asking for, there's just no competition. Enough said.
So that's our review of the POCO X3 NFC, do you agree with our thoughts on the phone? What else did we miss? Let us know in the comments below and stay tuned for more tech reviews at TechNave.com.
Xiaomi Poco X3 NFC Specs & Price >