Samsung Galaxy S4 / S IV Review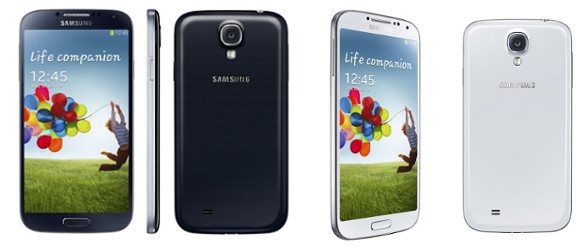 The Samsung Galaxy S4 / S IV comes in Black Mist and White Frost
Every time I do a flagship smartphone review I always compare it with the Pomegranate phone (which was a fake/hoax). This review about the Samsung Galaxy S4 / S IV is no different. The only difference here, is that in some ways the Samsung Galaxy S4 / S IV may actually beat the Pomegranate phone. Read on and find out how.
If the Design isn't broke, don't fix it
Building upon the record sales-breaking design of the Samsung Galaxy SIII, the Samsung Galaxy S4 looks exactly like it. It has the same Polycarbonate (plastic) shell, the same rounded corners, the same look and feel. Just this time around, Samsung have somehow managed to squeeze in more screen space, make it thinner, lighter and have a bigger capacity battery.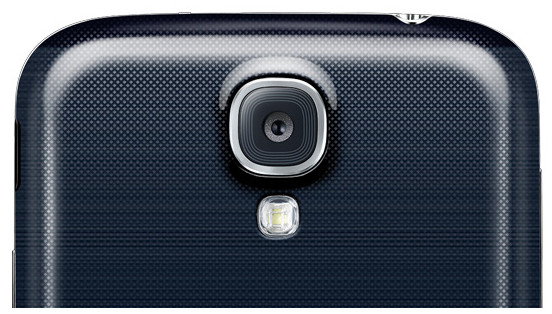 The same Polycarbonate chasis but the textured back makes for a more comfortable grip
The textured back and slightly more contoured shape makes it a lot more comfortable to hold than the Samsung Galaxy S III. The 5-inch Super AMOLED delivers stunning 1920 x 1080 pixel resolution images at any angle and even works well in direct sunlight, but if you don't like the standard AMOLED oversaturated look, it does have the option to turn it off. The new Corning Gorilla Glass 3 does an excellent job at scratch-proofing, even better than the Samsung Galaxy S III.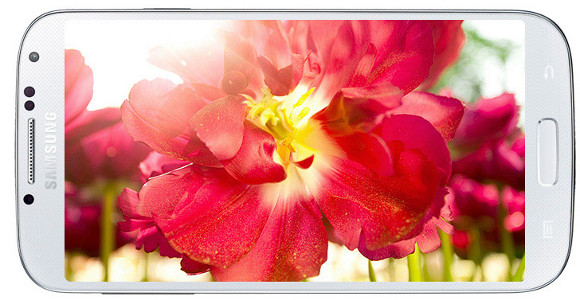 The Samsung Galaxy S4 / S IV Super AMOLED screen has the highest 441 ppi (pixel per inch) in the market
Faster and better Features
Coming in both Qualcomm Snapdragon 600 and Samsung Exynos 5 Octa flavours, the Samsung Galaxy S4 / S IV beats out almost all of its competitors in hardware performance. It has NFC, LTE support, a 13MP autofocus rear camera, a 2MP front camera, can record 1080p 30fps on both cameras at once and a host of other S themed tools that make the overall experience as rich as any Apple iPhone.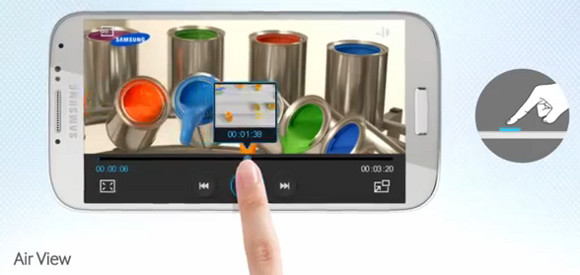 The Air View lets you control without touching
While it doesn't have any S-Pen support the Air View lets you hover your finger over the screen and act like a mouse cursor, making the S-Pen redundant. The total list of S Apps is very long, and while most are rather gimicky many are quite useful. The S Translator in particular translates languages on the fly just like the Pomegranate phone. These S Apps also let you control your phone with a wave of your hand, dictate text and do voice commands, remove unwanted objects from your pictures and they anticipate your next move as smartly as those in an iPhone 5, if not better.

The speaker is good and loud while the 13MP rear camera is one of the best in the market, providing crystal clear images and blindingly bright flash. However, while you do get 1080p 30fps video recording, the viewfinder space is actually smaller than the Samsung Galaxy S III. In terms of pure outright performance, it will play and run any app in the market and won't lag for anything. Thanks to its Bluetooth 4.0 support and HDMI capable MHL 2.0 port you can hook it up to your HDTV and a Bluetooth keyboard and mouse to do anything your computer can do. Battery life is just a bit better though, perhaps because of all the more powerful hardware. Click here for a more complete tech spec sheet comparison of the Samsung Galaxy S 4 / S IV and the Samsung Galaxy S III.
Pros
Most Feature filled smartphone currently available; best way to future-proof your smartphone experience until the next version.
New TouchWiz UI and S Apps enrich your smartphone experience equal or better than an Apple iPhone.
The most powerful Android Smartphone hardware available; one of the best 13MP camera phones, LTE + NFC support, 5-inch Super AMOLED 1080p screen, 1.9GHz Qualcomm Snapdragon 600 Quad-core / 1.6GHz Exynos 5 Octa Eight-core processor, 2GB RAM and a lot more.
Cons
Looks the same and since it is lighter feels even more like a toy; won't turn heads because at a glance it looks just like the Samsung Galaxy S III.
Smaller video viewfinder than Samsung Galaxy S III.
Verdict
Overall, the Samsung Galaxy S4 / S IV is about as complete a 'life companion' as any smartphone. While Samsung isn't far off from calling it an evolution of the Samsung Galaxy S III, it doesn't do much in terms of the design, which is what many people look for in a smartphone. While it outperforms practically any smartphone around, if you didn't like the Samsung Galaxy S III because of its design then you won't like the Samsung Galaxy S4 / S IV regardless of how powerful it is. However, if you loved the Samsung Galaxy S III but thought it could use a bit more power, then the Samsung Galaxy S4 / S IV is perfect for you. If you don't care that much about the design then get the Samsung Galaxy S4 / S IV as well, as it should beat out every other smartphone where it counts the most; performance and features and it will continue do so for quite some time yet.