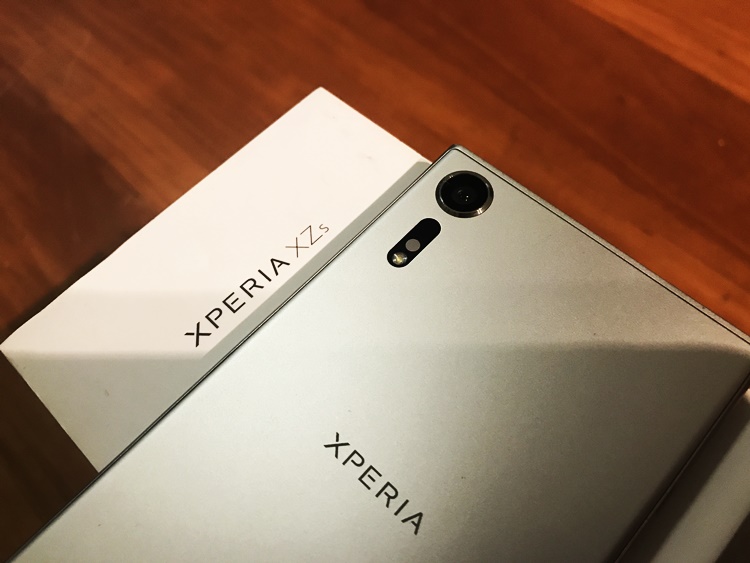 In our last Sony phone review, we thought the Xperia XA1 made a good come back for the company's mid range line up. So what about the Xperia XZs? This flagship costs a hefty RM2899, which is more than the predecessor Xperia XZ which is only RM2699 (original) and in our XZ review, we thought the phone was already good enough. What can the XZs offer asides from the heavily marketed super slow-mo feature? Let's find out.
Design - Same old Sony design
You know the popular saying goes - If it's not broken, don't fix it. The XZs continues to look exactly the same as the XZ, same front, same back, same shutter button, same everything. Except for that tiny camera bump behind which is weird because on the XZ, the camera is flat on the surface. To add on to that, some users might find it disappointing that the display remains as 5.2-inch instead of 5.5-inch, but there's that.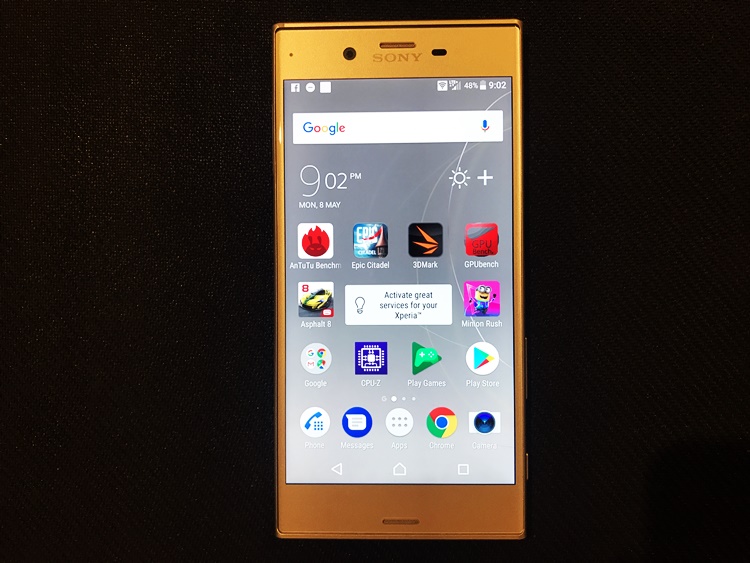 The front view, the display is TRILUMNOS-type which is said to give good dynamic contrast, an increase for sRGB by 138%. Also, it's Corning Gorilla Glass so it's quite tough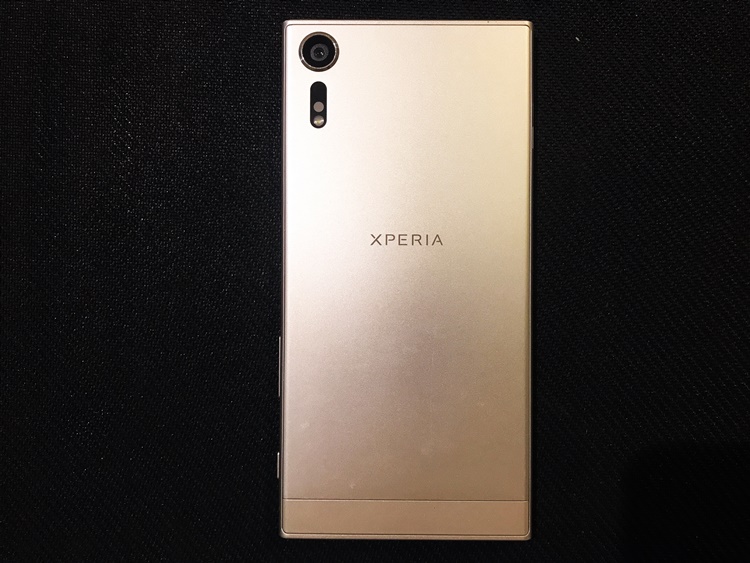 The simplistic back with the said mini camera bump behind
The trademark shutter button, volume buttons, and power button/fingerprint sensor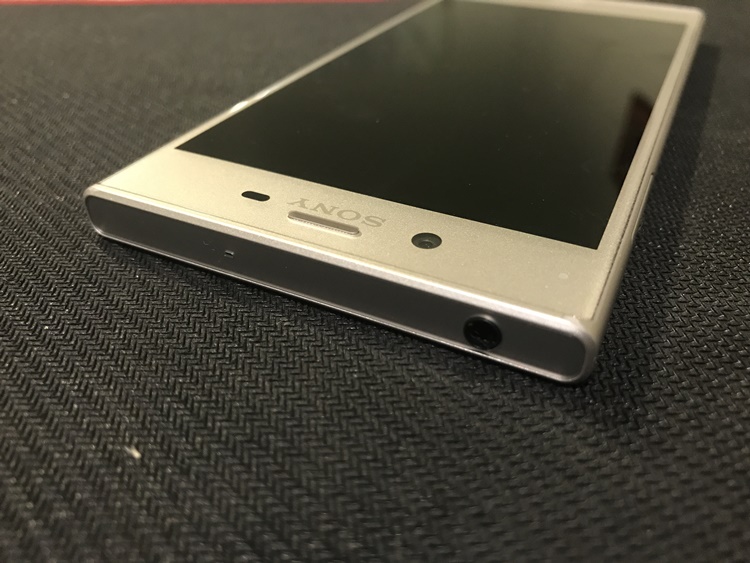 Headphone jack on top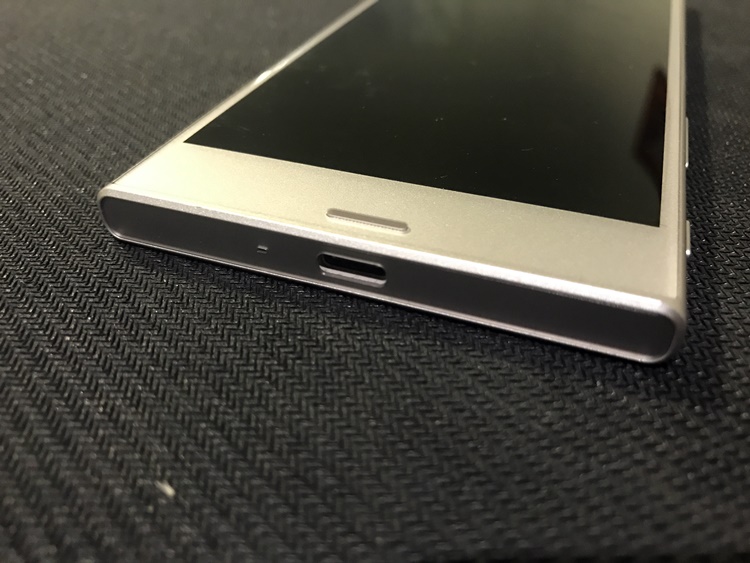 USB Type-C at the bottom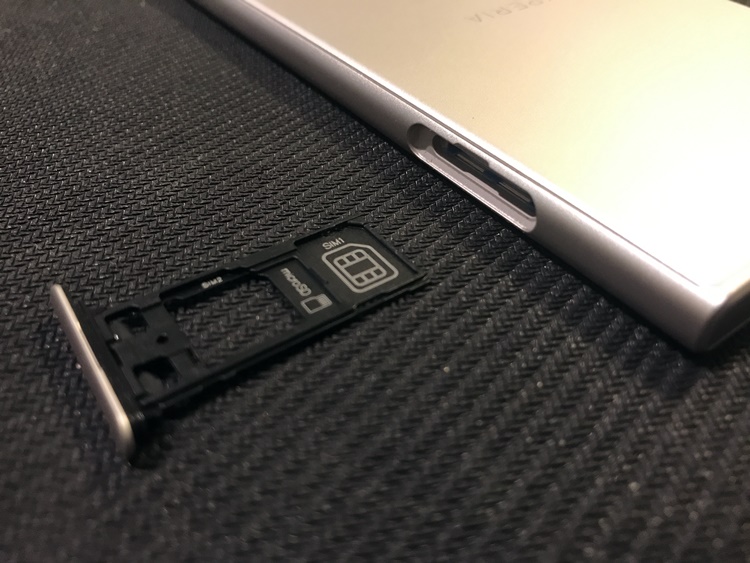 Hybrid SIM card tray
Tech-Specs and features - Forget everything, there's SUPER SLOW MOTION
Here are the specifications for the Xperia XZs: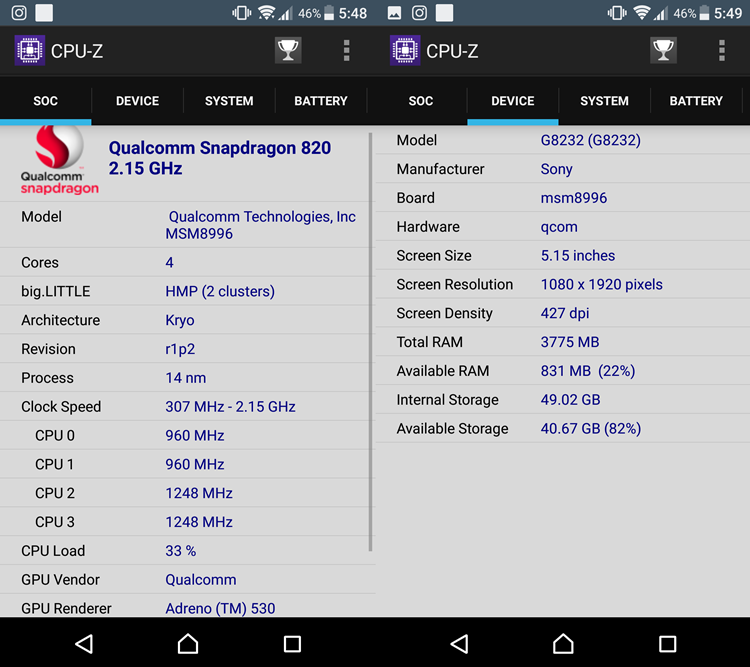 Snapdragon 820 processor (MSM8996, quad-core 64-bit (2.2GHz x2 + 1.6GHz x2)
4GB RAM
64GB internal storage (expandable memory available up to 256GB via microSD card)
Measuring 146 x 72 x 8.1mm, weighs 161g
5.2-inch FHD 1080p TRILUMINOS display, X-Reality for mobile, Dynamic Contrast Enhancer, sRGB 138%, 600cd, Corning Gorilla Glass
19MP main camera (1/2.3-inch Exmor RS for mobile, F/2.0, 25mm wide G lens, BIONZ for mobile, Motion Eye Memory Stacked Sensor, Predictive Hybrid Focus, Super slow motion 960fps video capture, Triple Image Sensing technology, anti-distortion shutter, 5x clear image zoom, x8 digital zoom, HDR, SteadyShot with Intelligent Active Mode, 4K recording)
13MP front camera (Exmor RS, F/2.0, 22mm wide angle lens, SteadyShot with Intelligent Active Mode
Features dual hybrid SIM slot, Clear Audio+, IP68 water and dust resistant grade, fingerprint sensor, USB Type-C
Supports 4G LTE, WiFi 11a/b/g/n/ac, NFC, Bluetooth 4.2, PS4 remote play connectivity
Android 7.0 Nougat
2900 mAh battery
There are many similarities between the XZs and XZ which is kind of a let down as the only improvement is the 4GB RAM addition, the improved TRILUMINOS display, IP68 water and dust resistant grading, and even the "degraded" 19MP main camera. However, compared with the XZ's 23MP camera on the back, the XZs has an added advantage of 25mm wide G lens for wider shots, BIONZ for mobile, Motion Eye Memory Stacked Sensor, Triple Image Sensing technology, anti-distortion shutter, and SteadyShot with Intelligent Active Mode.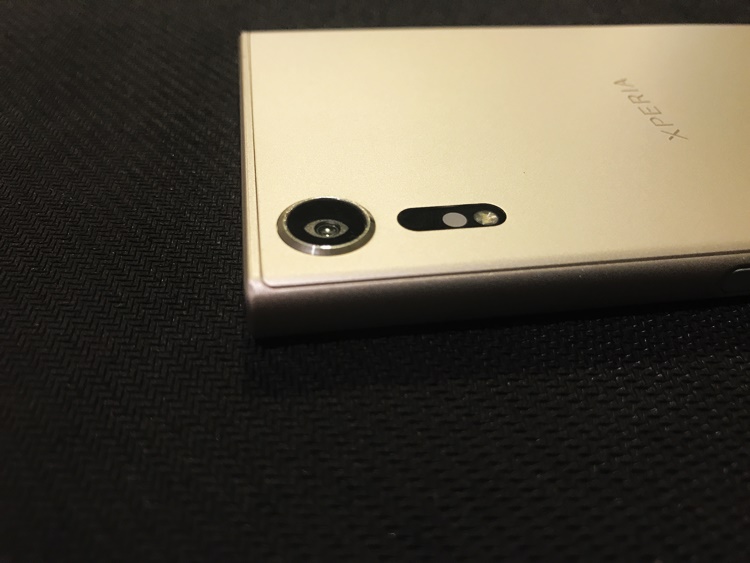 The camera bump
Oh, it doesn't end there. The camera features also have a Predictive Hybrid Focus which we will talk about later, 5x Clear Image Zoom, 8x Digital Zoom, 4K recording and the heavily marketed Super Slow Motion video capture that can record in an amazing 960 FRAMES PER SECOND (sorry, the capslock is on pupose because I can't help it).
You might already have seen some super slow-mo videos from your friends on the social media, it looks super cool doesn't it? WELL IT IS. How often can we show off to our friends the crystal clear details you can see in the video? Always wanted to see how the water splashed? Check. The flame burning? Check. Basically, everything that you've always wanted to see in super slow motion. Check out the things that I've recorded for the glory of super slow-mo.
However, there are drawbacks using the feature. You see, the super slow-mo doesn't record all the way until you finish it, as it can only record 2 seconds of the object, then transitions into a burst mode of 6 seconds of super slow-mo. It's also super hard to capture the moment as you have to manually time it by yourself, so you can imagine all the retakes I had to do for that video above.
Moreover, another downside of super slow-mo is that it only works great on outdoor activities. If you try to record it indoors even with lights on, or places that's not blazingly sunny in broad daylight, the video will turn out "meh". And don't even count on low-light environments.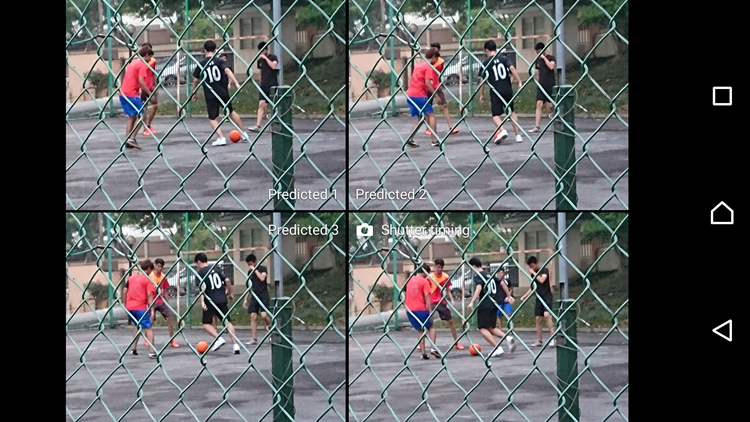 The Predictive Hybrid Focus in action
Anyway, the Predictive Hybrid Focus is another feature that Sony wants to highlight. This tool is a useful one because it helps to "predict" the next move that the subject is going to do, when actually it's just capturing the four best pictures from its hidden burst shots after taking the picture. It's automatic too, so that's nice.

Exclusive pre-installed apps with the XZs

Camera features
Furthermore, the fingerprint sensor on the power button sometimes doesn't respond well. It'd also be nice if we could just go in straight to the phone instead of having to turn on the screen for the sensor to work too.The NFC allows e-payment just in case you're wondering, and for a camera-centric phone, it doesn't really focus much on selfie, there's no beautify mode or panorama mode on the front camera so this might disappoint the selfie lovers. Perhaps they were too fixated on the super slow-mo feature.
Performance – A "fiery" one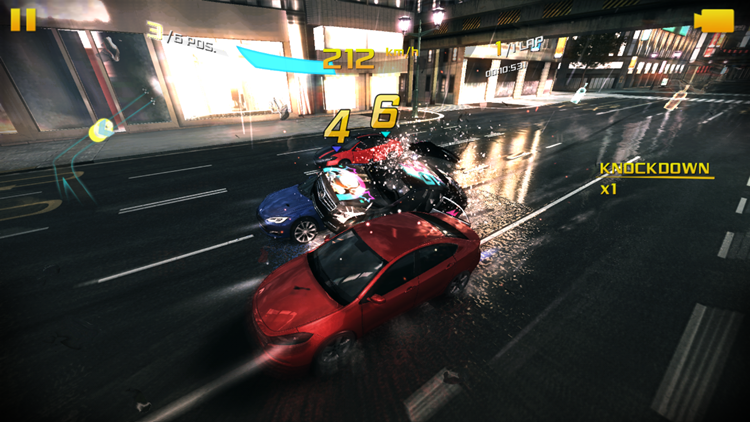 Asphalt 8: Airborne on the Sony Xperia XZs is smooth and lag free
Like the XZ, the XZs performs just as well as any other flagship and just as good as the predecessor. The battery life can still last pretty long for more than a day easily on average usage (like one and a half days). Battery drains fast if you start doing a lot of video recording especially on the super slow-mo, but recharging is not a problem thanks to the Quickcharge technology (less than 2 hours, from 0%). There is one problem, though, the heat issue is still quite an annoyance not because of how hot it gets but rather that it prevents you from continuing your video shoots (as it will force you to stop while it cools down). Luckily, the heat issue doesn't shut down gaming or video playback.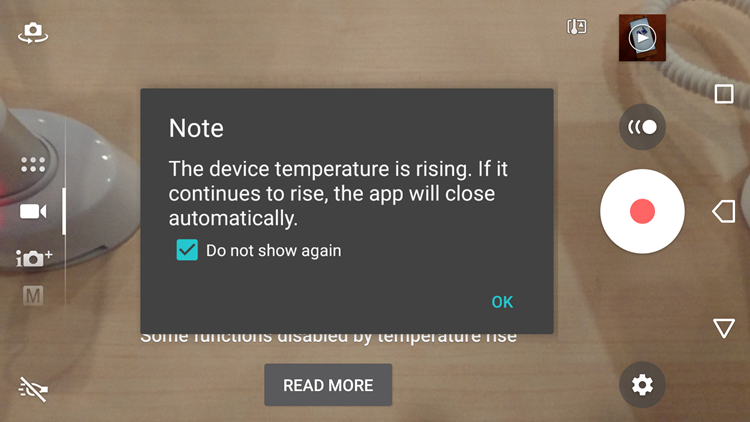 Uh...ok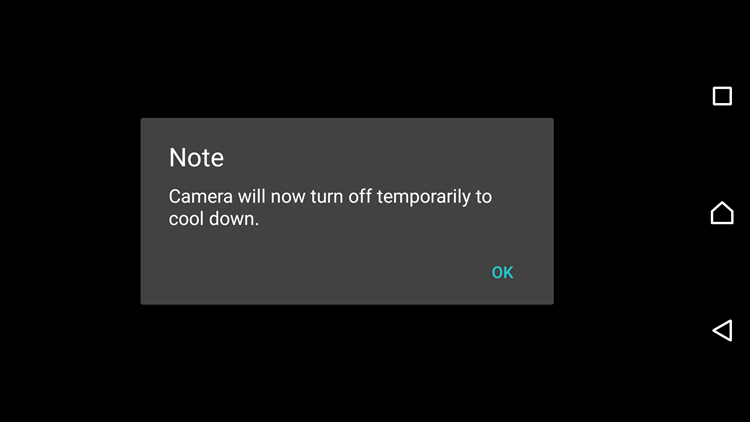 Great...
A smart battery system that can determine when will your battery depletes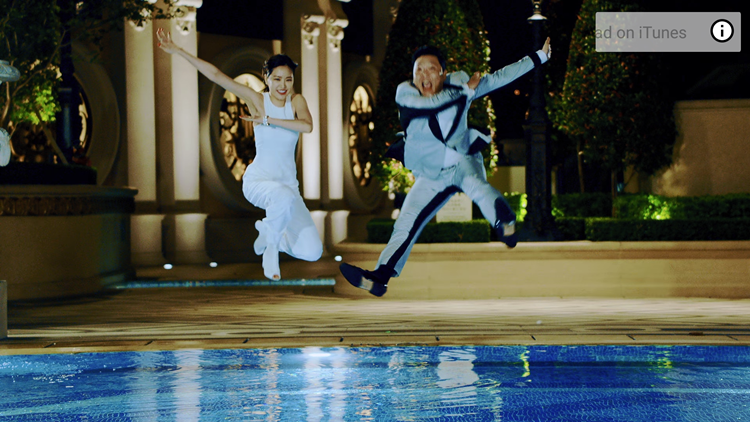 Thumbs up for video/audio playback
Before we get into the camera performance, we should also take a look at their audio performance too. The phone has a dual stereo speaker on both top and bottom each and this makes the entertainment viewing experience a nice treat. Volume quality is quite balanced too even when it's maxed, so it doesn't have that distorted sound of wanting to explode, same goes for video playback. Connectivity-wise, we didn't experienced any issues on its 4G LTE network, WiFi and call quality. But then again, that really depends on your telco network service.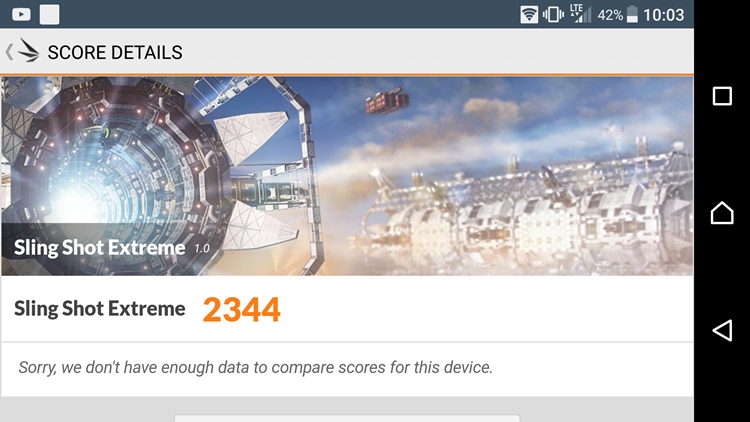 3DMark score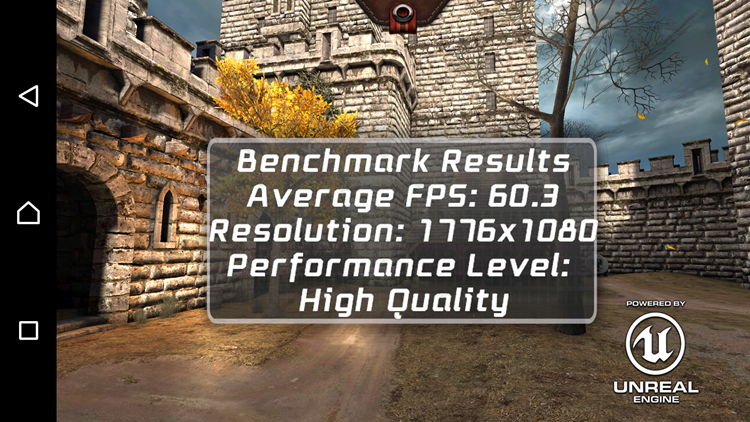 Epic Citadel score, almost perfect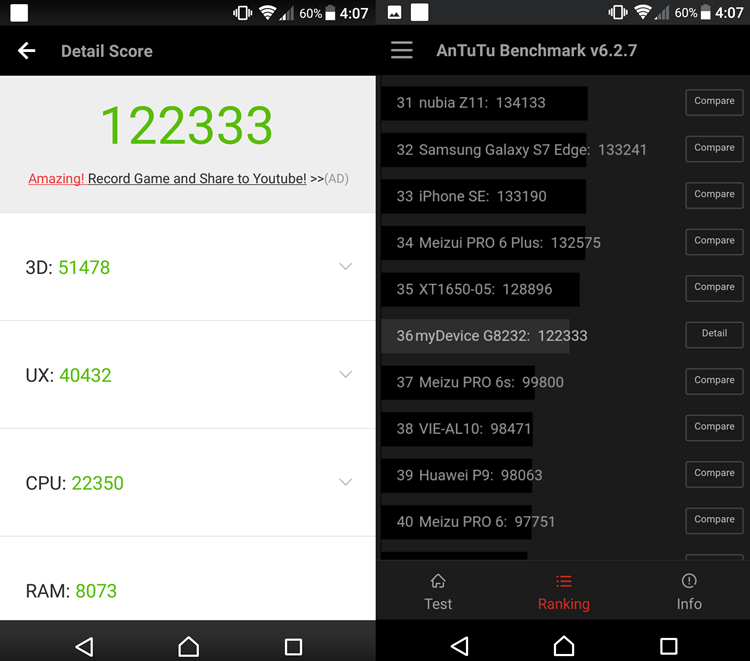 AnTuTu score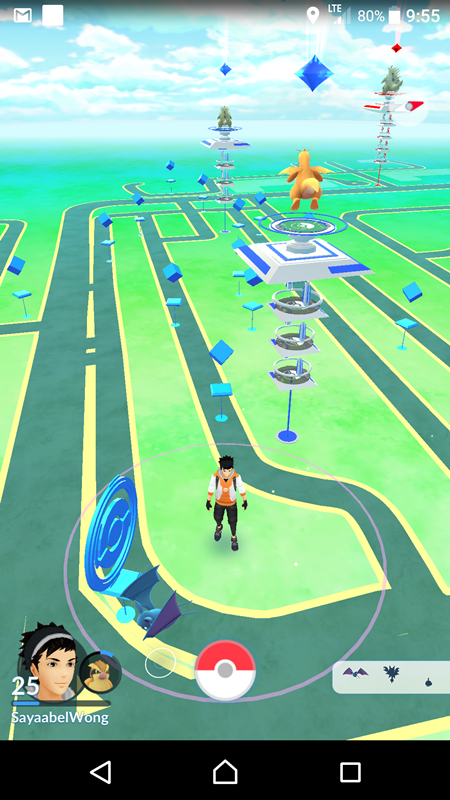 GPS is good to go
Image quality on the XZs is still great, despite the drop to 19MP from 23MP. In sharp contrast to the super slow-mo video, the image capture for the camera is a wonder in low-light environments so there's nothing much to nitpick about. The phone can also record 4K quality video, but like any phone, it needs a gimbal or tripod for absolute stability. Check out the picture samples below:
Mhmm..
Believe it or not, this was taken in a low light environment
A good dynamic balance in low-light setting
Wide shot
Another wide shot showing the colours
Outdoors
The XZs is excellent in macro shots
Another sample of low-light shot
No flash
With flash
Under the water? No problem
That sexy beast
Not the best of colour contrast because this was taken behind a window
Before zooming in
5x Clear Image Zoom
8x digital zoom
The XZs takes really good pictures
Like really good
Even indoors
Still can't get enough of close-up shots
Ok, this is the last close-up shot lol
Sun set
Panorama
Selfie!
Conclusion – For the phoneagraphers and videographers
With all the pros and cons mentioned above, it's actually a bit difficult to justify the Sony Xperia XZs' existence, unless you're a slow motion video specialist. I'm not saying the XZs is a bad phone, I just think overall, the market segment for the XZs is very niche because of the super slow-mo feature which won't be used by everyone. It does have a great camera and excellent performance, however, the fact that the phone shuts down the camera app when you do your video recording, unusable super slow-mo in low-light conditions, and the hassle to manually capture the super slow-mo effect might not make it suitable for everyone. Maybe Sony should have added 6GB of RAM, and even more so on the 13MP selfie compartment (Beauty Mode) since it's so camera focused.
For comparison, I believe the XZs is on par with other two flagship rivals with its own unique phoneography style. But you could say that the Xperia XZ is its own worst enemy when it comes to pricing, let alone the recently launched Samsung Galaxy S8. And if you do opt for the Xperia XZ, there's the Huawei P10 too which is another serious contender that also has a niche feature (black and white photography) but delivers better in other aspects. As for the super slow-mo comparison against the Apple iPhone 7, granted, the iPhone 7 may not be as clear as the XZs, but I can still record the whole video in slow-mo easily instead of having to manually tap for the moment.
So what do you think? Do you agree with our review? Let us know in the comments below and stay tuned for more reviews at TechNave.com.