8 products from CES 2021 that caught our eyes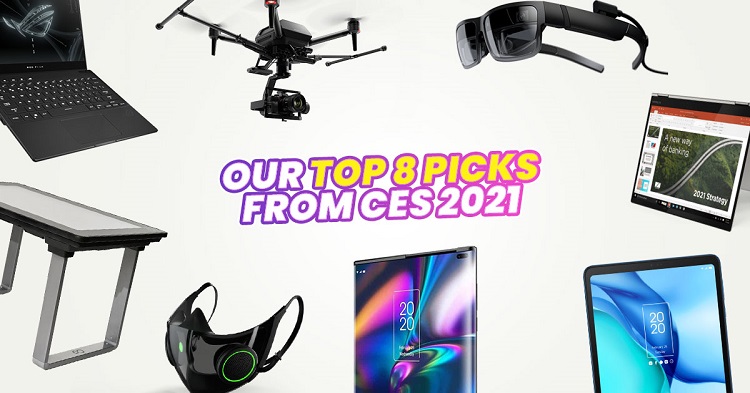 Last week, CES 2021 became the first virtual event held by the organisation. Despite the format, we still got to see a slew of new products. From flying drones to soundbars, vacuum robots powered by AI, laptops, and more - CES showcases a variety of electronics that cater to different needs.
In fact, there are too many and many of them may be irrelevant for most people. With that consideration in mind, we wanted to list some of the more interesting ones that would be relevant to our readers. You can check out our list of 8 products from CES 2021 that caught our eyes, in no particular order. So without further ado, let's start!
#1 ROG Flow 13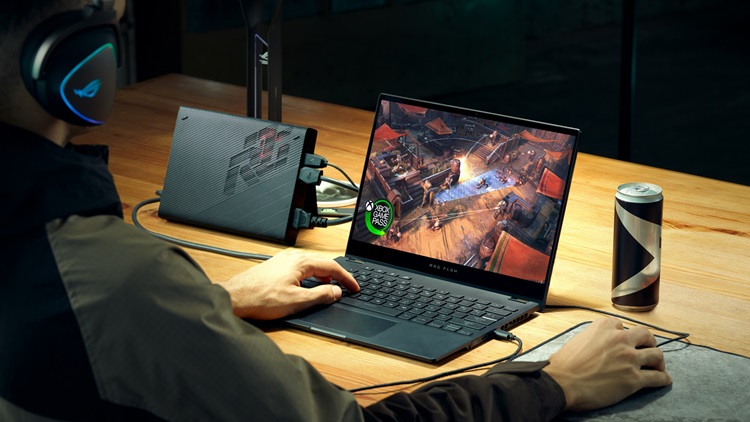 When it comes to gaming laptops there's usually only one form factor. ASUS decided to break out of that norm with the ROG Flow 13. Unlike most gaming laptops, this laptop is a convertible that can be laid flat like a tablet, or formed into a tent for easier viewing. It houses an AMD Ryzen 5000 mobile CPU, up to 32GB of RAM, and an Nvidia GeForce GTX 1650 GPU. The display's pretty good too, with the option to pick a Full HD panel with 120Hz or a 4K panel. What's really interesting is that you can pair the laptop with the XG Mobile external GPU (has an RTX 3080 inside), allowing you to expand the ports available to you and comfortably play any modern AAA game.
#2 Lenovo ThinkPad X1 Titanium Yoga 5G
Laptops are pretty run of the mill these days, but there are a few more that stand out from the crowd each CES. Besides the ROG model, another interesting laptop was the Lenovo ThinkPad X1 Titanium Yoga 5G. Ultra-portable convertible laptops are already quite thin these days, but Lenovo went one step further with this model measuring only 11.5mm in thickness. In terms of hardware, it's got an 11th Gen Intel Core i7 CPU, 16GB of RAM, and 1TB of SSD storage. Of course, the downside of such a machine is the lack of I/O ports. In fact, it only has two USB Type-C ports and an audio jack available. Fortunately, both Type-C ports support Thunderbolt 4, so you could hook a multi-port dock to it if you want to.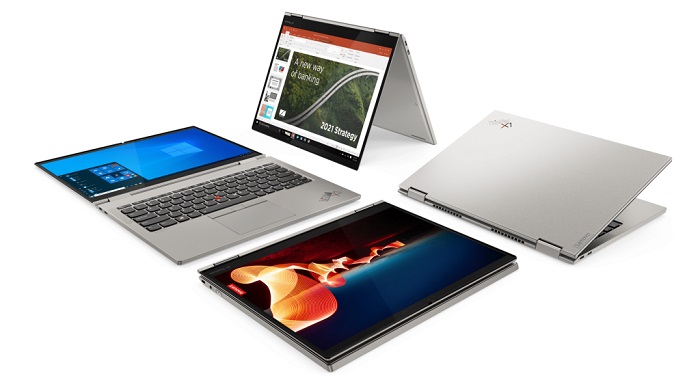 #3 Lenovo ThinkReality A3
Sticking with Lenovo for a bit, another really neat product is the ThinkReality A3. This pair of smart glasses are created to help enterprise customers and developers improve their productivity. Lightweight and somewhat stylish, the ThinkReality A3 can be connected to a Windows computer or selected Motorola smartphones, allowing you to view virtual screens from those devices. Lenovo has mentioned that you will be able to get it to work with 3D visuals, Augmented Reality (AR) assisted workflows or virtual monitors for your desktop windows. Personally, I'm looking forward to this type of smart glasses becoming more accessible to consumers.
#4 Rollable phones
Of course, CES isn't just about products. Every year, we get to see new technologies and prototypes showcased at the annual event. Among them, flexible displays have been a thing for the last few years, with rollable displays being featured in the last few CES. We've seen the concept implemented on LG TVs before, but it looks like LG and TCL are ready to manufacture rollable displays for mobile devices. At CES 2021, both companies demoed smartphone-sized devices with a rollable display. Interestingly enough, the LG device extends along the sides horizontally, while the TCL model extends upwards vertically. The first form factor makes sense, but it really makes you wonder who thought extending upwards was a good idea.
#5 Sony Airpeak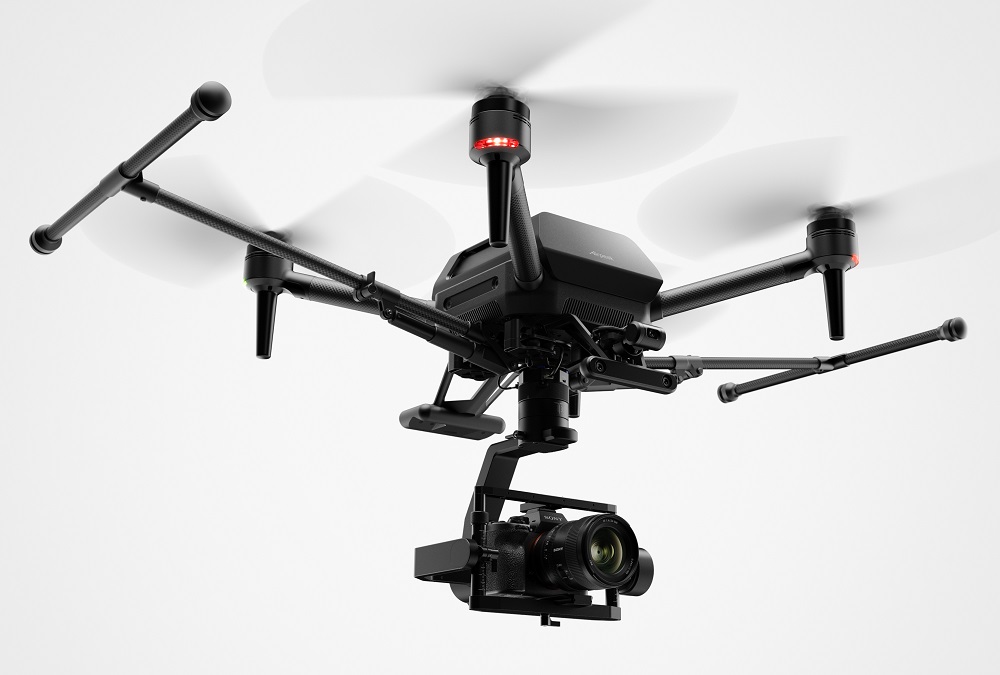 Flying drones have been around for years, so they're not anything unique. But there's just something about the one that Sony launched at CES 2021. We first found hints of the Sony AirPeak in November last year, when the company announced that it was developing a flying drone you can attach a camera to. When it was unveiled, we saw this sleek all-black machine capable of carrying a Sony a7S III full-frame mirrorless camera. It's not a simple drone either, as it comes with housing for two battery packs, a solid camera gimbal, and what seems to be an advanced monitoring software. Not gonna lie, this is one good looking drone.
#6 Razer Project Hazel
As a pandemic continues to plague the world, ensuring that we're well protected before we go out is crucial. But what if you're tired of needing to stock up on face masks constantly? It doesn't help that using them isn't very environmental-friendly. That's probably why Razer came up with Project Hazel, an N95-grade smart mask with replaceable ventilators. What's mind-boggling is Razer's decision to give it RGB lighting, so that your face can glow like a rainbow in the dark. It does have a practical use, as its Smart Pods can filter out 95% of airborne particles. But more than anything else, it could just be the result of Razer's bizarre need to release a joke product every CES...
#7 TCL NXTPAPER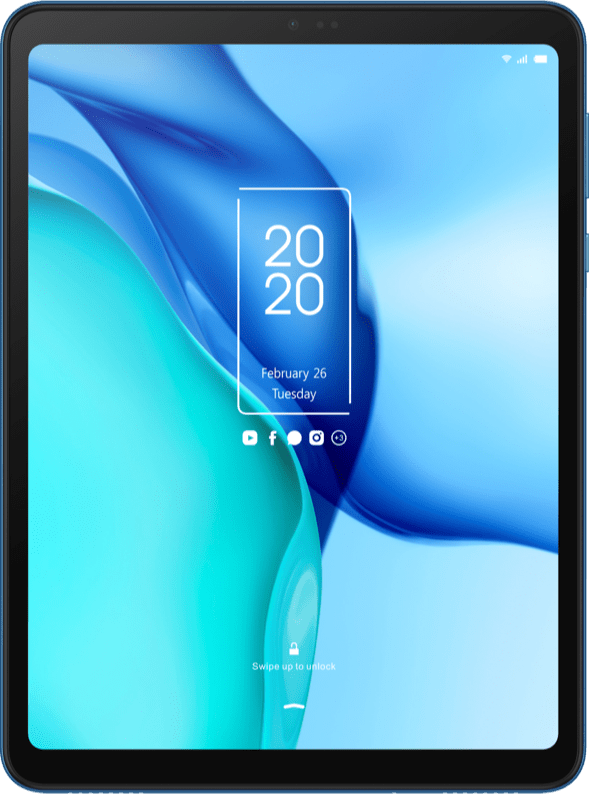 The next one isn't a product type we normally write about but is one I personally found interesting. I used to have a Kindle PaperWhite e-book, but although I enjoyed using it while it lasted, it wasn't perfect. E-ink displays don't seem to last long, aren't super responsive, and don't display colour. TCL's NXTPAPER could be the alternative we're looking for. It uses a new type of display that can provide more natural light that's not harsh, which makes it suitable for viewing in the dark. Moreover, it has TUV Rheinland certification, a blue light filter, and is supposed to support a high-precision stylus.
#8 Infinity Game Table
The last one on our list is something out of our usual scope too, but I found it too cool to ignore. At a glance, the Infinity Game Table may look like a small coffee table. But once you switch it on, you'll find that it's actually a display panel for you to play digital board games. It's available in 24-inch and 32-inch variants, both with a max resolution of 1920 x 1080 and refresh rate of 60Hz. It contains over 50 games that are pre-loaded or downloadable, so you don't need a big shelf to store all your board games anymore. In addition to that, the platform is open to indie game developers, so more digital board games could be added in the future!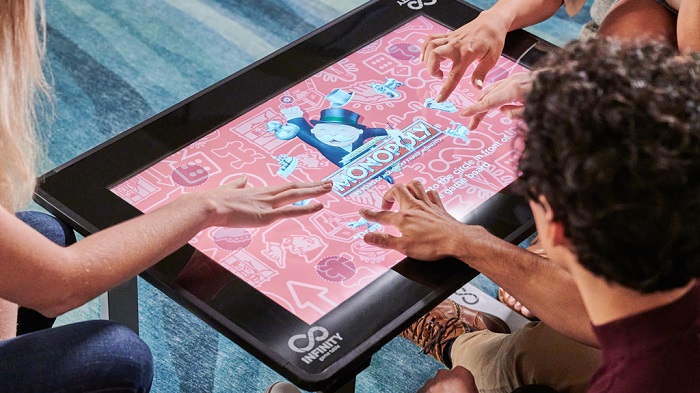 Of course, these aren't the only things that were launched at CES 2021. As we mentioned, there were a lot of new products and technologies that were showcased at the event this year. But which one is your personal favourite? Let us know in the comments below and remember to stay tuned to TechNave.com for more articles like this.