ASUS TUF Gaming A15 review - A powerful laptop for 1080p gaming that is wallet-friendly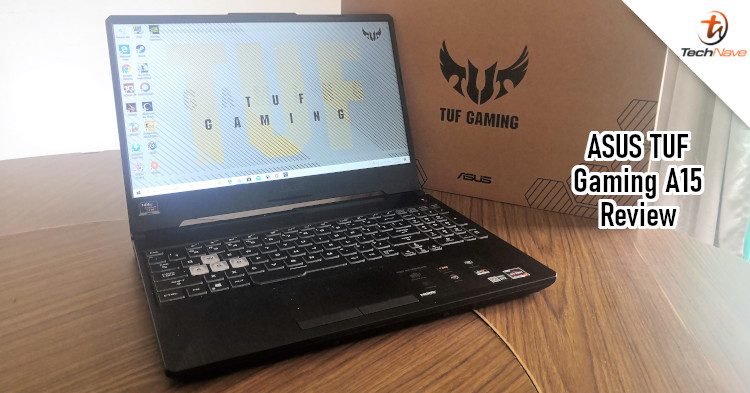 Manufacturers tend to think of AMD as a secondary option for laptops, so when ASUS announced a whole series of AMD-powered gaming laptops, I was personally quite excited. First unveiled at this year's CES, the new ASUS PCs were showcased during our visit to AMD's HQ in Austin. It was also recently confirmed that these ASUS laptops powered by the AMD Ryzen 4000 Mobile Series CPUs will be available in Malaysia.
Depending on when you read this, the laptops may not be officially available in Malaysia yet. But our friends at ASUS Malaysia were nice enough to send us a TUF Gaming A15 to play around with. The unit we received comes packed with an AMD Ryzen 7 4800H CPU, but you can buy one with the more powerful AMD Ryzen 9 4900H CPU. But before I digress further, here's our review of the ASUS TUF Gaming A15 laptop.
Unlike the slim and compact ROG Zephyrus G14, the TUF Gaming A15 is more in-line with what people normally expect from a gaming laptop. It's a 15-inch with a body that's not too bulky nor too heavy at 2.3kg. While it's not ultraportable, carrying it around shouldn't be too much of an issue. Plus, ASUS even included a free backpack to go with the machine.
In terms of its overall look and feel, the TUF Gaming A15 comes in a mix of black and dark-grey colours that's suitable for all occasions. At the least, you won't be sticking out like a sore thumb if you feel like gaming at your local Starbucks. Personally, I really like the lid of the machine, as ASUS went with a sheet of brushed aluminium that gives the laptop a more premium feel. Its overall build is also very solid, though the lid had flex to it around the centre.
Lift up the lid and the first thing you see is a full-sized keyboard that's fully backlit, though the illumination isn't very bright. There's also the speaker unit above the keyboard and the power button on the top-right, though there's no integrated fingerprint sensor this time. Take a look at the images below to find out what else is available on this laptop.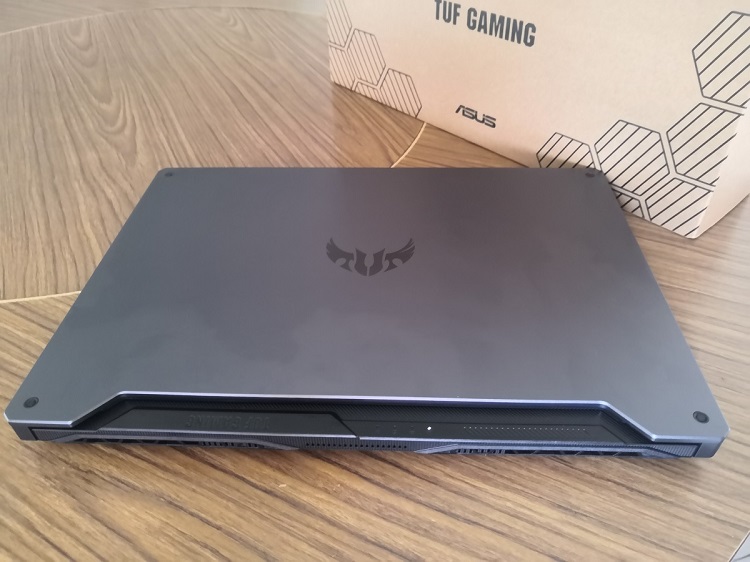 Top - You can see that the lid has a very distinct metallic look and feel to it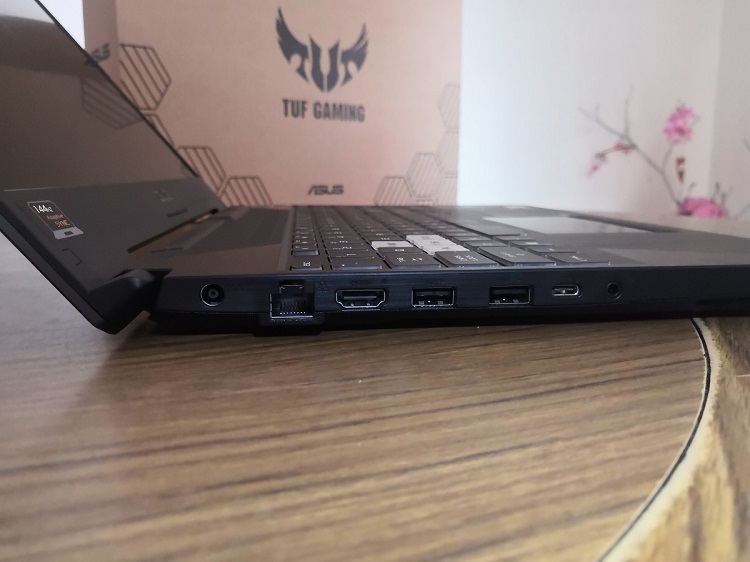 Left - DC power, Gigabit Ethernet, HDMI, 2x USB Type-A, 1x USB Type-C, audio jack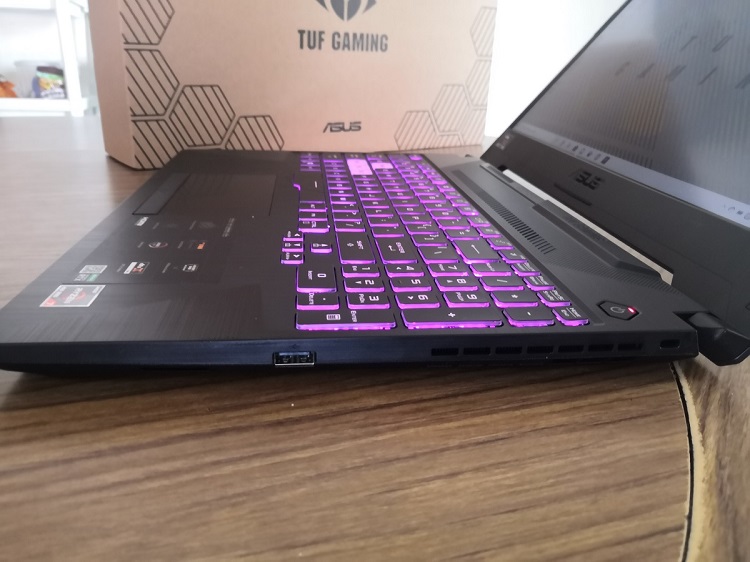 Right - 1 USB Type-A and the Kensington lock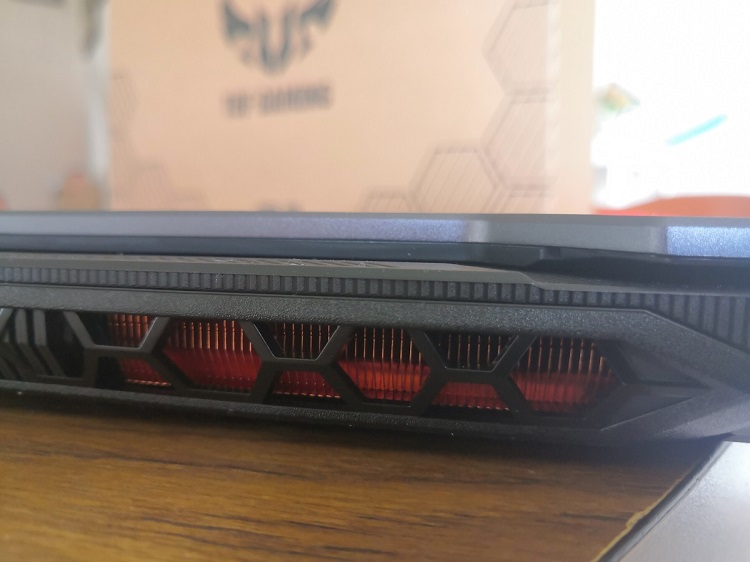 Back - You can see parts of the cooling system through the vents
One of the great things about this laptop is its upgradability. Specifically, you can upgrade the RAM and storage by popping off the bottom cover. However, it's a little tricky to get it off. First, you'd have to remove the screws, then use either a plastic card, flat screwdriver or pry tool to gently ease open the clips. Once you're done, you'll see the upgradable components: Two RAM slots, two M.2 slots, and an extra 2.5-inch HDD slot next to the battery. Speaking of the battery, ASUS went with a smaller 48Wh battery instead of the 90Wh battery available on the international variant for the extra space to put the HDD.
The upgrade process is quite straight forward here. Since the RAMs are not soldered, you just need to remove the existing ones and install compatible SODIMMs. The same goes for the M.2 slots and HDD slot. After upgrades, just clip the back cover into place and secure it with the screws.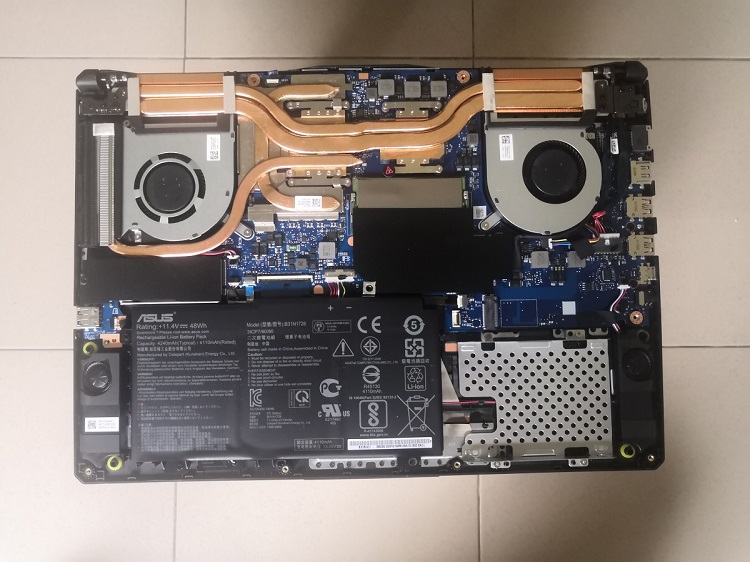 The bottom lid can be opened, giving you access to RAM and storage upgrades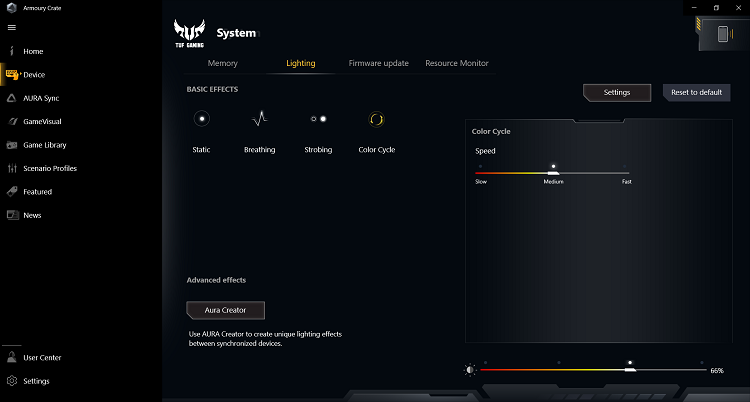 Screenshot of the Armory Crate app
The photos above should give you an idea of how the laptop looks like. Overall, I'd say that while it's not as good looking as the Zephyrus G14 (see our review for that!), it ticks a lot of boxes. Not only is the design much better than before, but it's got decent build quality and features. The software side is not quite as impressive, however, with Armoury Crate being the only software worth noting. The Armoury Crate here comes with a Resource Monitor that tracks your components' frequencies and temperature, which can be useful if you prefer not to download another third-party tool.
But other than that, it doesn't do much other than let you adjust the keyboard's backlighting. There's no per key or zone RGB here, so all you can do is change the colour or effect. Speaking of the keyboard, the keys for the A15 are pretty good. Other than the arrow keys, they're mostly spaced out quite well. The keys can feel a bit mushy when you bottom out, but they have good travel distance.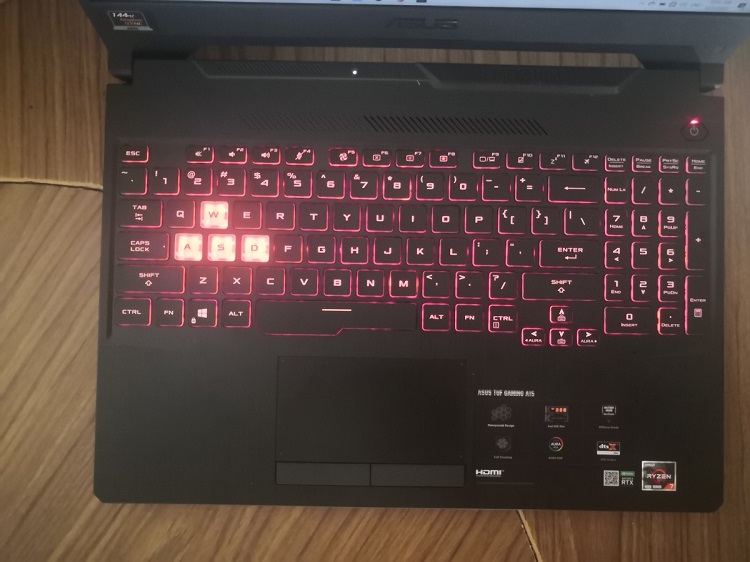 The keys for this full-sized keyboard are spaced out quite well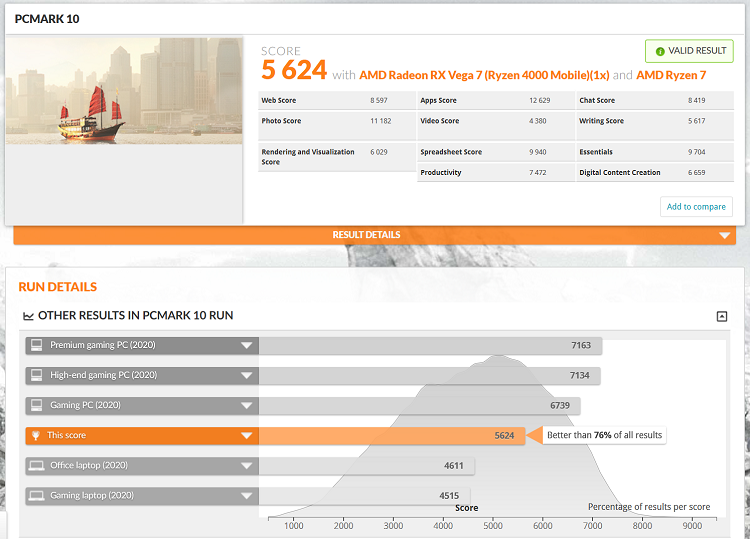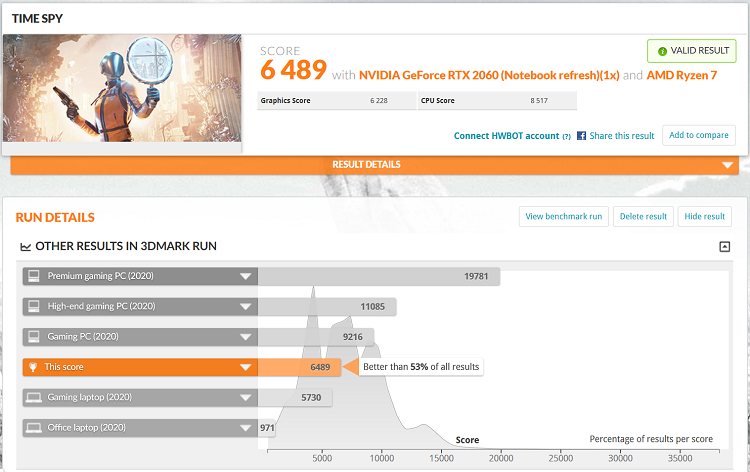 What about its performance? Other than the standard PCMark 10 and 3DMark Time Spy benchmarks we always do, I decided to pick three games to test on this gaming PC: Shadow of the Tomb Raider, The Witcher 3, and CS: GO. While The Witcher 3 has some age on it by now, it uses a lot of Nvidia-based techniques like Nvidia Hairworks and works as a good way to test how good the GPU on the machine is. Ditto for Shadow of the Tomb Raider. As for the third choice, CS: GO is there so we can get those high frame rates and see how the screen performs.
As you can see, we ran Shadow of the Tomb Raider on the highest settings with DirectX 12 enabled. Everything was turned on for our benchmark run, except for ray-traced shadows, and it got an average FPS of 75. Although there are some scenes where the FPS does drop below 60, we didn't experience slowdowns often.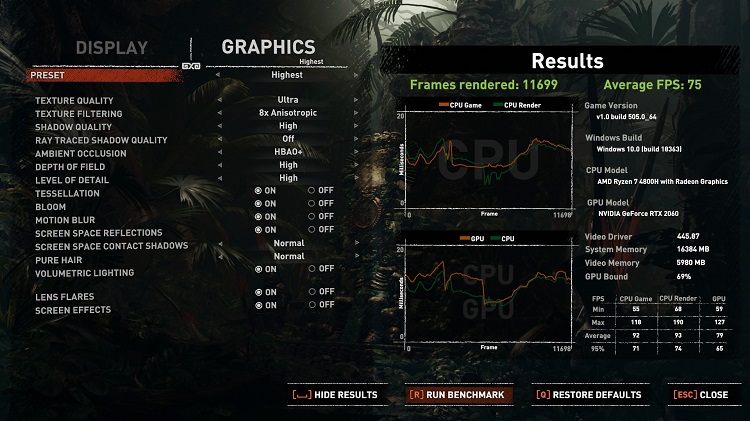 Shadow of the Tomb Raider gets an average of 75 fps, that's good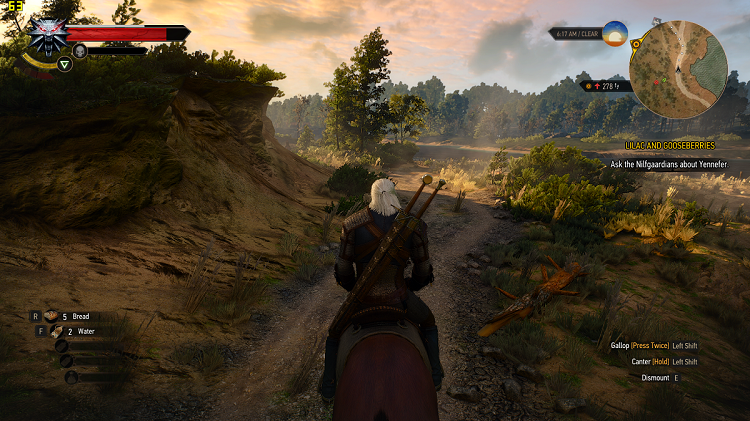 The Witcher 3 is slightly dated by now but is still a benchmark for gaming PCs
Next was The Witcher 3, which achieved frame rates of up to 81. The game doesn't have a built-in benchmark program, so we used FRAPS to help us log the frame rates. It also has most settings at the highest here and still managed above 60 fps on average. With the two results, it's clear that you'll have no problems with most AAA games. At most, you might need to dial down the settings in more demanding games like Metro Exodus.
In CS: GO, frame rates consistently pushed frame rates above 144. As you can expect, this meant that we didn't see any visible tearing when playing the game and the visuals are very fluid, owing to the high frame rate. Overall, it's pretty much what you'd expect from a laptop running an Nvidia GeForce RTX 2060. Speaking of the visuals, one thing we noticed on the A15's display is that it's not very colour accurate. It's rated at 45% NTSC so you probably shouldn't use it for tasks like photo editing.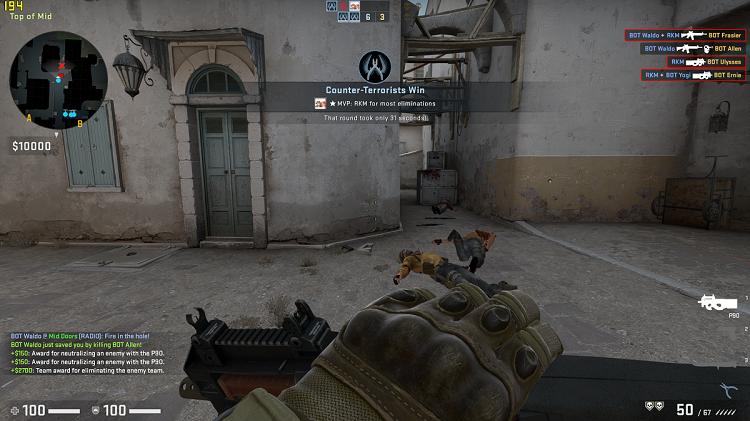 With over 160 fps on CS: Go constantly, you don't have to worry about visual stutters
But what's gaming without audio? The A15 is no slouch in that area too, surprisingly. Its speakers aren't very loud, but the audio comes out crisp and clear, with no distortion even if you crank up the volume to max. When it comes to bass, the A15 doesn't do too bad. It's not the thumping kind of bass that bass heads love, but there's enough for sound effects like explosions in games to sound genuine.
However, it's not all rainbows and butterflies with the TUF A15. Switching to the Turbo profile drastically increases the fan speed, but it also becomes much louder. Also, the system doesn't try to push the performance by too much despite the increased fan speed, so the gains may not really be worth the added noise. It does get quite hot on the top-right if you keep it in the Performance profile, but that's not an issue as long as you keep your mouse away from the vents.
Another thing that was more on the average side would be the battery life. Since ASUS decided to go with the 48Wh for the TUF A15 in Malaysia (instead of the 90Wh battery on the international variants), it's generally not a good idea to go on long gaming sessions. We mostly found the battery ready to clock out in around 1 hour or slightly more when gaming. If you're doing other tasks like web browsing or writing documents, it'll last much longer (up to 5 hours or more) if you adjust the screen brightness and enable the Silent profile. Of course, this depends on how you use the machine.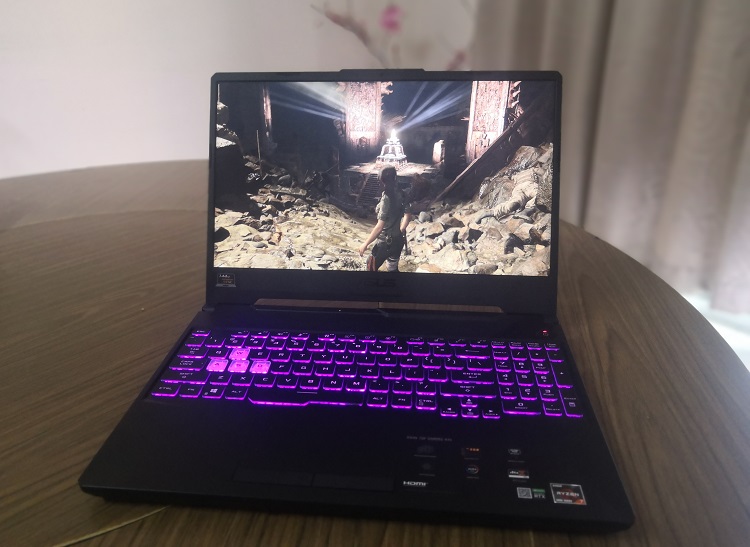 As a whole, I would say that the TUF Gaming A15 is a great laptop for gaming. It's got the hardware to handle 1080p in most games with the settings maxed out, has an excellent display, and the fact that you can upgrade the RAM and SSD is fantastic. This is probably one of the best 1080p gaming laptops you could currently go for.
We would have loved if the Turbo mode could consistently pump out more performance and for the build quality to be improved a bit more. But considering that the unit we reviewed retails for just RM5699, it's hard to complain as you're getting a lot of value.
Well, that's it for our review on the ASUS TUF Gaming A15. If you'd like to find out more, you could check out the product page for more details or visit your nearest ASUS store to try it out for yourself. With that said, do you think this is a gaming laptop you'd be interested in? Let us know on our Facebook page and stay tuned to TechNave.com for more reviews like this!
ASUS TUF Gaming A15 tech specs & features
CPU: AMD Ryzen 7 4800H with Radeon Graphics @ 2.9GHz
GPU: NVIDIA GeForce RTX 2060 GPU with 6GB of VRAM (Boost Clock: 1550MHz)
Memory: 16GB of DDR4 3200MHz SDRAM (upgradeable up to 32GB)
Storage: 1TB SSD (M.2 NVMe PCIe 3.0)
Display: 15.6-inch anti-glare Full HD (1920 x 1080) IPS-level panel, 144Hz, Adaptive Sync, Nvidia G-Sync
Ports: 1 x audio jack, 2 x Type-A USB 3.2 Gen 1, 1 x Type-C USB 3.2 Gen 2 (support DisplayPort 1.4), 1 x Type-A USB 2.0, 1 x Gigabit Ethernet, 1 x HDMI (support 2.0b), 1 x AC adapter plug
Battery: 48Wh, 230W power adapter
Connectivity: Supports Intel Wi-Fi 5 (802.11ac), Bluetooth 5.0
Software: NVIDIA GeForce Experience, Armoury Crate, Windows 10 Home
Dimensions: 359.8 x 256 x 22.8~24.7 mm
Weight: 2.3kg
Pros and Cons
Pros: Its design isn't too flashy, has some upgradability, and the performance is great
Cons: Fans are loud in Turbo mode, keys are a bit mushy, and the battery isn't the greatest
Summary: A gaming laptop that offers great bang-for-buck for those looking to game at maxed-out 1080p settings