Comparison: The battle of the four Telco roaming plans

Just in case you missed it, Celcom announced their latest roaming plan called the WONDEROAM last week and while the benefits and fare seem attractive, you might have wondered which Telco offers the best roaming deal. In this comparison article, we will be taking a look at Malaysia's four Telco's roaming plans and see which one is the best. So who came up on top? Read below to find out.
Celcom - Wonderoam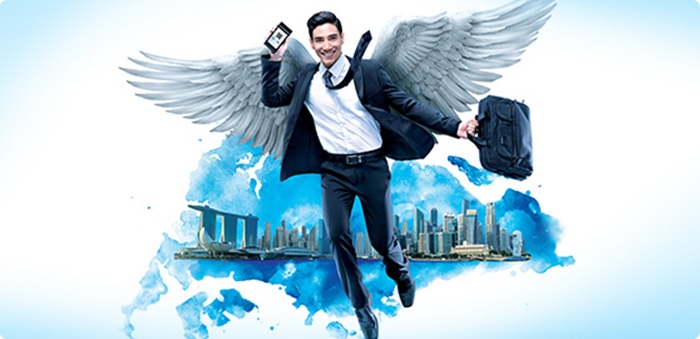 First up, let's take a look at Celcom's WONDEROAM plan. Celcom is the latest player to enter the roaming service plan with their WONDEROAM 1 Day Internet at RM38 and 1 WEEK RM138 plan. There's also WONDEROAM 1 Day Social, but that belongs to Xpax and anyone who has a Xpax Prepaid Plan can subscribe to it (if you want to know more, visit their website here).
Any Celcom Postpaid and Prepaid users are eligible for the WONDEROAM 1 Day Internet RM38 plan, it features 50MB data quota with a speed of 50MB as well. Postpaid users will be auto charged when the service is connected to preferred networks in other 165 countries, whereas prepaid users will have to purchase it via USSD *188# to start using it.
On the other hand, WONDEROAM 1 Week RM138 plan is probably the most expensive among the four Telcos, but at least it offers Unlimited Calls, Unlimited SMS and 3GB internet data (with the same 50MB speed) for one whole week. This is only for FiRST Gold and Platinum (it's a new Postpaid plan by Celcom, check it out!) users only, and that's about it.
Both plans have the same list of countries, you can check it out in their list of countries available for the plans on their website.
U Mobile - U Data Roam and U Mobile Data Backpack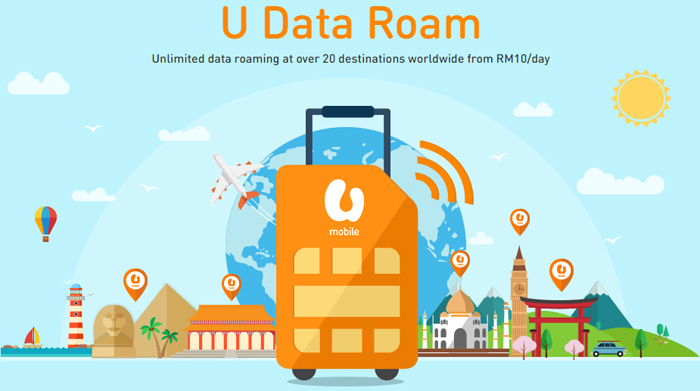 Next, U Mobile has their U Data Roam RM10 and Roam RM36 plan, these two plans offer a different list of countries and how it works is like this - both Prepaid and Postpaid UMobile users are entitled to the U Data Roam plan for only RM10/day. Featuring high-speed unlimited data usage but only available in 12 countries such as Australia, Bangladesh, Cambodia, Hong Kong, Indian, Indonesia, Laos, Philippines, Singapore, South Korea, Taiwan, and Thailand. If the country you're visiting is not in the list, you can still use the plan but for RM36/day with a different set of countries (visit here for the chart reference). Hmm, that's not so bad.
U Mobile hasn't stopped there yet, any Postpaid subscriber of Hero P70, i90, i130, UD95 and UD135 are entitled to use the U Mobile Data Backpack plan. This plan allows the user to roam for "free" in 12 countries mentioned above, at the expense of your current data plan with no extra charges. However, Voice calls and SMS will use the standard pay-per-use rate and are not based on your data plan.
Digi - Hassle-Free Internet Roaming

Moving on, Digi's roaming rate is the same as U Mobile with Roam10 for RM10 a day, and Hassle-Free Unlimited Internet Roaming for RM36 per day. Both plans are available for Postpaid users only and also have the same list of countries (visit their website to check it out), but the difference between the two are mainly of the cost, as well as the features. For the RM36 plan, they are allowed to have Internet browsing whilst traveling aboard with no manual operator selection required. The Roam RM10 plan isn't that bad too, after subscribing to the plan; users are given an additional 50MB data for 24 hours, unlimited social messaging (Whatsapp, Twitter, Facebook, and Messenger). Be sure to read their FAQ at the bottom of the page too before you start using them, because it can get a bit confusing.
Aside from that, Digi is also offering IDD 133 and Chatz for roaming service purpose. IDD 133 offers low Prepaid and Postpaid IDD rates to 36 countries, allowing you to call overseas with a fixed low rate call. The Chatz service also does the same, but you have to spend RM10 on a calling card to call overseas; this allows you to call up to 76 minutes anytime, anywhere.
Maxis - MaxisONE

Lastly, Maxis's roaming plan is fairly attractive too. Only users who are subscribed to the MaxisONE plan can use the roaming plan with a fixed rate of RM38 per day to 8 ASEAN countries (see the list in their website). Of course, this doesn't mean that they are only limited to 8 countries, in actual fact, Maxis users can enjoy Maxis's data roaming plan for RM38 over 100 countries, just missing the Unlimited International Calls, SMS, Data (500MB speed, non-stop after finishing the quota), but it does include a special Travel Protection.
The Travel Protection works sort like an insurance plan but by Maxis, for example; if you accidentally injured yourself overseas, you can actually claim overseas medical expense from Maxis via completing a claim form. And that's pretty cool if you ask me, to know more about this service visit their Travel Protection page to check out their chart.
Conclusion
So which one has the best roaming service? Well that solely depends on you, as we think if you were to go for a long week holiday or trip, Celcom's WONDEROAM 1 Week RM138 plan is most probably the best option. U Mobile's U Data Roam plan should be more suitable for short or sudden business trips well, but we also think Maxis's Travel Protection is a really big bonus. Other than that, their plans are more or less the same so no matter which Telco you're currently using, we think it's quite a fair deal from each of them. That's all we have in today's special comparison article, so stay tuned for more in Technave.com!
For more information on their respective roaming plans, visit either one of the links to get started.