Here's our list of recommended audio wearable and speakers for MCO

While we are all hopeful for a better recovery from the pandemic this year, it looks like we will be staying at home for a bit longer. Most of us are well-prepared thanks to last year's experience, buying lots of stuff online like food, gaming consoles, gym equipment and many more to stay sane. That said, it's also a time when people start revisiting some of their favourite tunes, blasting songs from the past or enjoying a symphony in their room from those sweet, sweet speakers.
But this begs the question: Which audio brand is the best? The answer may vary depending on your needs and God forbid if you want to know if the bass is good (bass isn't everything). So, if you're looking for some recommendations, here is our recommended audio wearables and speakers while staying at home.
Abel Wong (TechNave English Managing Editor) - Apple AirPods, Edifier G4, Sony WH-1000XM3 and Ruark Audio MR1

(L-R) The Edifier G4 gaming headset, Sony WH-1000XM3 and Apple AirPods in a casing
So not only do I use one, but there are four different audio wearables and speakers that I use at home. I shall start with the wearables first - a pair of Apple AirPods (1st Gen) for my iPhone 11. I usually use it for audio or video calls to friends and family (and my girlfriend). When I play video games on my laptop or Switch console, I use my Edifier G4 gaming headphone. Surprisingly, it's still performing well despite being a 4-year-old device with worn-out earcups.
Before the pandemic hit, I also use the Sony WH-1000XM3 wireless headphone as my go-to whenever I travel to foreign countries for launches and events. This wireless headphone is a lifesaver because of its high-quality Active Noise Cancellation that blocks annoying kids in the plane, so I can watch my movies in peace. I also got the Ruark Audio MR1 Bluetooth speakers last year after reviewing them. Its sound quality is on another level, and it allows you to listen to songs and music the way they are meant to be heard.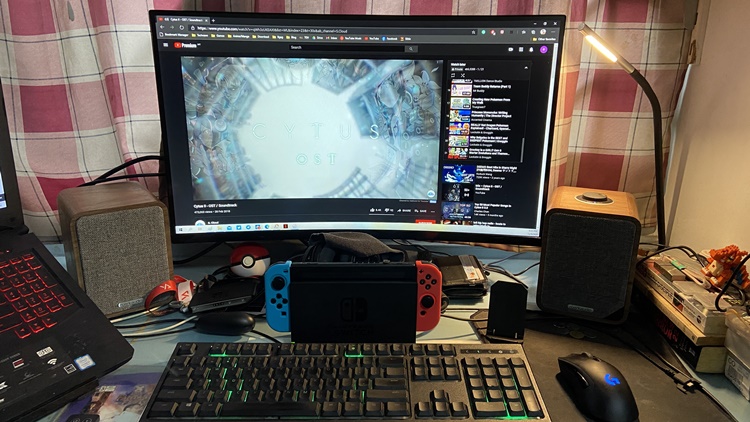 My workstation at home with the Ruark Audio MR1 Bluetooth speakers
Muzaffar Ismail (TechNave Editor-in-Chief) - Sony WF-XB700 and 1MORE TWS ANC
The 1MORE TWS ANC (left) and Sony WF-XB700 wireless earbuds (right)

Without beating around the bush too much, I use the Sony WF-XB700 for general use, like listening to some songs and watching videos. On the other hand, the 1MORE TWS ANC in-ear headphones are for mobile gaming. It sounds pretty good with the lag-free aptX feature too. You can check out my review on these audio wearables here and here respectively.
Rain (TechNave Videographer and Editor) - Sony MDR-100ABN h.ear
Mine is quite an old pair of headphones that I'm still using - the Sony MDR-100ABN h.ear on wireless noise-cancelling headphones. If I'm not mistaken, I got it for RM1299 which was alright. I use it for almost everything - gaming, listening to songs outdoors (especially in a plane full of crying children), video editing and recording.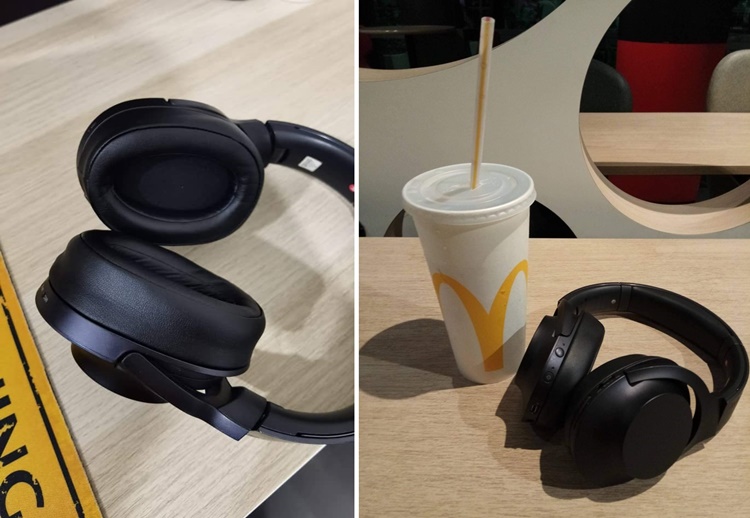 The MDR-100ABN h.ear on
I have been using this headphone for more than 5 years now, and it's still in good condition. The design is simple but modern, while the earpads are soft. Its sound quality is quite balanced too, but my favourite part is the noise cancellation. I think my money was well spent!
Elroy (TechNave Videography Team Leader) - Samsung Galaxy Buds Live
I'm not much of an audiophile but I do quite like the Samsung Galaxy Buds Live. I generally don't like earbuds because of the "cucuk" feeling in my ears, but these wireless earbuds fit my ears nicely and don't feel uncomfortable even after long periods of wearing. (Editor's note - you can read more about our review right here!)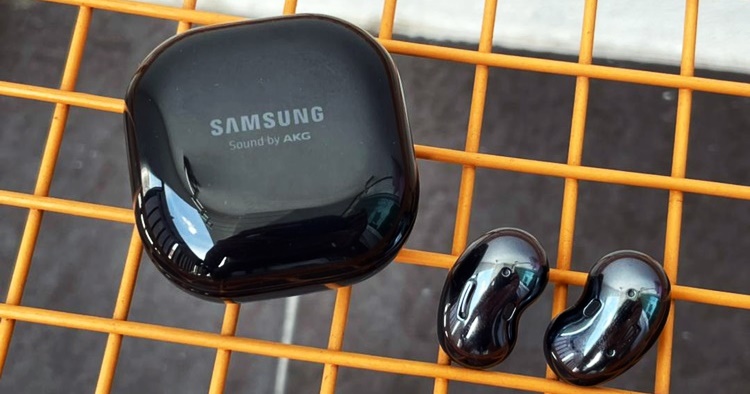 The Samsung Galaxy Buds Live
Sarah (TechNave BM Team Leader) - Samsung HW-T420 Soundbar (2020)
If you are looking for a budget soundbar system, you have to check out the Samsung HW-T420 Soundbar. It's an essential soundbar system for your apartment that comes with a reasonable price (RM649 only!). It has three different modes called standard, surround sound and game mode.
Surround sound is my favourite because I watch a lot of Netflix shows at home. Its 6.5-inch subwoofer produces a satisfying bass sound, though it's not quite enough for a spacious living room. But trust me, you won't go back to watching movies only with TV speakers after you've listened to this soundbar!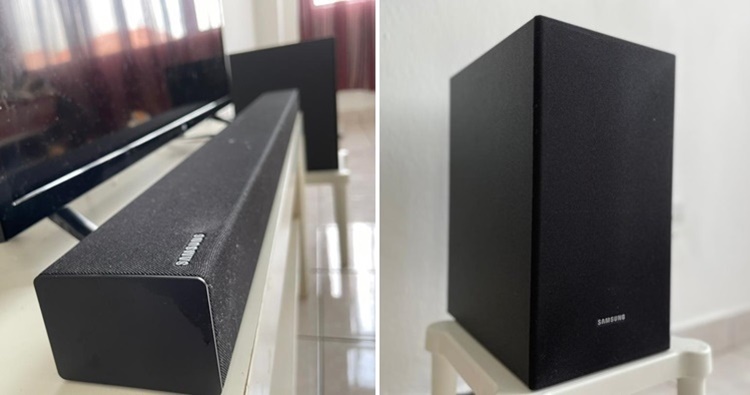 The Samsung HW-T420 Soundbar is a good budget soundbar to have!
Jinny (TechNave Video Editor ) - Onikuma K9 Kitty Quartz and Vinnfier Ecco 3BTR speakers
The Onikuma K9 Kitty Quartz but in black
I use the Onikuma K9, one of the most comfortable headsets I've ever worn. I got it at a PC store for like RM150, and yes, it's a cheap headset. But it doesn't suck! I use this headset for playing video games like Project Winter on the PC and Pokemon: Let's Go Pikachu on my Switch, and it sounds incredible. The mic isn't that good, though, as it sounds a bit soft.
As for the Vinnfier Ecco 3BTR speakers, I got them at Shopee for RM55 and usually use them for video editing, which is good enough. The sound quality is not bad, and it only uses USB as a power connector. Moreover, I can use Bluetooth to hear my music and watch movies from my other devices.
The Vinnfier Ecco 3BTR speakers
Well, that's all the audio wearables and speakers we have to recommend for now. You can actually find most of these online on Shopee and Lazada, which you should do as most of them are on CNY discounts right now. You ought to check them out while stocks last!
But what do you think? Which audio wearable or speaker would you recommend? Let us know in the comments below and stay tuned for more tech articles like this at TechNave.com.