NewsBytes #29 - Samsung social contest announced, a RM728 Fitbit Charge 3, OPPO gets an award, Touch 'n Go eWallet, new WD, AMD & Epson products and more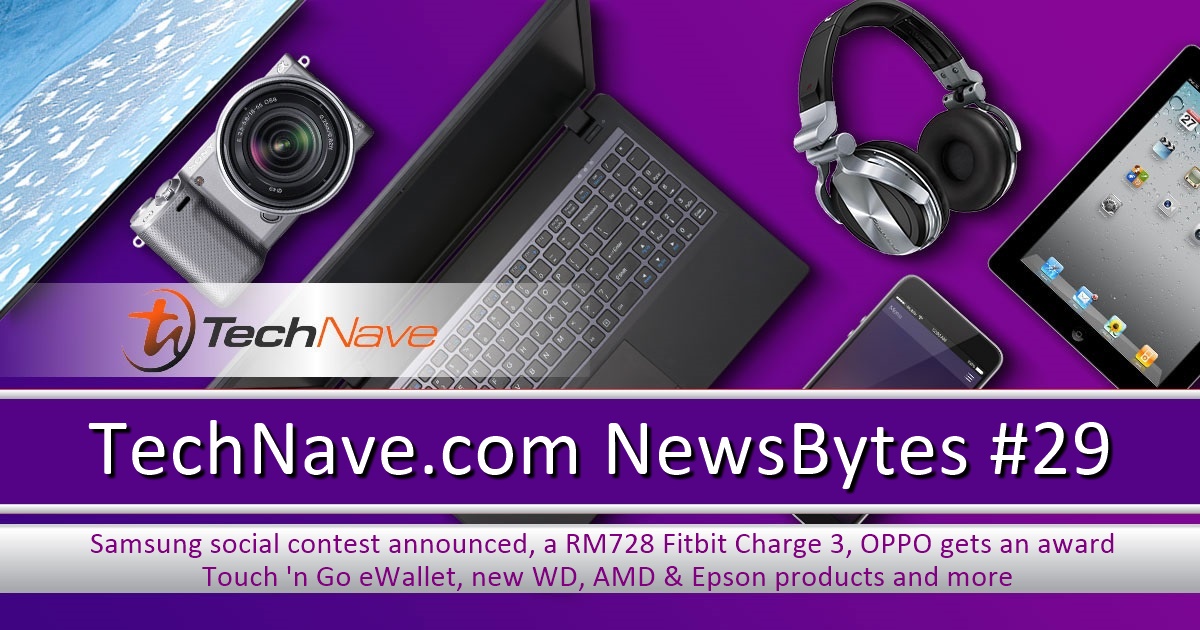 What's up, TechNavers? Before we get to the NewsBytes, it's been a rather quiet week with some eventful happenings. First, Huawei Malaysia has been madly promoting about its 11.11 promotion sales. They have been super productive this time, so we decided to do a compilation so that you can check out all the tips at one-go from our online guide to Huawei Malaysia's Mega Online Sale Day on 11 November 2018. Samsung also showed off a new Infinity Flex Display prototype (note - not a device) as well as new notch designs at the SDC 2018.
For our local news, Realme Malaysia has officially launched its Realme 2, Realme 2 Pro and Realme C1 starting from RM449. A new Mi Store has just also opened in Pavilion, Kuala Lumpur along with the Xiaomi Mi 8 Pro and Mi 8 Lite debut starting from RM999. And finally, AEON has introduced a new AEON Member Plus Visa Card and AEON Wallet as an initiative for a cashless society.
While the Samsung Infinity Flex Display shows a lot of potential, the new notch designs are... umm (you should know my position on notches by now, lol). Oh well, at least the upcoming new Infinity displays will have no bezels at all at both sides (at least it looks like it). That said, the Mi 8 Pro takes the spot of the most exciting one out of the bunch here as it's on sale for RM2399. For a flagship, that's pretty affordable and it has a really cool back cover design too. But anyway, onward to the NewsBytes!
Three Lucky Malaysians are going to South Korea thanks to Samsung Malaysia
Over a month ago, Samsung Malaysia kicked off its social media contest which invited all Samsung Galaxy smartphone users to snap their most creative mirror selfie for a chance to win a 4-days 3-nights all-expense paid trip to South Korea. The three winners were announced during the contest's grand finale, Mirror Mirror Me night, where Noor Liyana Asha Binti Mohd Noor, Laven Lim Jia Hui and Noor Ashyla Binti Mohd Jalil won the chance to be a part of South Korea's number one reality TV show 'Get it Beauty', as well as personally meet South Korean celebrity Jung Hae-in.
Samsung's 'Mirror Mirror Me Night" was held at Nathalie Gourmet L'espace, which was attended by 50 participants. Although not all were able to win a trip to South Korea, they were graced by the attendance of Kim KiSoo; a South Korean comedian turned celebrity makeup artist and was followed by a live performance by Han Hee-jun, a finalist of the US talent show American Idol Season 11, K-Pop Star Season 3, and the new co-host for After School Club.
Fitbit Charge 3 released in Malaysia for RM728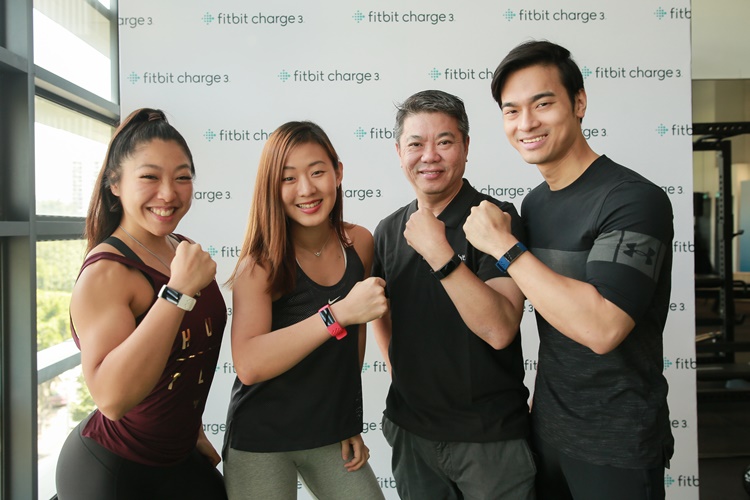 Looking for a sports smartband? Well, Fitbit is back with a brand new band called the Charge 3. It's already on sale for RM728 in black with a graphite aluminium case or blue-gray with a rose gold aluminium case. Or if you want the Special Edition, that's RM838 and there are also accessories available ranging from RM128 to RM228.
As Fitbit fans know, the Charge series are swim-proof and the latest one is not without exception. It also features a large touchscreen display, notifying you the most accurate health and fitness results (yet) and can stay alive up to 7 days of battery life. You can check out more information about it right at the website here https://www.fitbit.com/charge3
TechRadar awards OPPO the "One to Watch Award"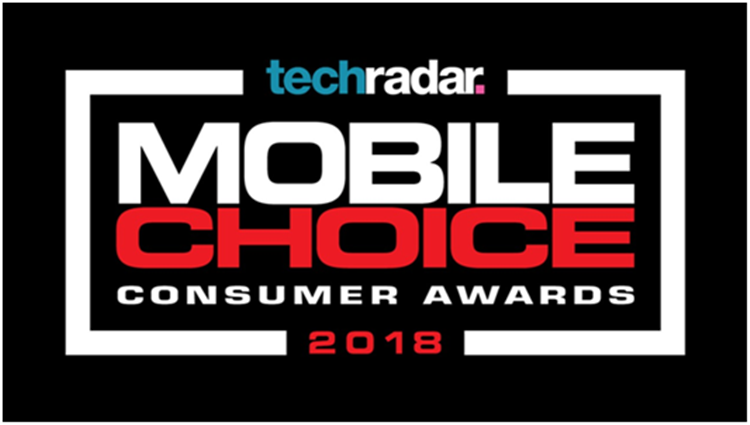 If you're a tech geek who loves reading tech news, chances are that you probably know TechRadar and recently during its TechRadar Mobile Choice Consumer Awards ceremony, the reputable tech website has given OPPO the "One to Watch Award". Sounds cool, but what does that mean actually?
Well, it basically reflects OPPO's continuous commitment to explore new technologies in terms of design and tech-innovation. Despite being not one of the top dogs in the competitive smartphone industry, OPPO is willingly to challenge the norms. The OPPO Find X is one fine example of those, although it's not perfect - the flagship is still the first to introduce a motorized camera for a true fullscreen experience. You can check out our OPPO Find X review right here.
Touch 'n Go eWallet now has a QR payment system for taxi rides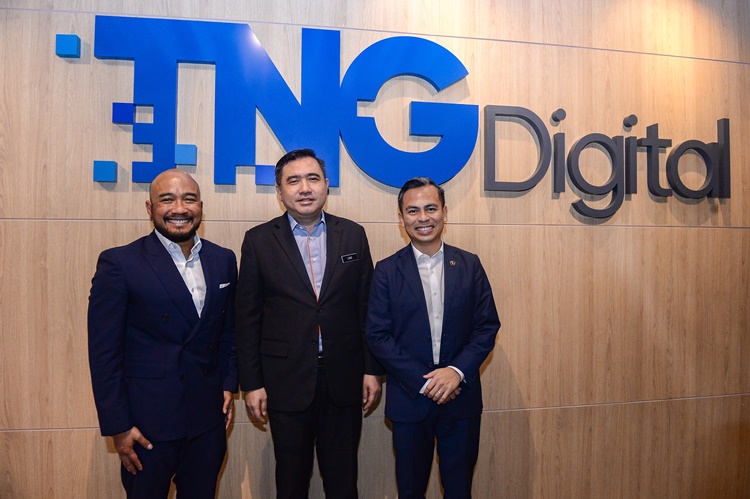 This is a pretty big step towards a cashless society, Touch 'n Go (TND) Digital Sdn Bhd has just announced a new partnership which will allow EzCab and Public Cab taxi drivers to accept cashless payments via the Touch 'n Go eWallet ("eWallet").
Under the theme #JomTeksi, taxi drivers can now do cashless payment and remain competitive with other ride-hailing services in Malaysia. The QR code payment system powered by Touch 'n Go eWallet only requires passengers to scan the driver's code for payment of fares. As a result, taxi drivers do not have to install any kind of terminal or hardware in their vehicles. It's expected that QR system will be ready to go in 10,000 taxis by the end of the year. Sweet.
Users of the Touch 'n Go eWallet can follow these simple steps to pay:
Click the 'Scan' icon in their Touch 'n Go eWallet to scan the QR code of the taxi
Verify the amount due with the taxi driver (calculate and include the amount due for tolls, if any)
Enter the amount due for the taxi ride
Enter the 6-digit PIN code of the Touch 'n Go eWallet
Payment is complete and immediate notification will be sent via SMS
Users of the Touch 'n Go eWallet can also check their transaction history in-app to track their payment/purchases.
Minister of Transport Malaysia, Yang Berhormat Tuan Loke Siew Fook (middle) alongside Yang Berhormat Fahmi Fadzil, Member of Parliament of Lembah Pantai (right); and Mr Syahrunizam Samsudin, CEO of TNG Digital Sdn Bhd at the launch of Touch 'n Go eWallet's partnership with EzCab and Public Cab.
Capture the Beauty of Malaysia with Huawei Malaysia
Rewind back to September 2018, Huawei Malaysia previously collaborated with the National Art Gallery to host a digital art workshop with its latest MediaPad M5 Pro tablet. Under the theme "Capture the Beauty of Malaysia", the company gave the participants a tutorial on how to take advantage of the tablet and the M-Pen stylus, with tips and tricks on what they can do. The workshop was conducted by a local digital artist, Chong Fei Giap.
Huawei Malaysia's collaboration with the National Art Gallery is in line with the centre's 60th-anniversary celebration, which was officiated by the Prime Minister on the 4th of September 2018 (picture above). To congratulate the centre for six decades of excellence, the company presented a congratulatory gift to the National Art Gallery during the workshop. The gift was in the form of a framed digital art, produced by local digital artist Chong Fei Giap on the MediaPad M5 Pro tablet.
The tablet features a 7500 mAh battery, PC Mode, Eye Comfort Mode, and 280 PPI 2K display. Currently, it comes in two variants - RM1929 (Pro) and RM1539 (standard) in every Huawei store.
Western Digital announces the industry's highest capacity HDD
Meanwhile, Western Digital has unveiled a brand new 15TB Ultrastar DC HC620 host-managed SMR HDD. It was designed in mind for cloud and traditional data centre workloads, such as large video surveillance, storage for regulatory compliance and Big Data storage. It even allows 4U60 HDD enclosure to reach a raw storage capacity of 900TB, which is an additional 60TB per 4U rack in the same footprint compared to those utilizing 14TB HDDs.
"With data continuing to grow at unprecedented rates, many hyperscale and cloud storage customers know that their workloads trend toward data that is written sequentially. In these instances, customers are optimizing their infrastructures with the lowest TCO and the maximum capacity," said Eyal Bek, vice president of product marketing, Western Digital. "By capitalizing on our highest-capacity SMR storage solutions, our customers' investment can not only be fully leveraged today, but for subsequent generations of SMR areal density improvements for continued infrastructure optimization."
Western Digital is currently shipping Ultrastar DC HC620 qualification samples to select customers with broader availability later this quarter. To find out more about this kickass product, you can check out at their blog site here.
AMD Next Horizon Announcements
AMD also had a conference of its own, called as the AMD Next Horizon, the company took this opportunity to showcase a handful of new products. Below are some of the highlights that include:
Announcing that Amazon Web Services, the world's largest cloud provider, has introduced three new AMD EPYC processor-based cloud instances
Launching our 7nm-based AMD Radeon Instinct MI60 and MI50 ("Vega 20") datacenter graphics processors
Detailing our "Zen 2" CPU core and modular design methodology
Disclosing new specifics about our next-generation 7nm "Zen 2"-based EPYC processors (codenamed "Rome")
Demonstrating "Rome" for the first time, including a live 7nm "Zen 2"-based EPYC processors + Radeon Instinct MI60 demo and a competitive demo that has a single "Rome" processor outperforming dual, top-of-the-line current generation Intel Xeon 8180M processors in a compute-intensive rendering workload.
If you would like to know more, you can check it out at the Next Horizon website over here.
New 3LCD laser projectors by Epson
If you're looking for some laser projectors, Epson got some for you but for some reason, they didn't reveal any price tag at all. Anyway, the EB-L500 and L600 series offers one of the most compact laser projectors so it's easy to bring around, along with minimal maintenance, ease of installation yet able to deliver respectable images up to WUXGA resolution at 6000 and 5000 lumens (respectively) lumens of white and colour brightness.
Moreover, the EB-L600 series is compatible with a wide range of external devices, and additional ports include HDMI and HDBaseT, as well as having a split screen feature from two different sources at the same time. There's also an iProjection app, which users can easily share and transmit images, texts and files from smart devices and laptops wirelessly.
To find out more about the new laser projectors, you can check it out here.
That's all, folks! Stay tuned for more Newsbytes at TechNave.com.