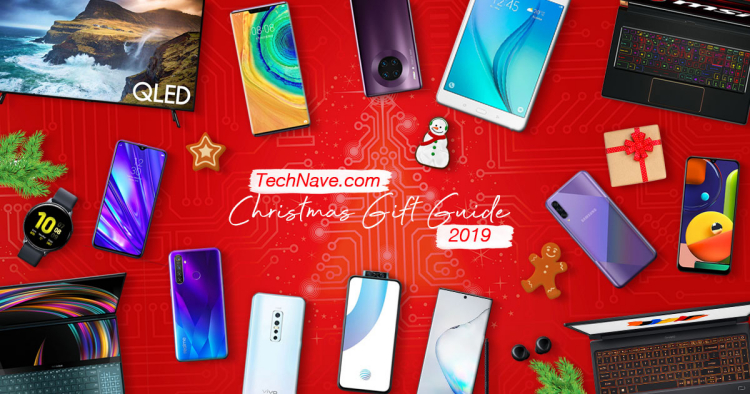 Christmas is just around the corner and there may be a whole bunch of things you want to get, but if you're looking for a tech gift in particular, you may not even know where to start as 2019 has been chock full of new tech gadgets and product releases. For that reason, we've compiled a list of Christmas tech gifts you can get for each of your precious friends and family (many of them are on our lists too!)
We've also segregated them according to the type of friend or family these Christmas tech gifts would be best suited for. This includes your most precious to the entire family and even gamers to workaholics. So, in no particular order, here is TechNave.com's Christmas Gift Guide 2019.
Here's the quick list and links if you know what you're looking for and want to just jump straight to it:
For the one you hold most dear, your wife or partner - Apple iPhone 11 Pro / iPhone 11 Pro Max
The Apple of your eye should get the most exquisite Apple you can get yet, which in our opinion would be the Apple iPhone 11 Pro. Featuring their fastest A13 Bionic chipset yet, it is the first iPhone with a triple rear camera consisting of a 12MP (f/1.8, OIS) + 12MP (f/2.4) + 12MP (f/2.0, OIS) so your dearest can take all the beautiful photos she or he wants without having to do much at all. Just point and shoot, even at night, for all the Christmas memories, especially a romantic candle-lit Christmas dinner.
Coming in from RM4899 for the 64GB storage version, we'd highly recommend that you get at least the 256GB storage version for a bit more at RM5599 as the chances of running out of memory are lower that way. The Midnight Green colour in particular gives it a premium look and stands out from the currently standard Gold, Silver or Space Grey, so your significant other's phone will be as premium as they are.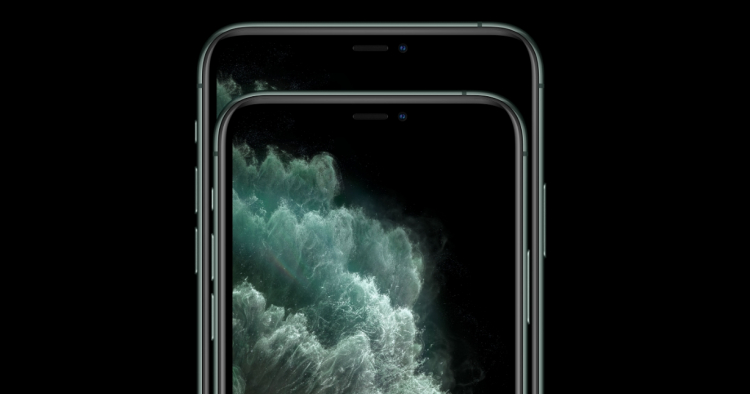 The Apple iPhone 11 Pro and iPhone 11 Pro Max
While we think that the 5.8-inch display is more than enough, if your partner likes to watch their movies from their phone, then perhaps you can add on a bit more from RM5299 for the 6.5-inch display on the iPhone 11 Pro Max. This may seem a bit hefty price-wise but your partner is definitely well worth it. However, if you're looking for a more affordable alternative, you can get both the iPhone 11 Pro and iPhone 11 Pro Max from as low as RM96 per month on Celcom. We've also compared the prices from other various Malaysian telcos such as Digi, Maxis or U Mobile as well.
For the designer brother or sister - ASUS ZenBook Duo / Acer ConceptD 3 Pro
Everyone in the family already knows how creative your resident designer sibling or relative is but for these creative content creators, the ideal Christmas gift would be a machine that lets them show off their creativity even further. For that, we'd recommend laptops like the ASUS ZenBook Duo and the Acer ConceptD 3.
The ASUS ZenBook Duo offers an extra touchscreen built into the keyboard
One of the first of its kind, the ASUS ZenBook Duo features a 12.6-inch ScreenPad Plus touchscreen built-into the keyboard which not only lets you write and draw but also acts as a secondary display to put your video timeline and other screens. Available from RM4699 with up to Intel Core i9 processors and RTX2060 graphics, you can also go a step higher with the more powerful ZenBook Duo Pro but the price is also higher from RM12999.
If your sibling or creative relative doesn't need or want the ScreenPad Plus, but instead wants the power of an industrial-level machine in the form of a laptop then the Acer ConceptD 3 Pro is one of the more affordable options from just RM5999. Featuring an NVIDIA Quadro T1000 graphics, up to Intel Core i7 processor, up to 16GB DDR4 RAM and 512GB SSD, the ConceptD 3 Pro is perfect rendering content like 3D animation, 4K videos and so forth. For those not in the know, most NVIDIA Quadro machines tend to be more than RM10000, but there's also the Acer ConceptD 5 Pro and more.
The Acer Concept D 3 offers industrial-level hardware in a portable laptop
For the gamer - ASUS ROG Phone 2 / Nintendo Switch Lite / MSI GS75
It's not that they don't want to join the party, but your gamer friends and family are partying bigtime online, getting the highest scores and beating everyone else. For these gamers that you still love and adore, the perfect Christmas gifts that we can think of would be the ASUS ROG Phone 2, Nintendo Switch Lite and MSI GS75.
Taking over from the ASUS ROG Phone, the previous best gaming smartphone around, the ASUS ROG Phone 2 not only offers a faster, more powerful Qualcomm Snapdragon 855+ chipset, but also a longer lasting and larger 6000 mAh battery along with a 120Hz refresh rate and 250Hz touch sensor display. You can check our review for more details but it is available from RM3499 which might be a bit pricey, however this is actually quite affordable compared to some other gaming smartphones out there.
The ASUS ROG Phone 2 not only offers the best hardware but also the best gaming peripherals
Looking for a more portable Nintendo Switch? Here's the Nintendo Switch Lite!
If your gamer isn't that much into Android mobile gaming, then perhaps the Nintendo Switch Lite is more their thing. Capable of playing nearly all the same games as the original (and still more expensive) Nintendo Switch, the Switch Lite comes in colourful blue-green, grey and Yellow, non-removable Joycons and doesn't connect to a TV. In short, it's the mobile console you'd love to bring around for just RM949.
For the really hardcore PC gamer, there's the MSI GS75 Stealth in premium black and gold with a 17-inch 144Hz 3ms response time display, up to 3 super fast SSDs and up to NVIDIA RTX 2080 Max-Q discrete graphics for blazing fast performance in an 18.9mm super slim form factor. It also weighs in at just 2.28kg so your PC gamer can go as mobile as he or she wants to. Available from RM9999, it currently has a Christmas promo with RM899 worth of freebies until 31 December 2019.
The MSI GS75 Stealth
For the mobile and selfie photographer - Huawei Mate 30 Pro / Huawei P30 Pro / vivo V17 Pro
The Huawei Mate 30 Pro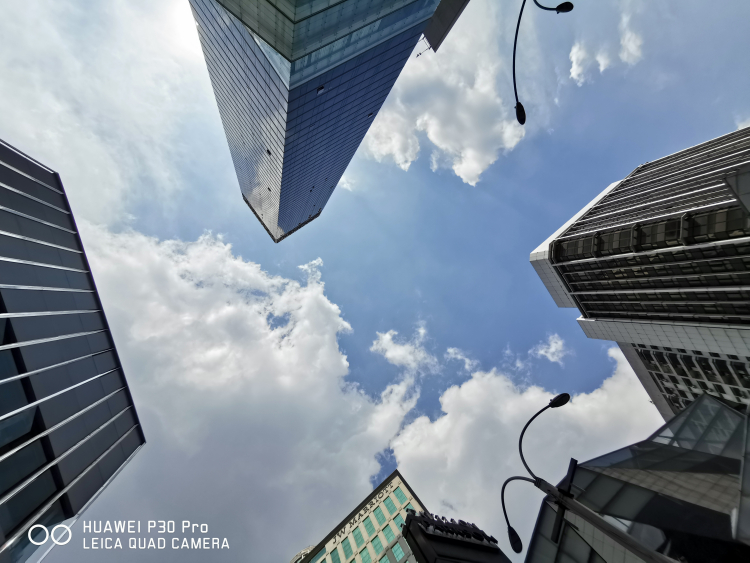 The Huawei P30 Pro is the photographer's cameraphone
We all know that uncle, auntie or other relative who loves to take photos and selfies but for these mobile photographers, we'd recommend the Huawei Mate 30 Pro or Huawei P30 Pro and the vivo V17 Pro for the selfie lover. With these new tech gifts, they'd be sure to get even better Christmas shots and beyond than before.
Certified by camera-centric site DxOMark and ranked as #1 and #3 respectively, the Huawei Mate 30 Pro and Huawei P30 Pro not only innovate but offer 2 very different mobile photography cameraphone experiences. While the earlier released P30 Pro offers a jaw-dropping up to 50x zoom for all the wildlife photographers, the Mate 30 Pro is the world's first cameraphone to include a 40MP Cine camera (the type used in those bulky TV video cameras) that can take 7680 fps ultra slow motion videos.
The Mate 30 Pro also takes great photos with its 40MP + 40MP + 8MP + 3D ToF quad rear cameras, but it is better suited for videography. Available for RM3899 the Mate 30 Pro offers the best in photography and videography today, but the P30 Pro is a bit more affordable at RM3399 and still offers both awesome mobile photography and videography as well.
The vivo V17 Pro
For the selfie lovers or those who just can't stop taking pictures of themselves, we'd recommend the vivo V17 Pro. Featuring 32MP + 8MP dual front cameras in a motorized pop-up, the V17 Pro's front cameras outclass most other selfie focused cameraphones.
But this isn't to say that its other features are lacking as the 48MP + 8MP + 2MP + 2MP quad rear cameras offer superwide to bokeh and super macro photography with ease while the pop-up selfie cameras means you have more space to see yourself with its large 6.44-inch FHD+ fullview display. Available for a fairly affordable RM1499, it should keep your selfie lover very satisfied.
For the value-minded youth - realme 5 Pro / HONOR 9X / Samsung Galaxy A50s / Xiaomi Mi 9 Lite
It's an unfortunate truth, but for most teens and young adults, the Christmas gift budget tends to be on the more value-minded side, but thankfully this doesn't have to mean they won't get some pretty powerful or feature filled devices as Christmas presents. This is because, as usual, 2019 has been chock full of value-added midrangers. For this Christmas Gift Guide, we'd recommend the realme 5 Pro, Honor 9X, Samsung Galaxy A50s and Xiaomi Mi 9 Lite for your teens and young adults, all of which are feature-filled and powerful in their own right.
The more recently revealed realme 5 Pro for example packs in an upper midrange Qualcomm Snapdragon 712 chipset, has a 48MP+8MP+2MP+2MP quad rear camera and 16MP front camera with a large 4035 mAh battery. It also looks pretty good with its diamond cut back and it also has VOOC 3.0 20W fast battery charging, for those times when you need 50% in 30 minutes. Available for RM999, it should make most teens excited for their Christmas present.
Also going for RM999, the HONOR 9X offers a midrange Kirin 710F chipset with plenty of memory (6GB RAM + 128GB storage) and a triple rear camera setup of 48MP + 8MP + 2MP. Unlike the other 2 teen devices here in our list, the 9X goes for a larger 6.59-inch ultra fullview display with no notch but the 16MP front camera pops-up instead. Like the other 2, it also uses a large 4000 mAh battery.
The Honor 9X offers a 16MP pop-up front camera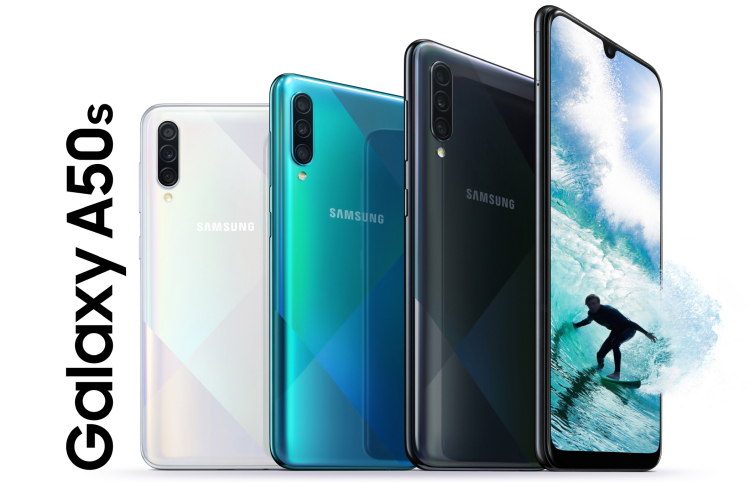 The Samsung Galaxy A50s offers another option for your adventurous teen
Powered by a 10nm Samsung Exynos 9611 chipset, the Samsung Galaxy A50s offers a notched 6.4-inch display utilizing a larger 32MP front camera. It offers a bit more with 48MP + 8MP + 5MP triple rear cameras that features Live video recording with Super Steady stabilization. In addition, it still retains a large 4000 mAh battery to keep your mobile powered teen up and connected. Samsung are offering it at the rather novel price tag of RM1234.05 with free 2-months of ad-free YouTube Premium.
For just a bit more at RM1299, the Xiaomi Mi 9 Lite offers a similar 48MP + 8MP + 2MP triple rear camera but makes up for it with a larger 32MP front camera, so you'd probably get this for your selfie loving teenager or young adult. Other tech specs are similarly midrange with a Qualcomm Snapdragon 710 chipset but you still get a large 4030 mAh battery to go with it as well.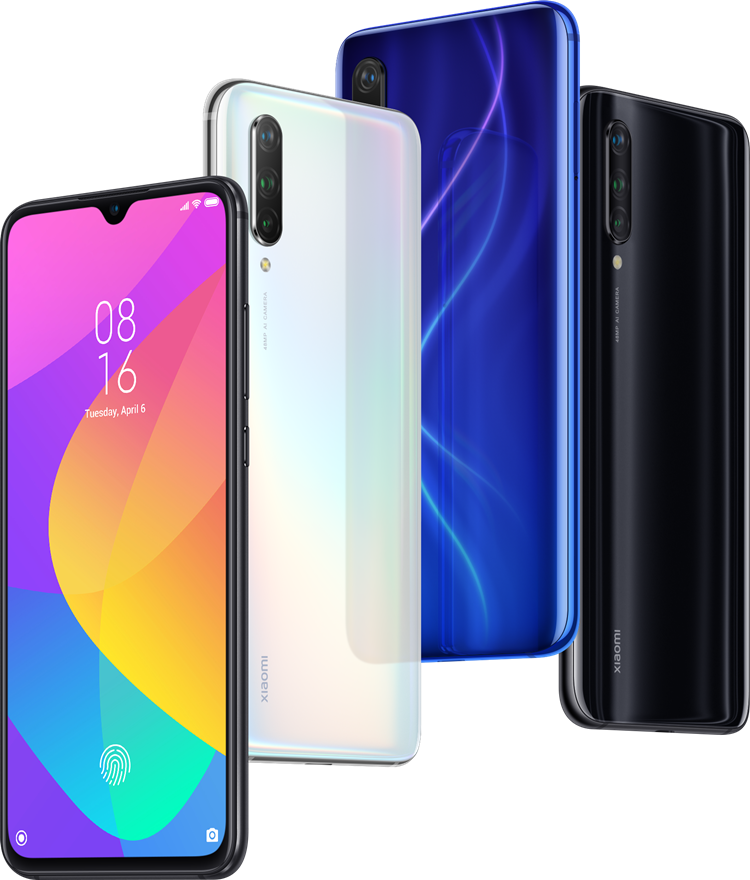 The Xiaomi Mi 9 Lite has plenty of features for an affordable price
For the kids - Huawei MediaPad T5 or Samsung Galaxy Tab A with S Pen
Kids love to watch kiddy shows and enjoy fun and games from a big screen device. We've also never seen any kid that doesn't like to draw or doodle with something, so having a big screen tablet with a sensitive stylus is also a great Christmas gift. Thankfully, you don't have to break the bank for these 2 types of Christmas tech gifts for kids as we'd recommend the Huawei MediaPad T5 and the Samsung Galaxy Tab A with S Pen, both of which are below RM1K.
For those kids who like to watch shows, YouTube and the like, the Huawei MediaPad T5 offers a large 10.1-inch full HD (1920 x 1200 pixel) display for clear vibrant details and a 5100 mAh battery for long-lasting performance. The midrange Kirin 659 chipset also lets kids play most casual games with no problems. While you can easily get it in black or champagne gold for RM899, you might want to put on a case as well, just so that the premium metal body it comes in won't get too dented.
The Huawei MediaPad T5 offers a big screen for the kids
Going up just a bit more at RM1099 is the Samsung Galaxy Tab A 2019 with S Pen. It offers your kids the ability to accurately draw whatever they want on the 8-inch but still FHD display, without making a mess or using up reams of paper.
It's a bit lighter at 325g due to the smaller display but it also offers 4G LTE connectivity, so if you plug in a SIM card you can let them carry about their Christmas present wherever you go. Our recommendation to get a case with this tablet remains the same though, but it should make an excellent Christmas gift for your budding digital artist.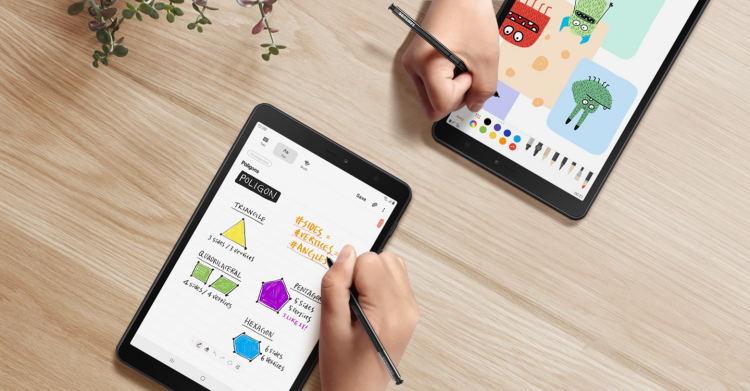 Kids can doodle and even do work with the Samsung Galaxy Tab A with S Pen
A smart TV for the family - Samsung QLED 2019 / Sony Bravia OLED
Despite all the individual tech devices each family member gets for themselves, Televisions still draw in the entire family, especially when you have smart TVs that lets family easily and wirelessly share Christmas memories. For this reason, we'd recommend you get a smart TV as a gift for the family, particularly from the Samsung QLED 2019 series and the Sony Bravia OLED Master series of smart TVs.
The Samsung QLED 2019 series of smart TVs offer expanded viewing angles and brilliant colours with their QLED smart TVs with a selection of various sizes. If you want everyone to see everything we'd recommend getting the 8K variants, but the more affordable variants with 4K or even Full HD still offer great HDR screens to watch home movies, see vacation photographs and unwind for the holidays. Awesome Adaptive Sound ensures that you won't need to get any other sound equipment as well, all of which you can get from RM4999.
Be like John this Christmas
Sony Bravia OLED Master series
For those who want a bit more in terms of viewing experience then the Sony Bravia OLED MASTER series should be the smart TV (or Android TV as they like to call it) for your family this Christmas as they offer deeper blacks and clearer details with higher contrast. Granted their range are up to 4K Ultra HD but their screens also offer multi-dimensional sound with Acoustic Surface Audio+ and colour optimisers such as Pixel Contrast Booster which you can buy from RM11949.
For the workaholic - Samsung Galaxy Note 10+ / Acer Swift 5 series laptop
Despite all the family environment and good cheer, despite all the hearty holiday food, there's always 1 or 2 workaholics in the family who just can't stop working, even in between bites of turkey or chicken. We've accepted that that's the type of people they are but we still love them. So for those friends and family workaholics, we'd recommend the Samsung Galaxy Note 10+ or an Acer Swift 5 series laptop as their Christmas tech gifts.
The Samsung Galaxy Note 10+ is perfect for productivity
Hands-down, the Samsung Galaxy Note 10 series devices remain the most powerful mobile productivity devices in the market, especially with the much improved Samsung S Pen. Thanks to the built-in six-axis sensors your mobile workaholic can not only handwrite or circle mistakes, but also gesture with the S Pen like a magic wand and remote control the Note 10 or Note 10+ for a variety of uses.
Both the Note 10 and Note 10+ come in 256GB storage variants for RM3699 and RM4199 respectively, so there's plenty of space. In addition, Samsung is also holding their #iChanged promotion now, so when you trade in an old device for the Note 10 or Note 10+ you'll also get a Galaxy Fit smart band for free!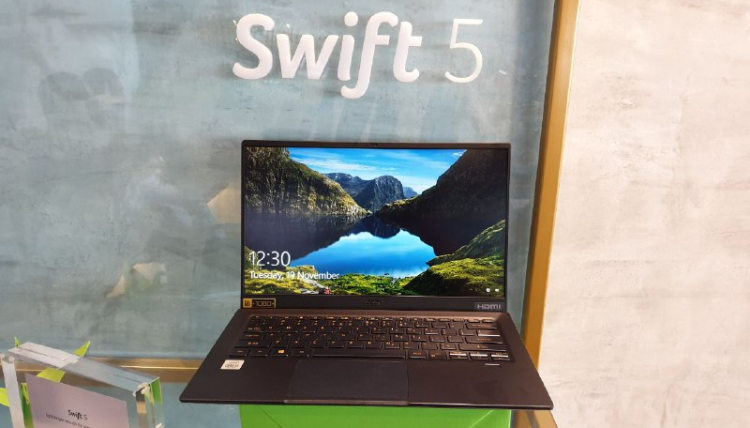 The Acer Swift 5 weighs less than 1Kg
For those workaholics who have to travel but don't like working with a stylus that much, the new super lightweight Acer Swift 5 series offers laptops that weigh less than 1Kg! Weighing in at approximately 990g, the Acer Swift 5 laptops can offer high performance with up to 10th Generation Intel Core i7 processors, 512GB SSDs, 16GB RAM and NVIDIA MX250 graphics.
Thanks to the compact design, they make great travel companions as they not only weigh less than most laptops but take up very little space, making it an ideal Christmas present for those friends and family who can't stop working. You can get them from as low as RM3699.
For the music listener - realme wireless buds / WF-1000XM3 Wireless Noise Cancelling Headphones / Huawei mini Speaker CM510
The realme wireless buds have been co-produced with Alan Walker
While audio equipment can easily go into the tens of thousands of ringgit, thankfully, this Christmas there's a lot more affordable choices, especially if you want to go wireless. For those audiophiles who love music, we'd recommend the realme wireless buds, Huawei mini speaker CM510, Samsung Galaxy Buds and if you're willing to spend just a bit more, then the Sony WF-1000XM3 wireless noise cancelling headphones should make for some truly excellent Christmas tech gifts.
First off, the realme wireless buds have been co-produced with Alan Walker who is a famous DJ and music producer with a host of songs like Faded and so forth to his name. The realme wireless buds are neckband earbuds that stick closely in your ears but hardly weigh anything at 30g. Connecting via Bluetooth 5.0, they boast DBB or Dynamic Bass Boost along with 12 hour battery life on a single charge. You can easily get a pair for as low as RM149.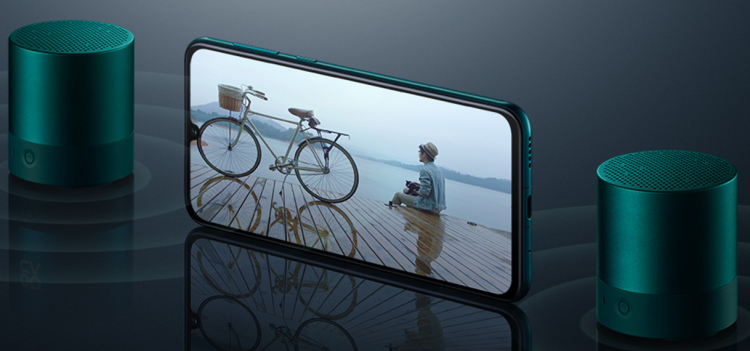 These portable speakers offer 360 degree immersive sound when paired up with another
If you or your friend would rather go public and share music with everyone, then the 110g Huawei mini speaker CM510 is your portable loudspeaker. Delivering deep bass and 3W audio, pairing 2 speakers together offer immersive 360 degree stereo audio and it is also IPX4 water resistant, so you can listen to it in the bathroom and not have to worry about accidental splashes. Going for an affordable price of just RM99, you could get 1 or 2 as a gift, just in time for a family Christmas singalong.
Coming back to the private space, if you're looking for an easy listening device for your Samsung fan there's always the Galaxy Buds for cord-free or true wireless audio. Easy to use and compact, they offer rich sound tuned by AKG and up to 6 hours of Bluetooth streaming and another 7 hours from the charging compact case. In addition, it can also get a quick charging boost if you're using the Galaxy S10 or Note10 to wireless charge. Available for RM499, it should make the perfect additional gift for said Samsung fan.
However, if you're willing to spend a bit more to the tune of RM949 then you can get the Sony WF-1000XM3 wireless noise cancelling headphones. Quite obviously, these completely wireless earbuds are designed to cancel outside noise from bothering or distracting you from enjoying your music. It is also the #1 top affordable audio earbuds nearly everyone at TechNave.com recommends with 6mm driver units, Sony HD Noise Cancelling Processor QN1e and all day battery life.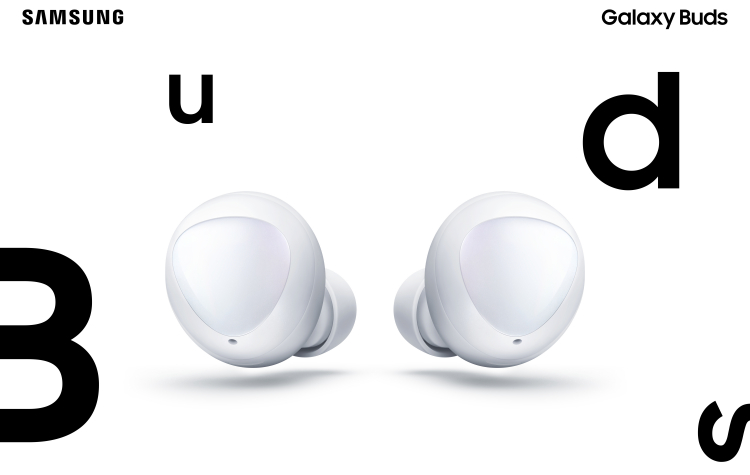 The Samsung Galaxy Buds are a great companion accessory for a Samsung smartphone user
Our take on the Sony WF-1000XM3
For the wearable - Apple Watch Series 5 / Huawei Watch GT2 / Samsung Galaxy Watch Active 2 / HONOR Band 5
There's always someone in the family or in your social circle who loves to wear watches and thanks to current trends in technology, there are now a lot of smartwatches, wearable tech you can put on your wrist. This time around we'd recommend the Apple Watch Series 5, Huawei Watch GT2, Samsung Galaxy Watch Active 2 and the HONOR Band 5. Each device fits with a certain type of user which you can see below.
Coming in from RM1749 (a lot less if you go with a telco), the Apple Watch Series 5 is the trendsetter when it comes to smartwatches and can do nearly everything a smartphone can. It can even make calls (without your smartphone), work with nearly every iOS app, call emergency numbers if you might have accidentally tripped or fallen and much more. The only downside is that it works best with iOS devices, so get this smartwatch if you're buying for an Apple iPhone user.
Here's the Apple Watch Series 5 - finally officially available in Malaysia!
Offering 2 weeks to a month in battery life, the Huawei Watch GT2 is the smartwatch to get for those wanting a device for their wrist they won't have to worry about charging the next day. Offering all the basic features of a smartwatch like hearbeat sensor, exercise tracking and sleep tracking it looks good with leather and should work for practically all smartphones. The Kirin A1 chipset that powers it ensures better connectivity and battery life while the 5ATM rating lets you bring it swimming as well. It recently got a price cut down to RM899 making it an affordable option as well.
The Samsung Galaxy Watch Active 2 on the other hand, goes for the full smartwatch experience as it is fully compatible with various Android apps including a translator, maps, spotify and so forth. Fully IP68 water resistance rated, you can also bring it swimming but it only offers battery life for a bit more than a day. It also tracks your heart rate, sports activities and sleep. Thankfully you can quickly charge it up wirelessly, but it is a bit pricier at RM1399.
The Huawei Watch GT2 can last a whopping 2 weeks!
The Samsung Galaxy Watch Active 2
If you're looking for just the barebones and a much more affordable price tag, then the HONOR band 5 priced at RM129 (RM111 if you catch their year-end offer) is the wearable wrist device you should consider. It offers all of the usual smartwatch features such as a heart rate monitor, sports tracking and sleep tracking.
However, its' band like design makes it more suitable for the sporty type or those who don't mind non-traditional wristwear. It doesn't offer as wide a smartwatch experience as others but it does last 14 days or more on a single charge.
The HONOR Band 5
So that's it for this edition of TechNave.com's Christmas Gift Guide 2019. We hope you and your friends or family will enjoy the selections and recommendations listed above as much as we did. However, if there's a category we didn't cover or you need help picking out just the right Christmas tech gift, then do drop on by our Facebook page and we'll see if we can help out.
What have tou bought for your Christmas tech gifts? What would you recommend? Let us know on our Facebook page and share with the other TechNavers out there. As always, stay tuned to TechNave.com and Merry Christmas gift buying.