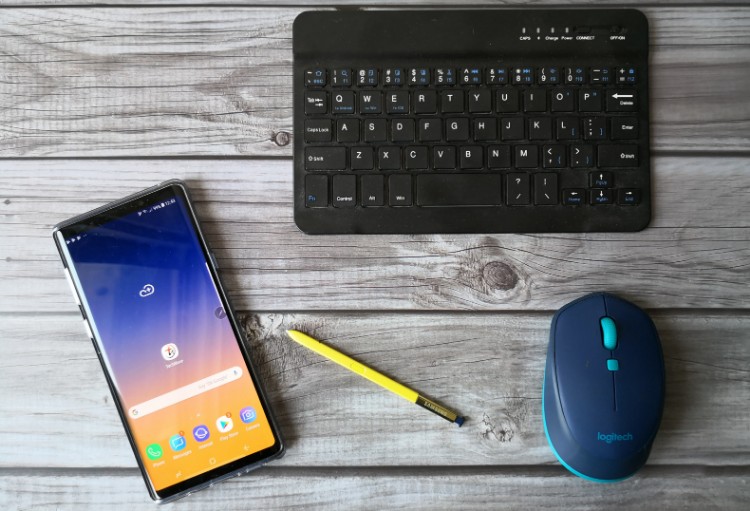 The Samsung Galaxy Note series has traditionally been the performance workhorses of the Samsung Galaxy stable and while it pioneered big sized phablets, it is just as well known for its ability to do work on the go. The Samsung Galaxy Note 9 is no different and this time around we tried it out for 1 week with the Samsung Galaxy Note 9 as my only computer.
What do I usually use my computer for?
Ok, first off, it is important to know what I use my computer for just so you have a point of comparison if you're looking to do something along the same lines. As Editor-in-Chief for TechNave.com, I write articles and reviews, make and edit videos, cover news and events (so I also take and edit pictures), edit the work of the writers here, communicate with brands and my team (emails and social media), manage event scheduling and whatever else that is needed in running TechNave.com.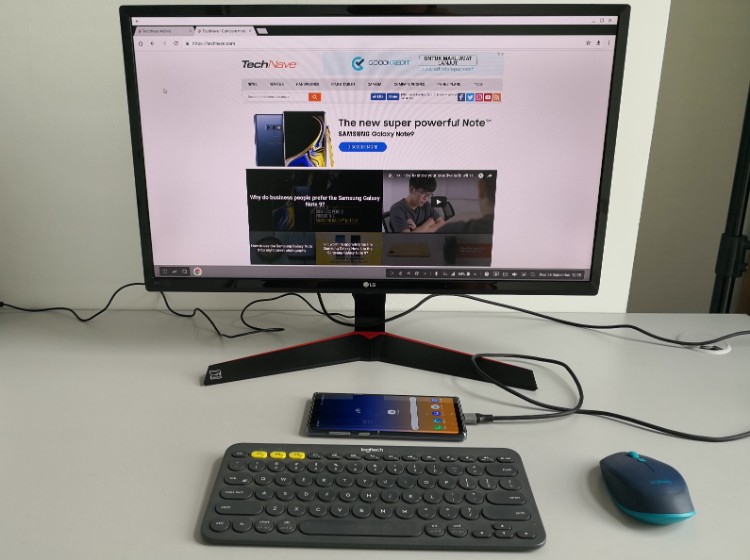 You can turn your smartphone into a PC with the Samsung Galaxy Note 9 and new Samsung Dex
I play games to relax and occasionally I watch video clips that might interest me. To be completely honest, this isn't the first time I've used a phone as my computer, in fact I have been using a phone as my main computer for the past couple of months and once you get used to it, going back to a normal PC is surprisingly hard.
What do you need?
The Samsung Galaxy Note 9 lets you connect to a HDMI display via their Samsung Desktop Experience or Dex which is a virtual desktop separate from the normal phone desktop. This time, all you need is a compatible HDMI to USB Type C cable (if you want to be safe, buy Samsung's) but to get more ports you can get the adaptor, the Dex pad or Dex Docking Station.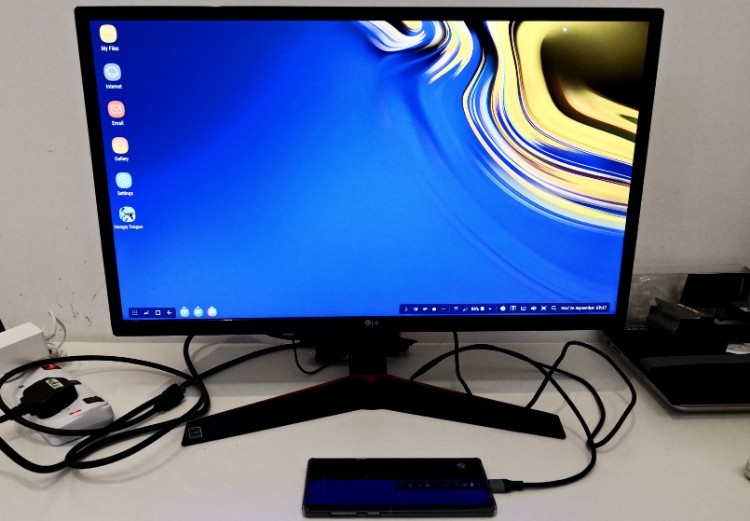 The basic setup is just a HDMI display or monitor, a HDMI to USB Type C cable and a Samsung Galaxy Note 9
These let you charge the Note 9 at the same time and you can also hook up a USB flash drive, mouse or keyboard, but we used a Bluetooth mouse and keyboard with no issues. You could probably also use a wireless charger and a HDMI to USB Type C cable but since the phone gets super hot during wireless charging we wouldn't recommend this.
We used a non-standard HDMI to USB Type C cable and a non-Samsung USB Type C hub with USB Type C port, HDMI port and USB 3.0 port + HDMI to HDMI cable with nearly no issues. Charging with the adaptor did not result in any increase in heat or anything like that, so it should be safe to do so. Initial loading took some time, but starting up afterwards was nearly instantaneous.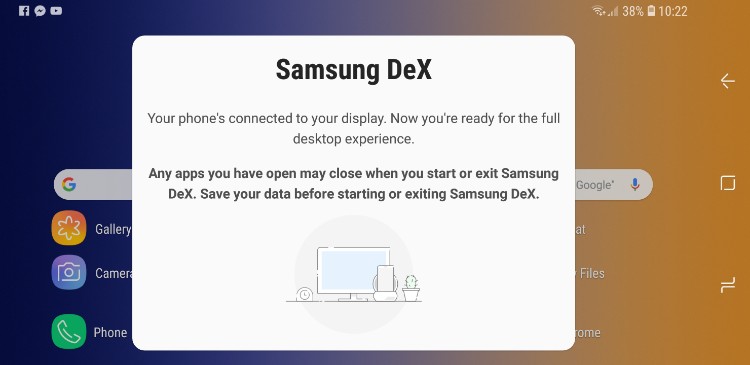 Samsung Dex stands for Desktop Experience
The only issues we found was that if we used the hub, we had to plug in the power (using the bundled Galaxy Note 9 cable and charger) for the Note 9 to detect it and go into Dex mode, else it will just go into screen mirror mode. Also, we had to use a full HD monitor that can be adjusted as using a basic native HD (720p) monitor or HDTV will result in the desktop being displayed in the middle with black space above and below that you may have to adjust manually.
If you plan to go completely mobile, then we'd suggest a foldable or smaller bluetooth keyboard and a good stand. Thankfully, the Galaxy Note 9 desktop can go into landscape mode like most tablets, while the split screen and pop-up windows also let you multi-task with no issues.
For work - much improved
While the overall look is more or less the same as when it first came out, the Dex interface has been overhauled with a larger App drawer that pops up to cover the entire screen when you press the Home button. Testing it on Microsoft Word and Google Docs results in great documents and smooth transitions. It also retains what you were working on even if you suddenly disconnect.
In Dex, the interface is a lot more responsive and accurate, so that when you click on the buttons and other areas they work smoothly. The number of apps that you can open at one time has also increased (about 20 at one time) and most apps work just fine now with wider Dex optimized mode although some windows don't have the standard minimize, fullscreen and exit icons (most of them still work though). There is also now a helpful Help icon with reasonably useful help topics.
Capture, made and rendered using the Samsung Galaxy Note 9 and Cyberlink PowerDirector
Picture editing with Picsart Photo Studio is a blast as the window is wide Dex optimized but as mentioned previously, the top bar with the minimize, fullscreen and exit icons are blacked out. However, everything else works just fine so I could do my usual photo editing, resizing and so forth with no issues. Video editing on the other hand was a bit of a chore, perhaps because my app of choice, CyberLink's PowerDirector is stuck in the smallest sized Dex window (so it hasn't been optimized yet) but it works just fine.
Going mobile, to be honest, you can actually write one whole article using the S-Pen stylus, but I found that it was faster and more accurate to use my two thumbs to type out the post (of course, using a Bluetooth keyboard is a whole lot faster). Instead, the S-Pen offered a bit more precision and control for photo editing or when reviewing content from my writers as I could underline or circle or draw a lot better with the S-Pen than with my sausage sized fingers.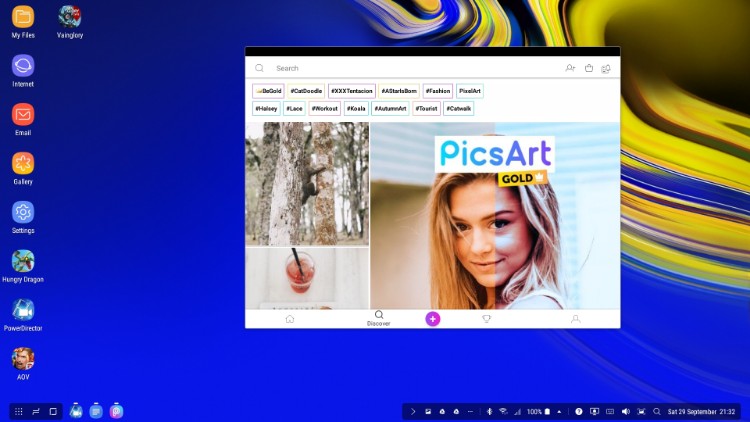 Most apps like Picsart Photo Studio has a wider optimized Dex mode
For play - Mostly excellent
Using the Galaxy Note 9 and Dex mode was mostly an excellent experience as videos played smoothly and the bluetooth speaker worked well even with the bluetooth keyboard and mouse activated, something that not all phones can handle. With this setup we turned our unintelligent HDTV into a YouTube playing smart TV for some family movie time.
Games also played well, but this is for games that you could tap or click like VainGlory and so forth. For games with multiple controls like PUBG Mobile or even Hungry Dragon it isn't possible to play well with just a single mouse.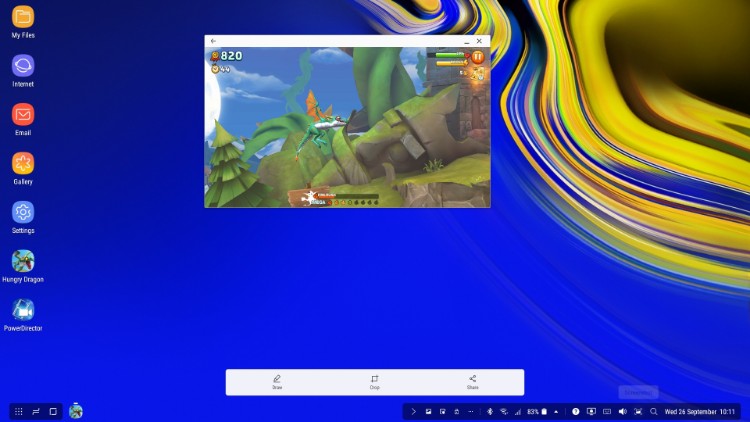 You can still play most games but controls might be an issue
We did like that somehow Samsung managed to automatically map the AWSD keyboard keys for PUBG Mobile movement, but with no way to map the mouse for movement and targeting without clicking and holding, game play with the keyboard and mouse becomes tedious.
However, Vainglory is one of the few games where the mouse and keyboard work just fine though, so it is a good sign that Samsung are making this a feature for all games eventually. Gaming on mobile was super smooth and excellent as usual.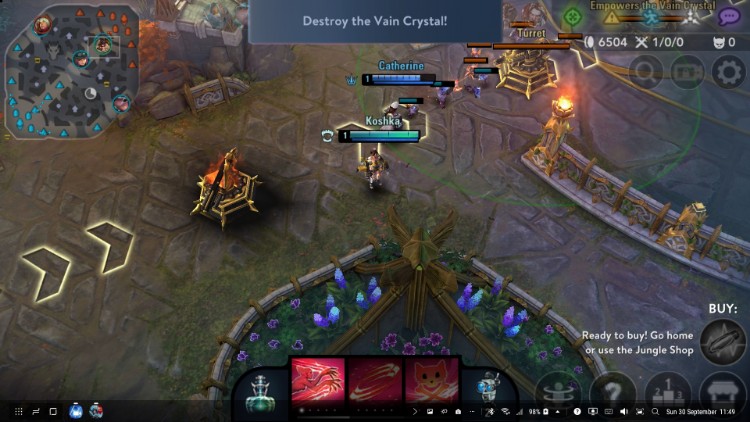 Vainglory is how all games and apps will eventually look like on the Samsung Dex and Samsung Galaxy Note 9
How was the overall experience?
Overall, we can honestly say that the Samsung Dex on the Samsung Galaxy Note 9 is currently the most full-featured virtual desktop experience you can get yet. If you're looking to turn your phone into your PC desktop and do work on the go, then the Samsung Galaxy Note 9 is a very good option you should definitely look into.
You may have to get some extra peripherals like a bluetooth keyboard and mouse or if you're the kind who still uses USB flash drives then you're probably better off getting the Dex Pad or Dex station or a hub but these shouldn't cost much more than a few hundred ringgit (even the most basic branded separate desktop PC is likely to cost you about RM900 and above). Have you tried using your Galaxy Note 9 as a PC for a week yet? Give it a go and stay tuned to TechNave.com for all your latest tech articles, news and reviews.