How Huawei Share can connect your Huawei devices with One Tap for a seamless AI Life
If you've been paying attention, you'd have noticed that Huawei has been expanding its range of electronic devices this year. From true wireless stereo (TWS) earbuds to new TVs and wireless speakers, the company's portfolio has been growing fast. Most of these are available in Malaysia too, so we're quite lucky in a sense.
Why? Because Huawei has been working hard to allow all its products to connect, as part of the company's "1+8+N" Seamless Life AI initiative. But how exactly are these devices integrated? Well, today let's talk about the different Huawei products that can be linked together with just One Tap.
Bigger screen space with Multi-Screen Collaboration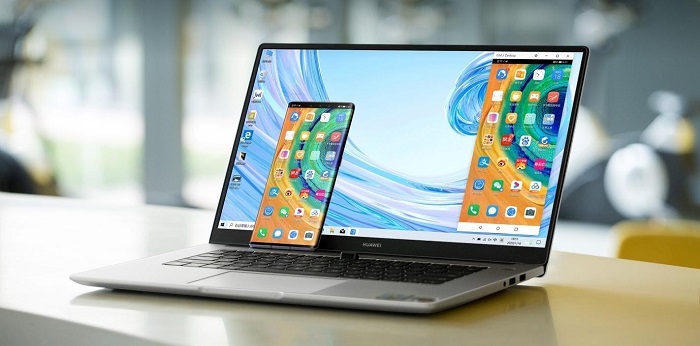 Easily drag and drop files to and from your phone
The Huawei P40 Pro can be used like any regular Android smartphone but if you can get more out of it, why not? You can sync up your P40 Pro to a MateBook X Pro laptop or MatePad Pro 5G tablet and get a lot more screen space to do other tasks.
So, what kind of tasks are we talking about? For one, you could use the camera and microphone on the laptop or tablet to take calls from the phone. This can be useful if your hands are occupied with some other task (like typing) and you don't want to have to hold up the phone or use a headset. Another advantage is that you'll get a bigger screen for your Huawei MEETime video calls. Also, you can drag and drop files between your phone and the other device easily.
Connect to Sound X and party anytime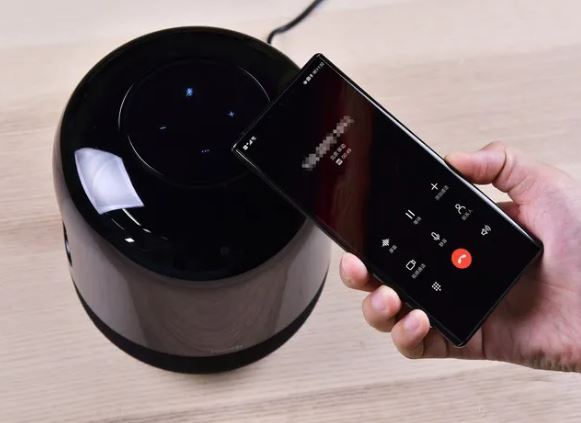 Connect to the high-end Sound X via NFC
One of the new products in Huawei's expanding portfolio is Sound X, a high-end wireless speaker made in collaboration with Devialet. It comes with touch buttons at the top and can connect to devices through Bluetooth or NFC. With the OneHop Audio Sharing feature, just tap your phone to the NFC logo on the Sound X and you're connected.
Of course, once connected you can easily stream audio from your phone to the speaker. This effectively turns the Sound X into your wireless speaker, allowing it to be used for phone and video calls, as well as for music streaming from your phone. It's also more convenient this way, as the speaker will pause your music if you have an incoming call, and you can mute it easily by placing your hand on top of the speaker.
One tap for WiFi 6 speeds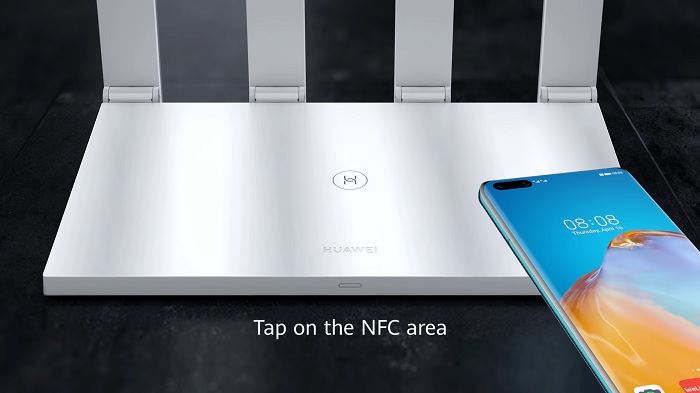 No need to ask for the password, just tap!
Besides the Sound X speaker, another product that Huawei has launched recently is the AX3 wireless router. At a glance, it may seem like a standard router. But it comes with WiFi 6 support and can, you guessed it, one tap to connect! With the Huawei AX3 router, you don't have to ask for the WiFi password. Just walk up to the router, tap your P40 or P40 Pro on the NFC area, then select connect to get access to the router's wireless network. Easy!
Quick earbuds pairing for music or phone calls
As you all know, TWS earbuds are trendy these days and Huawei has them too. Like the other products already mentioned, you can quickly pair the Huawei FreeBuds 3 to a Huawei smartphone. Just tap your phone to the holding/charging case, then click on the pop-up window to set up the initial pairing. Once it's connected, you can use it for music playback and taking phone calls. It also supports gestures like double-tap (on the left earbud) to toggle noise-cancellation.
Another advantage of using the P40 Pro with the FreeBuds 3 is for reverse wireless charging
Quickly connect to your personal trainer
The Watch GT2 is another device that can connect to a Huawei phone with one tap
Another product you can quickly connect to is the Watch GT 2. It's great since it can act as your personal trainer, as well as to detect your heartbeat rate, stress level and training record. It provides 15 different sport modes and can monitor your health status according to different sport modes. Since it has a speaker and microphone, you can even use it to pick up phone calls. It also supports 5 ATM water resistance, enables you to keep connected whether you are on land or in water.
And there you go, some of the different Huawei products that can connect with one tap. There's also the Vision TV Smart TV X65 (not available in Malaysia yet) that can be paired with one tap, plus more products that will likely be added in the future, so that's something to look forward to. If you want to find out more about the different products that can link together with just one tap, check out Huawei's Together 2020 website.
What do you think about Huawei's products integrating like this? Is there a particular feature you'd like to see? Let us know in the comments on our Facebook page and stay tuned to TechNave.com for more articles like this.