Game on with the Samsung Galaxy Note 9 Water Carbon Cooling System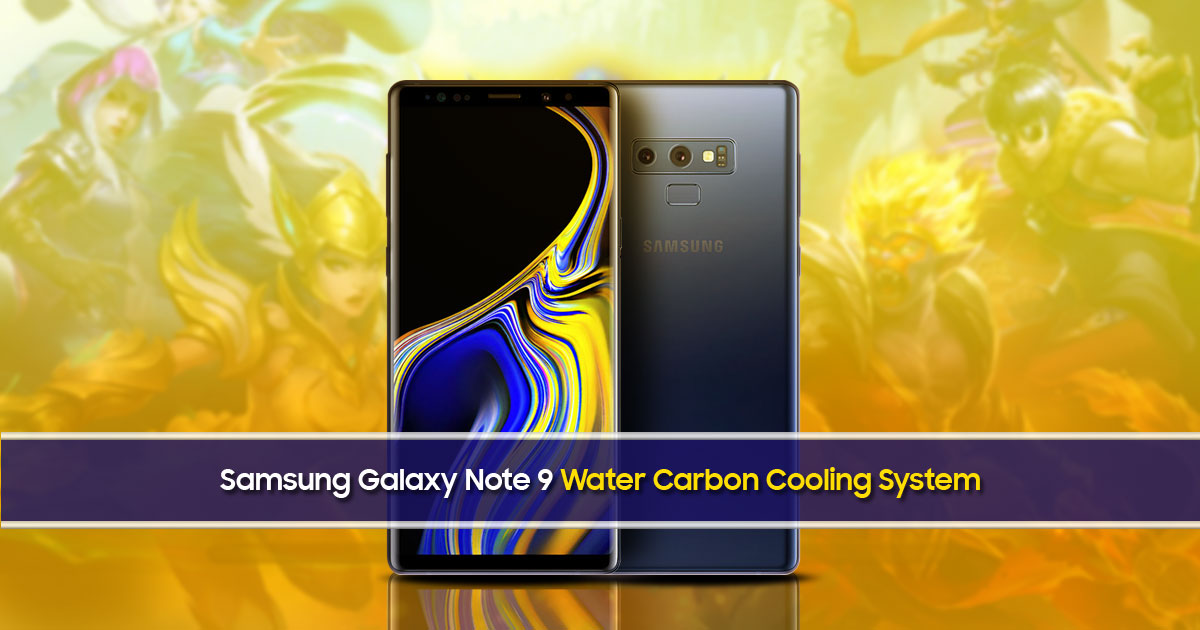 Welcome back to another edition of the Samsung Galaxy Note 9 and this time around, we will be taking a closer look at Samsung's own Water Carbon Liquid Cooling system. We did talk about it a little bit from our battery test article here but the focus on this article is all about its gaming capability. So that being said, how is the gaming performance and how helpful is the new feature? Read below to find out.
Starting with a warm up
So before we get started, you should know that in our market, the Galaxy Note 9 features an Exynos 9810 processor with 6GB / 8GB RAM + 128GB / 512GB ROM, the display is a super wide 6.4-inch Super AMOLED panel and not to forget, it also has the new Water Carbon Liquid Cooling system and AKG Tuned dual stereo speaker. On paper, this is a pretty kickass configuration for gaming. Let's go through some software testing.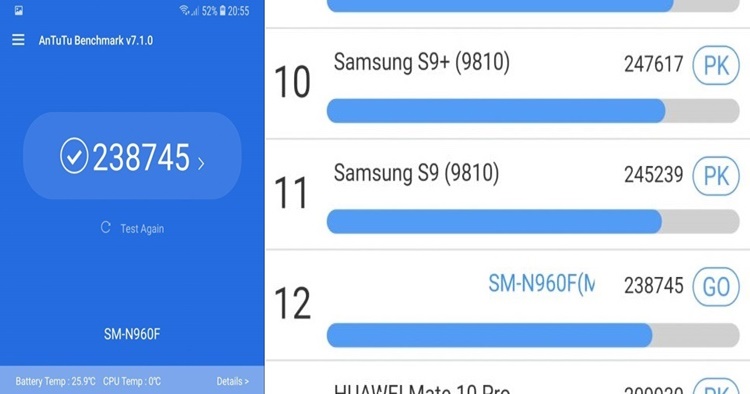 AnTuTu score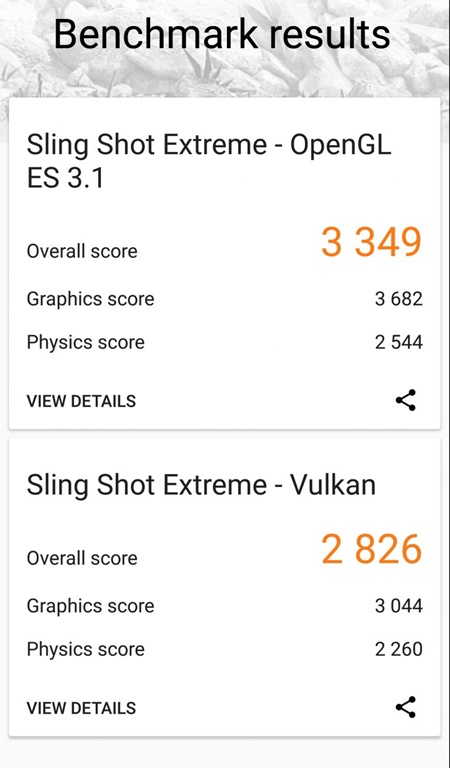 3DMark score
As expected, the Galaxy Note 9 scores quite well on the AuTuTu Benchmark test. Sitting comfortably on the 12th spot with 238,745 points, this is considered a good flagship and a powerful one too. But that's not all, it also did well on the 3DMark test scoring 3349 points on Sling Shot Extreme - OpenGL ES3.1, while Sling Shot Extreme - Vulkan shows 2826 points. Normally, we use these two apps for testing the phone's performance but the numbers usually don't stay the same if we run it again. So for the third trial, we used a new software called Gamebench for more accurate data.
Now to game on!
In order to use Gamebench, we have to play a game connected to a laptop with the Gamebench software running at the same time so that the software can record every moment and analyze the final figure. To some players, the Galaxy Note 9 will run at 32fps on PUBG Mobile and from our experience, running these two software simultaneously was surprisingly smooth. In fact, if we remove the dropped frames during the gameplay (download), it can go up to 41fps which seems to be the GPU limit.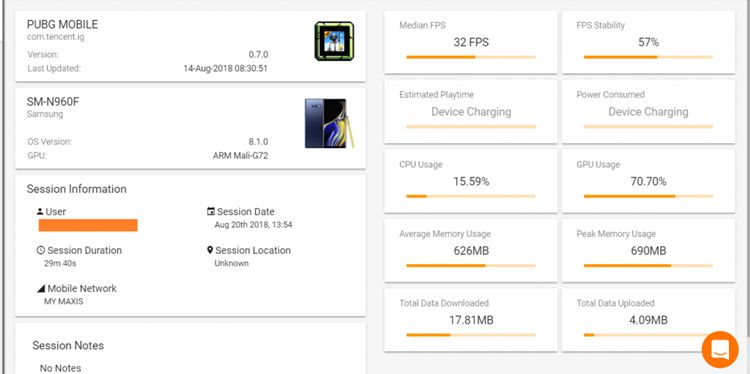 The overall Gamebench summary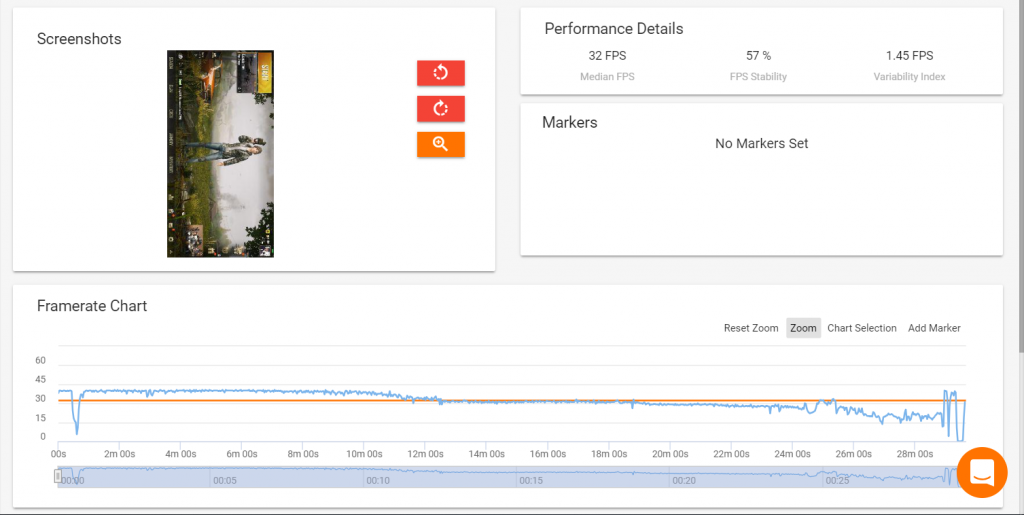 Even though that's the case, this doesn't mean that the GPU will cause high temperatures and affect the overall performance. As mentioned, the testing was smooth enough for us to win a chicken dinner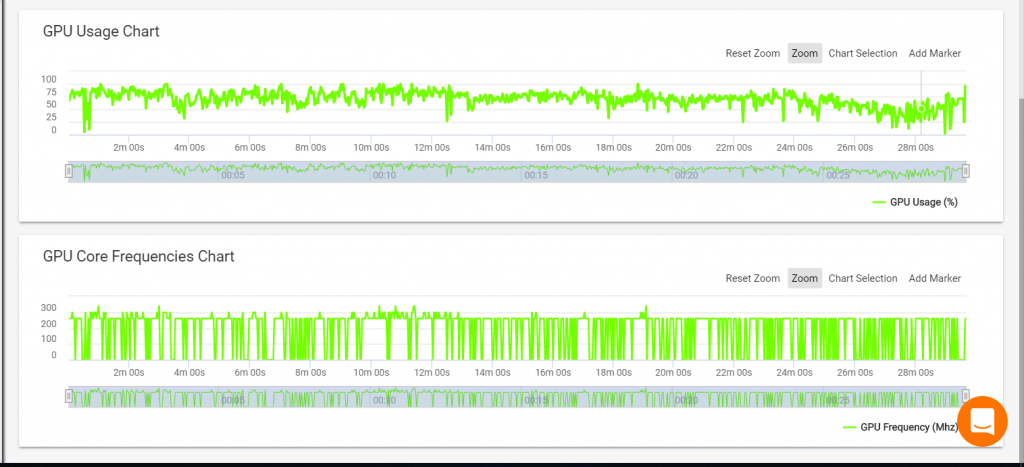 The GPU's overall performance is maintained at 75%

Before and after the gaming temperature
So what about the Water Carbon Liquid Cooling system? We've mentioned briefly in our battery test before and this is a helpful feature. Right after our gameplay, we went straight to AnTuTu to see the battery condition. Moreover, the degrees quickly went down to 34°C from 42°C after a few minutes (from the Gamebench monitor). Do note that your Galaxy Note 9 probably won't reach that high because we had to connect it to a computer for the Gamebench test.
It's also worth mentioning that you can enable the Dolby Atmos option in the AKG dual stereo speakers. You like Dolby Atmos, I like Dolby Atmos, everyone likes Dolby Atmos so this really adds on the gaming experience and it's best used with headphones on, or your AKG earpiece that is in the box.
The Water Carbon Liquid Cooling system is pretty cool
It shouldn't come as a surprise that the Galaxy Note 9 excels in gaming, but because of the Water Carbon Liquid Cooling system, this is a welcome addition and it compliments the 4000mAh battery pack very well in the long run, as well as the high-end hardware configurations inside. In other words, we are happy to report that the Water Carbon Liquid Cooling system is not a gimmick after all and the phablet can be viewed as a serious gaming smartphone contender.
We are still in the midst of reviewing the phablet so do stay tuned for that at TechNave.com!
Samsung Galaxy Note 9 Specs & Price >