Weekly TechNave - Honor Magic, Wiko Ufeel Go, Samsung Galaxy A (2017) leaked and more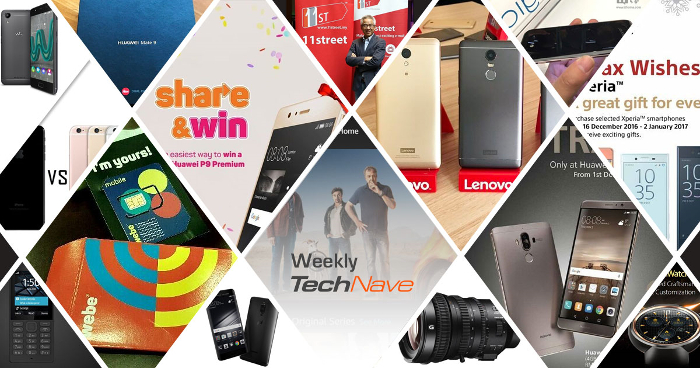 This week quite a lot happened as Huawei came out with their Honor Magic concept phone for sale with all the sides and corners curved. Wiko announced their Ufeel Go phone with 4000 mAh battery for just RM599 and the ASUS ZenWatch 3 also got announced for RM1199. You can also pre-order Apple's AirPods for RM849.
Get a closer look at the new Lenovo smartphones
Surprise, surprise and the Porsche Design Huawei Mate 9 also became available for pre-order here in Malaysia for RM6999. Lenovo announced their A6600, P2, K6 Power and K6 Note smartphones for Malaysia, while 11street announced that online shopping is good and well here in Malaysia. Amazon Prime Video is now available for your international video streaming while Nokia came out with their first phone in a while, the Nokia 150.
Hopefully a sign of better things to come?
As the end of the year nears, the number of deals have increased as well with Huawei coming out with their Trade-Up Campaign so you can get a brand new Huawei flagship device discounted with your older smartphone or tablet. Sony Mobile also announced some extra free gifts with selected Xperia smartphones while Webe mobile wants you to win a new Huawei P9 Premium.
Our usual leakster Mr Anonymous confirmed a number of tech specs for the upcoming Samsung Galaxy A5 (2017) and Galaxy A7 (2017). Yahoo Mail got hacked again, so if you still have a Yahoo Mail or login, better go check on your account. On the camera side of things, Sony introduced their Super 35mm / APS-C format power zoom lens for those Sony DSLR users.
Reviews and articles wise, we unboxed and checked out the Huawei Mate 9, along with a full detailed review on the unlimited mobile Internet plan that is Webe digital. We also came out with a comparison article for those of you looking to buy the Apple iPhone 7 Plus and possible alternatives. As always, stay tuned to TechNave.com as we cover the latest in tech news, reviews and more.