Weekly TechNave - Windows 10 on Qualcomm, no more Pebble and more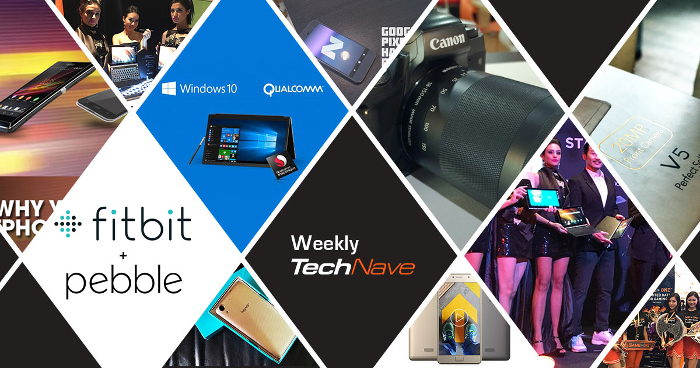 Again, last week had no really dominating news but there were some notables. Caving in to the pressure, Microsoft have announced that the full Windows 10 experience may soon run on Qualcomm Snapdragon processors. Fitbit are buying Pebble, effectively marking an end to the initially crowd-funded Pebble smartwatch.
In local news, Samsung Pay is now in open beta, so certain users can now try it out. The Canon EOS M5 got officially announced for Malaysia and Lenovo announced their Phab 2 Pro and Yoga book for Malaysia. The Lenovo P2 is also now available in Malaysia while Riding Pink got launched by women for women and the Dew Challenge 2016 grand finals happened as well. The DJI Phantom 4 Pro is now available in Malaysia too while Sony held a workshop for the lady photographers out there.
Internationally, the Meizu M5 Note and Meizu Band got officially announced. On the rumours side we may have gotten a first look at the dual rear camera ASUS ZenFone 3 Zoom.
On the telco side, Celcom are offering a deal on the Apple iPhone SE and introduced their Celcom Passport for more roaming convenience, Webe revealed more about their unlimited mobile Internet plan while Maxis announced some more weekend freebies for Hotlink FAST users. U Mobile announced their Game-Onz benefits for online gamers. Digi is offering the Samsung Galaxy S7 edge and others for their Business Postpaid plans.
Reviews-wise we had a reasonable amount of stuff with the Honor 5A review, some hands-on time with the Vivo V5, a brief first impressions review of the Google Pixel and a walkthrough video of the Canon EOS M5. We also explored why your Android smartphone "ages" or slows down over time. More reviews, news and other things tech and gadget related are coming soon, so stay tuned to TechNave.com.