Weekly TechNave - Xiaomi Mi MIX, Mi Note 2, Apple MacBook Pro and more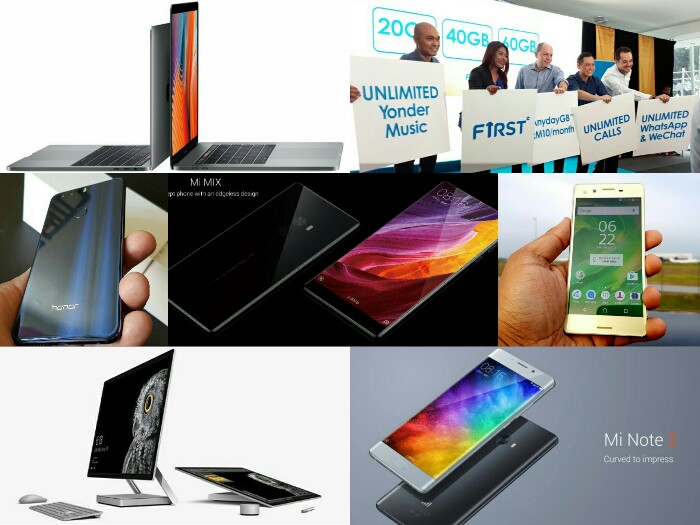 Last week saw the official refresh of the long awaited Apple MacBook Pro with a faddish "new" feature while Microsoft announced their Surface Studio, Surface Dial and Surface Book. However, the biggest news of the week was probably the announcement of the Xiaomi Mi Note 2 and their first unique looking smartphone, the fully ceramic Mi MIX alongside their Mi VR headset.
For local news, Celcom upgraded their First Gold and Platinum plans with a new AnydayGB feature to go with their FIRST Gold Plus plan while DirectD opened up their Lenovo Concept Store for Subang Jaya. MDeC showed off Malaysian Talents, while TM detailed a bit about how Internet speeds will be doubled in Malaysia.
The Samsung Galaxy Tab A (2016) on the other hand kept the S Pen alive for Malaysians for RM1599 and Digi held their Clash Royale tournament finale as well. Maxis also quietly gave away more data for free for their SurfMore plan subscribers.
Internationally, BlackBerry announced their DTEK60 smartphone for RM2069 while the ZTE Axon 7 Max was also officially announced. The Huawei Enjoy 6 also went official with a large 4100 mAh battery.
On the review side, we reviewed the solid Honor 8 alongside the similarly solid ASUS ZenBook Pro. As promised, we kept the review ball rolling with the Sony Xperia X review and a quick 7-day first impressions video with the Apple iPhone 7 Plus.