Weekly TechNave - new phones, explosions and more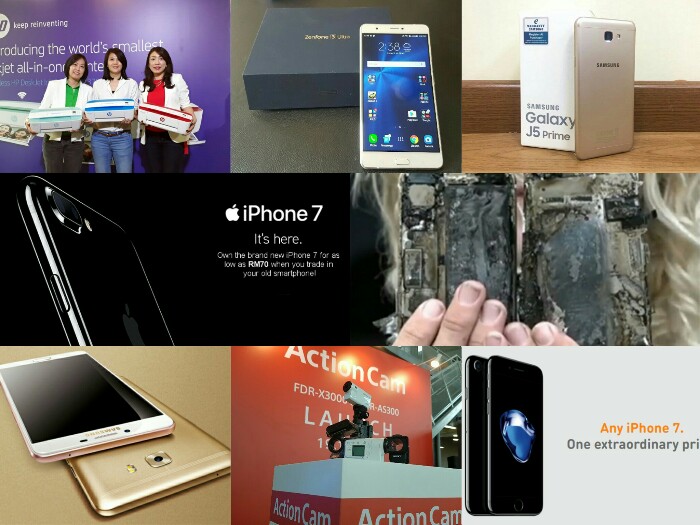 This week Malaysia saw the Bajet 2017, with a proposed increase in broadband speeds at the same price rate from January 2017, while Malaysia's telcos all came out with their respective Apple iPhone 7 deals. This includes Maxis with their trade up and RealView stock checker, along with U Mobile and their UPackage plan.
Other local news included the local sale of the Samsung Galaxy J5 Prime along with the availability of the ASUS ZenFone 3 Deluxe both for Malaysia. TuneTalk also announced their year-long data plan, Sony announced their new Action Cams and HP launched the world's smallest AiO printer. The ACER Swift 3 laptop also made an appearance.
Internationally, Samsung announced their first 6GB RAM smartphone with the Samsung Galaxy C9 Pro along with their first 8GB LPDDR4 RAM for smartphones and mobile devices. The new Honor 6X got officially announced with dual rear cameras while Huawei revealed their next-generation Kirin 960 processor.
Oppo announced their R9s and R9s Plus smartphones with 6GB RAM, while Kodak announced their more powerful Ektra smartphone. Turns out, even a week-old Apple iPhone 7 can explode and even destroy a car in the process.
As promised, we came out with the review for the ASUS ZenFone 3 Ultra ZU680KL with more reviews and tech news set for a big reveal next week. The winner of our first giveaway with Lazada involving the Honor 8 has just got her gift while the first winner for our GadgetBook giveaway has apparently been selected. We'll continue on with our second giveaway with a power-bank and laser keyboard device so stay tuned to TechNave.com to get the latest tech news, reviews, gadgets and more.