Weekly TechNave: Honor Note 8, Samsung Galaxy Note 7, ASUS ZenFone 3 and more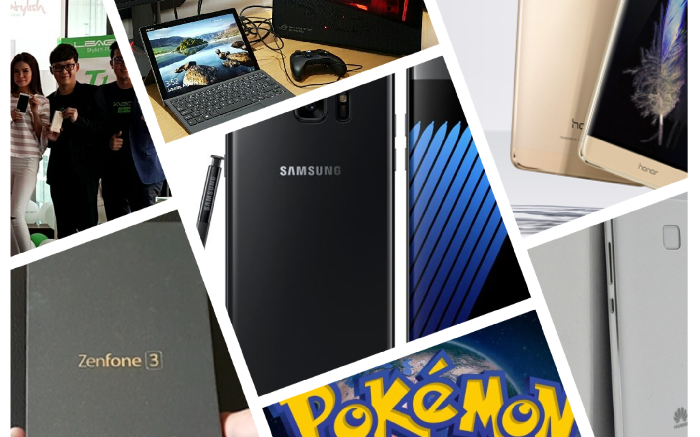 Last week was crazy busy as Honor started it with a bang and their officially announced Honor Note 8 and Honor 5 Play. Samsung subsequently skipped numbers and officially announced the Samsung Galaxy Note 7 with their new Gear VR. ASUS soon followed suit with their full range of ASUS ZenFone 3, ASUS ZenFone 3 Ultra, ASUS ZenFone 3 Deluxe, ASUS ZenFone 3 Max and ASUS ZenFone 3 Laser smartphones along with their ASUS ZenBook 3, ASUS Transformer 3 and ASUS Transformer 3 Pro, all for Malaysia.
Microsoft announced their Windows 10 Anniversary update while LEAGOO also launched their LEAGOO T1 for Malaysia. The Sony Xperia XA Ultra also officially became available in Malaysia. Finally, Pokemon Go officially arrived in Malaysia as well. Internationally, ASUS also launched their 2K-display ASUS ZenPad 3 8.0 tablet and Xiaomi also launched their first Mi VR Play device for the entry-level market.
As promised, we opened the week with the Huawei P9 Lite review and the vivo V3Max review. We then followed this up with slew of first impressions hands-on videos for the ZenFone 3, ZenFone 3 Deluxe, ZenFone 3 Ultra, ZenFone 3 Max and ZenFone 3 Laser complete with a hands-on and unboxing for the ZenFone 3. Following up was a comparison between the Samsung Galaxy Note 7 vs the Galaxy S7 edge so you can make a more informed choice when the Note 7 officially becomes available (the pre-order finished in a flash).
This week promises to be just as eventful as the OPPO F1s and Sony Extra Bass arrives in Malaysia. We also have a number of reviews and special articles coming up as well so stay tuned to TechNave.com.